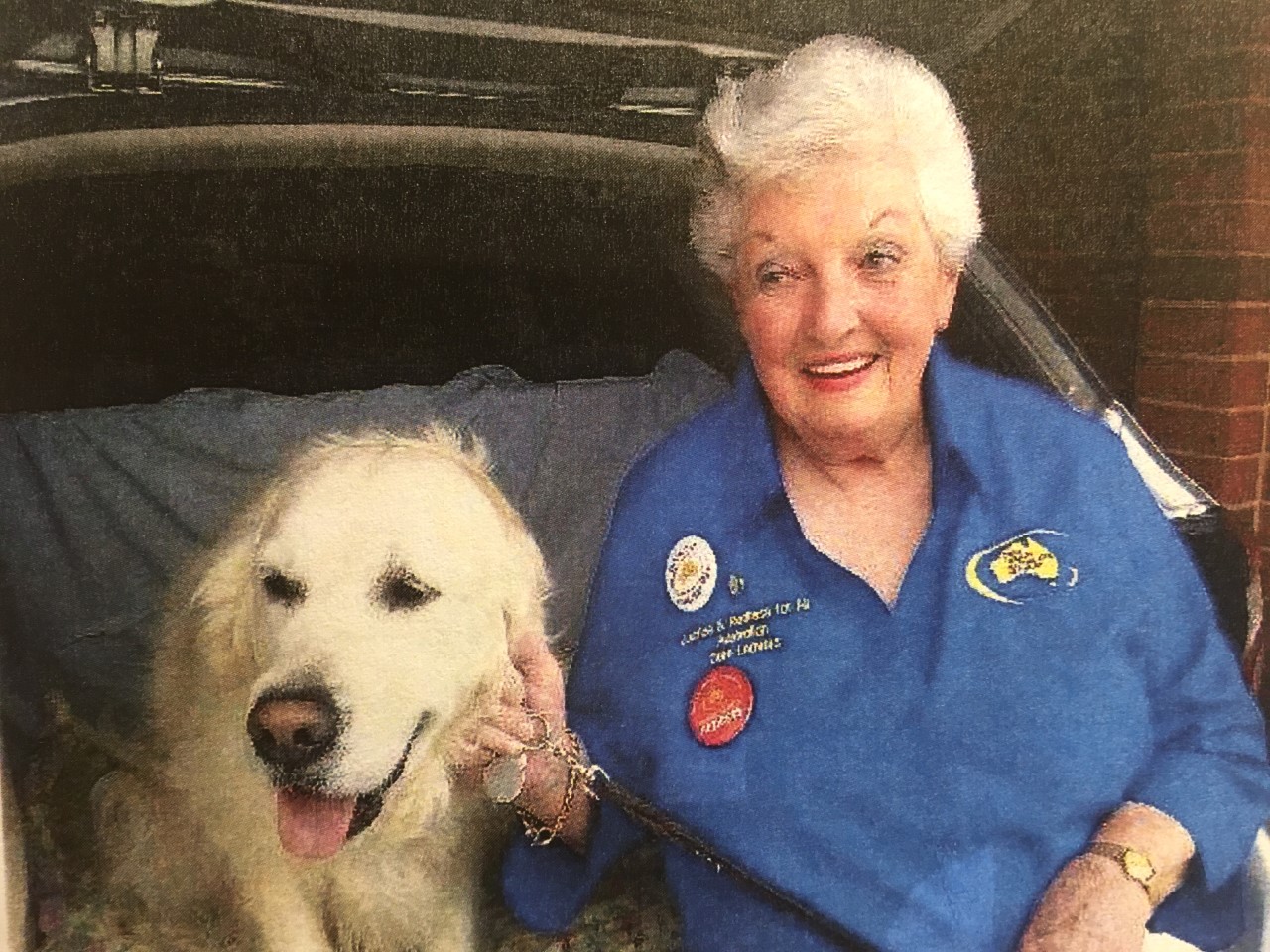 Denise Willemse discovered she was adopted at age 11. The shock has reverberated through her life ever since
What do you know of your earliest days?
I was born at Bethseda in Marrickville on August 3, 1937. I was adopted out at three weeks. I later discovered I wasn't officially adopted until December. It had my birthday as October 1.
What was your mother's situation?
She was only 18. Her name was Mabel Esther Blunden. She'd came from Hillston, in western NSW. She was sent to Sydney by her parents. Her father said she was under no circumstances to come home with the baby.
Your father?
Dad was Robert Hoggard, and about a year older than my mum. Mum's family wanted her to marry someone else, and she finally did. He hit my father.
Who adopted you?
My stepmother was Gladys Lucy Dravine, and my stepfather, John Dravine. We lived at Maroubra. They had a son, John, and I was a replacement for their daughter, Edie, who'd died of leukaemia. I was always compared to her and I was never good enough.
Did they show you any affection?
Very little. I turned to John a lot, he was kind. But he was put before me in many ways. At meals, if there was anything left over, it was always given to him, never me. There were lots of little things like that.
You weren't happy as a child?
Not at all. I didn't know I was adopted but I was ashamed of my clothes, lots of hand-me-downs from charity. I can't remember ever going to the shops to buy things. We were asked to dry-clean our uniforms before a singing contest at Sydney Town Hall. My stepmother wouldn't do it, I'll never forget how embarrassed I was.
Did you have friends?
Other kids left me alone. I had very, very few friends – no friends ever came over. I think because Mum wasn't close to me, it was hard for me to strike up relationships with other kids.
When did you learn you were adopted?
I was 11. The insurance man came to door, and my stepmum said to go to dad's study and get some forms. I went sticky-beaking around and some papers fell out – my adoption papers.
How did you react?
I was absolutely dumbfounded. I went into shock. I didn't speak for three months.
And no-one else realised?
No. They took me to all sorts of child welfare people, counsellors, a psychologist. They never thought to think if it had anything to do with my adoption. It was a terrible time.
What were your feelings toward your step-parents?
Very resentful. I hated everything and everyone. I started to think how horribly I'd been treated as far back as I could remember. When I was five, my stepfather put his hands where he shouldn't have. I was so angry I hadn't been told, angry at the way I was treated, the way I lived. I felt totally cheated.
You became rebellious?
The next three years were wasted. High school was horrible. I was constantly told by my adoptive parents I had bad blood, 'Just like your mother'. It reinforced my bad behaviour. My father said I'd been picked up from the gutter and would end up in gutter, that I'd turned out like my mother, who was bad.
Did you have any respite from this?
I went to work at 15, as a typist. I worked various places but I was still very uncomfortable at home. When my parents holidayed at Melbourne they put me with friends but I resented that and went to stay with my boyfriend's family. They were good to me, I had my own room and everything was above board.
How did your step-parents react to that?
At 11pm, there was a knock at the front door. Police charged me with being exposed to moral danger. I went straight to a police cell then to Bidura Children's Court at Glebe. When I went to court, I had no defence lawyer for me at all. My stepfather said 'We don't want her home under any circumstances.' The magistrate had no option.
No option?
I was sent to Parramatta Girls Training School. I was 16 and a half. I was confused, frightened, filled with hatred and very, very sad. I was all alone for the next nine months.
How harsh was Parramatta?
It was very strange and frightening, and cold. My world collapsed around me. It seemed a follow-on from the adoption discovery. It was really horrible, I was always looking around to see where the officers were and what they were doing. There were no doors on the showers or toilets. There were bashings every couple of days, sexual assaults in the showers. The final abuse was repeatedly by 'Dr Finger' with his face hidden by a mask. He'd examine you sexually while laughing. He said, "You like that' but I was screaming.
Is there anything that would have made your life easier at this point?
It would have been nice for someone to ask me one day, "Are you all right, Denise?" Anyone at all. Even some of the other inmates.
What did you do when you left Parramatta?
I went back to my step-parents to get back on my feet. I got a clerical job at Beberfalds department store. After a year I left home, rented a room at Mosman, then my life fell apart again when I became pregnant to this guy. I only call him Seven, I won't say his name. He demanded I have an abortion. I still live with the guilt.
Did you leave him?
No, I stayed with him. I certainly wasn't happy but there wasn't anywhere else to go. I tried to make the most of it and eventually married him in 1961. I was 23 and thought I needed some sort of security.
How did that go?
I fell in love with another man, at work. He was so wonderful and we had some wonderful times together but he was married. I fell pregnant again. I figured there was no need for Seven to know any different. I left the company at six months. When I had a lovely little girl, Michelle, the father visited the hospital several times. He's passed away since.
How did life progress with Seven?
I was desperately unhappy. My man was with his own family. One night, Seven brought this guy home for dinner, said he was lonely. I opened the door and I was shocked. I looked in his eyes and I immediately knew I wanted to spend the rest of my life with him.
Could you possibly make this work?
I couldn't stand it any longer with Seven. He was very religious, a Christian Scientist, he wouldn't allow me to vaccinate my baby and no medicine. Over the next six months, John and I became really good friends. He helped me move out. I left a note. I was about 28.
How did Seven react to that?
He wanted visiting rights to Michelle. I said no because of his religious stuff. He was an idiot. The judge said I must allow visiting rights. My solicitors said if I refused I'd be in contempt of court and they could throw me in jail. I said not if he's not the father. He said right I won't have to pay another cent for her.
So, a win at last?
Yes. And John agreed he'd adopt Michelle as his own. He couldn't have been a better father. Things had all come good and I married John. He'd broken up with his wife and brought two kids with him aged 16 and 11. It was a happily ever after story.
But something was still in the background?
Totally. I had this very dark stuff in the background. I've always maintained I'm two people. I'd only let people see the nice side of me, wouldn't let them know the other half. We were living at Blackheath, we ran a sports store, I was in Quota, John was in Rotary.
John wasn't well though, was he?
He was 13 years older than me. In 1981 he had a complete artery replacement. It went well but 10 years later he become very ill. He rallied for some time but passed away on 19 June 2000.
That must have been an awful loss
I was under a psychiatrist for many years. With John gone, I was lonely and I hated life. I was going to do away with myself. This psychiatrist said: 'I understand but what if you get to the other side and he's not there?' That brought me back to reality.
How did you learn of CLAN? What's it meant to you?
I heard about CLAN on the radio and got in touch and joined. It was only about 12 months old. It's brought up a lot of rawness, hatred and distrust. I don't trust easily. I still harboured a lot of hatred for everything really. I hated my adoptive parents, what they did to me in Parramatta. To this day, I can't sleep without two lights on.
You went to the Royal Commission?
Yes, I went to Justice McClellan but I think I came out more confused than I went in. My daughter came with me. She'd had no idea.
Have you applied for Redress?
Yes, I'm doing that legally. Leonie Sheedy's helped guide me.
One last question, a bit out of left field. If you could have anyone to dinner, who would you invite?
No-one, to tell the truth. Apart from Oona, my beautiful golden retriever. I can totally trust her. She never asks for anything I can't do for her. She studies me, she knows my mood. She sits with me when I'm cross and puts her head on my knee.
This article appeared in The Clanicle October 2020