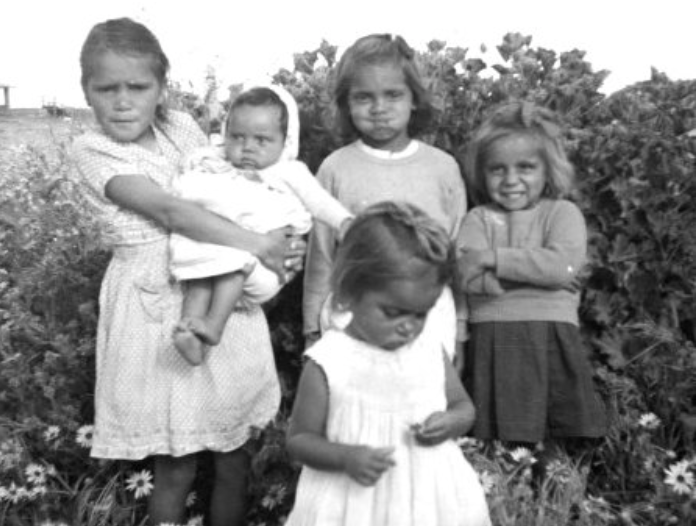 Above: Dallas Phillips, as a baby, with her sisters.
Western Australia's Dallas Phillips is proud of her Ballardong Yuet and Yamatj heritage but the abuse and injustice levelled against her, her family and her people has been a grinding life-long pain.
What's your earliest memory?
The priest at Goomalling. I was going to Sacred Heart Primary. I used to go to school with my siblings but I'd run away and sit in the toilets because every time I turned up at school the head nun would send me down to the priest. I was living in fear.
 The nuns sent you to a priest?
Those bitches. He was Father Edward O'Halloran. This was when I was around seven through to 10 years old.
 What had you done? What would the priest do?
Fr O'Halloran was a nasty freak. He'd say: 'Look at you!' He'd stand there, rolling about on his feet, broken veins on his face and smelling like grog. He'd cane me on the legs, the back, everywhere. I had no idea what the caning was about. Other times he flicked my chest like breadcrumbs. I was in fear going there and there was this awful build-up. He'd watch me until I'd poo and wee from fear. He was a sicko. He was cruel and got off on what he was doing.
 That's deplorable …
I was so embarrassed. He'd watch me wash all my bloomers out. I'd have my little backside beside the tank, and butterflies in my stomach because I was so frightened. That was a really common thing for me.
 Did you tell anyone?
He'd send me back to school but I'd walk home and go change and hide. I'd climb a tree and stay there crying and upset. I didn't know why I was getting this. I told Mum and Dad. We had an old aunty who was a staunch Catholic who told my Mum: 'These things wouldn't happen, he's a priest, she's got to stop talking like that, she'll be punished.' She was indoctrinated to believe what the church said. All the uncles and aunties, they were weak. It was horrible.
 Who were your parents?
Mum was Mavis Walley. Dad was Herbert Ernest Charles Phillips. They're both deceased. We had 11 kids and lived on a farm five miles out of Goomalling. Dad was a slaughterman/butcher. We had the most beautiful life on the farm. The WA State Library has photos Mum took there. All the photos show us happy, you can see how happy we were.
 But the Department of Native Welfare wanted to move you?
Native Welfare wanted us all in the same place, on a reserve. When we left the farm, Dad was trying to get us away from Goomalling but Mum was being pressured to stay. Goomalling was where all her family were, there in the reserve. In the end, we moved there but Dad couldn't work there as a slaughterman, he had to find other work. The Native Welfare had interfered when they should've left us alone, we were quite self-sufficient.
 How long were you there?
I'm not sure on dates and ages. But then they put us on the outskirts of Goomalling, in Quinlan Street. A doctor wanted my sister, who had rheumatic fever, living in a conventional house. It was a three-bedroom corrugated iron and cement place for 11 kids but by then the older kids were taking off.
 And you were still having trouble at Sacred Heart. Did your behaviour change?
I had real problems. I couldn't sit still, I couldn't concentrate. I wouldn't eat, my behaviour had changed. They said I was getting uncontrollable. I was suffering. School was really nothing, there was none. The only thing I liked was singing and it was all Jesus. But where was Jesus?
Because they deemed me uncontrollable, they sent me to New Norcia.
 That's New Norcia's Benedictine orphanage where the Royal Commission found one in five priests between 1950 and 2010 were alleged child abusers?
It was one of the worst places for indigenous kids. And there were so many kids there, it was a big orphanage. They sexually abused black and white kids. Many indigenous girls were pregnant to the monks. My brother was raped by Brother Basil, a monk at the boys orphanage for indigenous kids. I was around 10 or 11 years old when I went there.
 How were you removed from Goomalling?
I didn't even have to time to say goodbye to Mum and Dad. Mewsy, the Native Welfare bloke, said he was coming on a certain day but he arrived earlier. I think I was in school and me and a relation, Barbara Woodley, went up to New Norcia with him. Mewsy pulled up at the Wongin Hills swimming pool and said: 'Stay in the car'. It was a really hot day, he went in and had a swim. He left us sweating in the car. Native Welfare were very hard to us, they treated us like we didn't exist. Then we went on to New Norcia.
 They worked you hard there?
We did all the work and we were like unpaid little sex slaves. We worked in the kitchen, preparing beautiful meals for the nuns while we would have shit to eat. We boiled down candlewax to polish floors, then we polished the floors on our knees – the church floor as well.
 And you were molested again as well?
I was so damaged, so traumatised. There was one bloke got me. He was a brother, a monk. I don't really have any idea how long it went on but I remember at the same time I was always being punished by Sister Pious.
 What was she about?
She just hated me. She had an instant dislike for me. I was picked on to do all the work; in the laundry, the packing room, all that stuff. There was no real education, they didn't change my life in any way for the better. None of us were scholars when we left New Norcia, all we knew was how to clean. I couldn't tell the time until I was 18.
 Were you able to tell anyone about your abuse?
No. One time, my elder sister came to New Norcia. I told her what was going on, I was asking for help to get to Goomalling. My sister had a nasty bloke with her, he used to bash her. I said get us out of here – me and the sister with rheumatic fever – but she didn't help. She didn't tell Mum or Dad to get us out. I haven't spoken to her in 45 years.
You tried running away?
I ran away, with two Barron sisters, Janet and Susan, from Carnarvon. We ran to Perth, an old truck-driver dropped us off late at night on the outskirts of town. It was raining and we walked and walked, slept in an old toilet around Bayswater somewhere. The police picked us up, took us to the Mount Lawley Receiving Home. We stayed there a couple of days until Sr Pious and Mother Mary came and collected us. Things just got worse after that.
 When did you leave New Norcia?
I really don't know but I went home pretty messed up. My behaviour, all I remember, is trying to hurt myself. One time I jumped on a moving goods train, a wheat train, I don't know how I survived. Dad moved us 25km to Dowerin. I was with Mum and Dad but I wasn't the same, I was so messed up. I was up and down to Perth, Nyandi and Longmore detention centres. I was going off my head, breaking in, doing silly things.
 Did anyone offer you help?
No. No-one was helping and I was crying out for help. It wasn't like it is now with all the mental health services you see. It was the '70s and '80s, long ago. It was a terrible time for all indigenous people, even the police were 'servicing' the aunties and all us kids.
 You avoided jail?
I never wound up in jail, just kids' detention. They eventually sent me to the Home of the Good Shepherd in Perth. They were nuns who didn't empower or prepare us for the outside world. They indoctrinated us to look after your husband and kids, keep the house clean and go to church with your family every week. These were woman who didn't have kids themselves and were just out of touch.
 Did you receive any affection or help there?
Sister Josephine Walsh gave me the love I needed when I was so messed up. My daughter Ebony was born in 1984, her godmother is Sr Josephine. She was very good to me but, sadly, she was also out of touch. She loved bingo and the TAB, she introduced us all to gambling.
But her own brother was coming to Kiah House there – it was meant to be a safe house for girls – and soliciting the girls. He had cancer at the time.
 So the church and its agents were at odds with their own philosophy?
The bottom line is the church did a lot of damage to me. No-one believed me. They failed me in every way, it was a gross breach of trust for me as a First Peoples indigenous human being. Their treatment was cruel, there was no need for it. At the New Norcia Mission, we were told our language was a voodoo language. They took everything from us, our beliefs. The nuns were hypocrites, like husband and wife carrying on with priests, they were so obedient to the priests.
Did you ever marry?
I was with a violent bloke for 13 or 14 years. I took up with him when I was about 20, 21. He was a truckie for the Home of the Good Shepherd, I worked in the laundry, I thought: 'Here's a way to escape.' But I jumped from the frying pan into the flame. He bashed me to a pulp. I found out he was a rapist after 15 years.
I actually married Thomas in 2012. He's an Englishman, a really good bloke and a good mate. He puts up with me, he's the only one who's seen me when I'm not good. But it's hard, I'm not a cuddly, touchy person.
 Did you give your account to the Royal Commission?
Yes but I regret that there wasn't enough time to tell the full story. There was only limited time but so much stuff.
Have you applied for Redress?
I've got a law firm acting for me. I'm still waiting on files, though, everything takes so long,
How did you find out about CLAN?
I heard about CLAN from another person. This person told me a lady from CLAN is coming to Perth for a meeting that will be held at the city train station. I attended and my journey has been great. The person was Leonie Sheedy – djook or sister girl.
What has CLAN meant to you?
After meeting Leonie Sheedy I felt really relaxed and part of a group that's been forgotten about. We were all little people who have been let down by the government of that time. As a Ballardong Yorga tribeswoman, the native welfare knew New Norcia had paedophile Roman Catholic mutts feasting on kids. The people of CLAN are a refuge when things become difficult for me.
What's an overriding thought on the systems that failed you so badly?
It makes me sad. There were a lot of people older than me abused too. What of all the others brought out from England, as well? Little kids were coming out on boats, they'd been told their parents don't want them. Welfare was signing us all over to them and they knew they were paedophiles, even the cops. They all knew what was going on. They were all working together. They were all evil, feathering their nests.
Hopefully we'll never go through that sort of thing again.
But you feel it will take a much more concerted effort?
To all wujellars, I ask you not to forget that my mob has proportionally more victims. We need your support, we need it from all of you. But it's great when support comes from those whose own suffering has helped them to understand more easily what happened to so many of Australia's First People.
I want my mob and you wujellars to be allies in making Australia a better country for everyone, and a place where everyone's children can be safe.
This article appeared in The Clanicle, July 2020