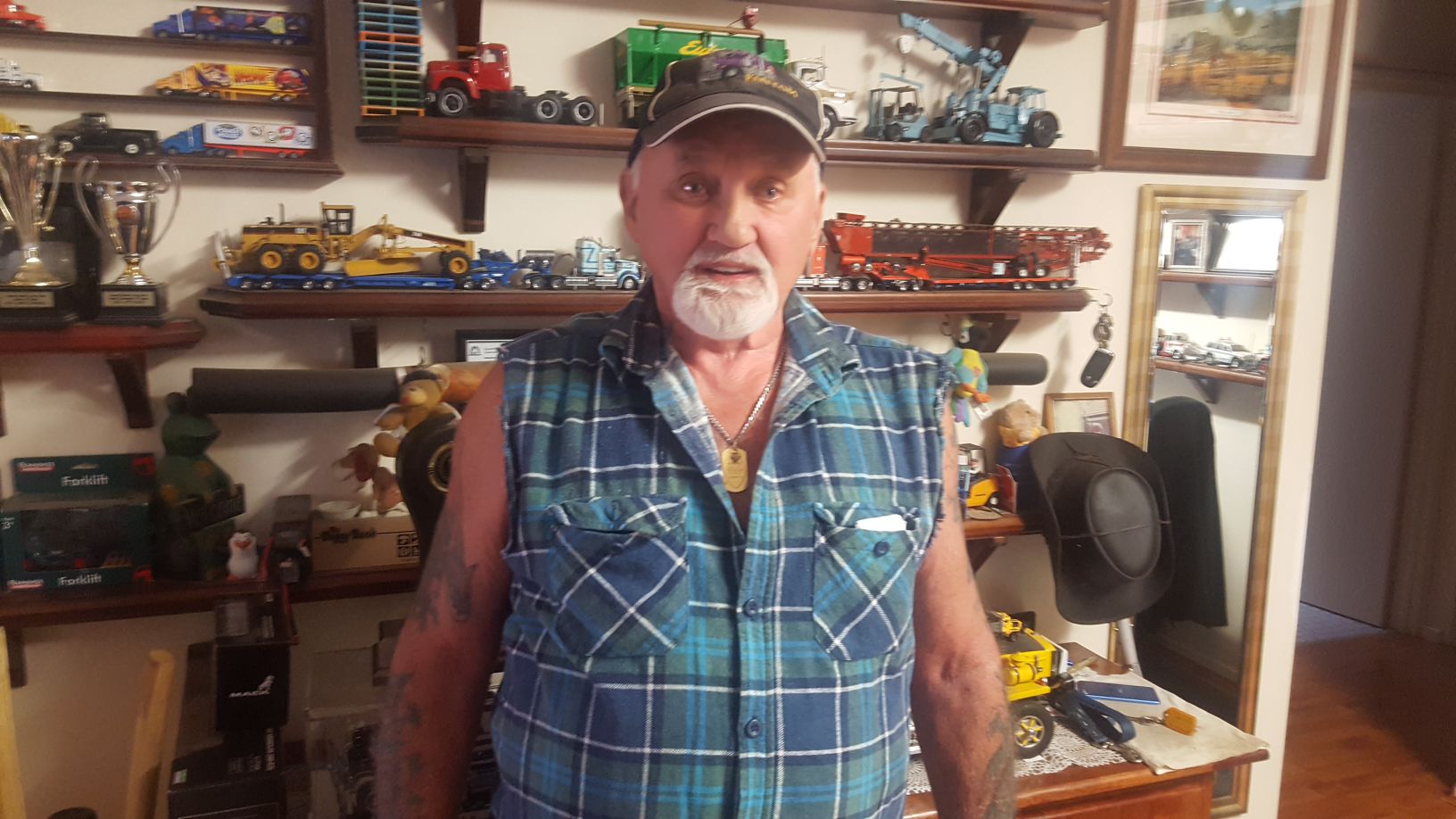 Ian Gibson spent his early childhood in the Anglican Church's Swanleigh Boys Home in Perth, where he was regularly assaulted from age four. Escaping at age nine, when his mother took him in, he found himself facing a brutal stepfather …
 What are your earliest memories?
Mum and Dad split up at the end of the war. Mum was in the army in Darwin, Dad was at sea with the Navy. My older sister, Janice, and I lived with our grandparents, Dad's parents, at East Fremantle. We were sent to Swanleigh when I was three.
Who were your parents?
Dad was Les Gibson, a sergeant in the naval medical corps. Mum was Elaine Mae Gibson, in army signals. He saw action in the Pacific, Mum didn't come back after the war. I didn't know her until I was nine. Even now, I feel bad because I wasn't wanted.
You both went to Swanleigh?
There were two sections, one for boys and one for girls. Dad didn't come to see us. His parents saw us about three times. We were there for six years until Mum remarried and had to adopt us.
What was the orphanage like?
Pretty rough. Lots of abuse. Other kids would sneak up behind and give it to you. The head honcho gave you a piece of wood over the arse whenever he felt like it. I never had anything on my feet. You always worked, every day, never a day off. The biggest job was in the dairy, cleaning up cow shit. Lots of other jobs, too, like big pieces of bluestone we used hammers and chisels to chip into big six-feet crucifixes.
And the staff there?
The staff were always telling kids what to do and sexually abusing us. I'd hear footsteps and I knew they'd pick on me or someone else. They targeted different children. They'd have a bribe like a bowl of custard or whatever.
How many are we talking?
Two. The manager, Angus Roy Peterkin, and a housemaster, Leonard Darcey, who'd been in jail for or beating his wife to death with a hammer. Peterkin used his office, away from everyone where you wouldn't see in. They liked to be very isolated, the paedophile bastards.
How old were you?
It started when I was just four.
Did they appear to conspire together?
I don't know how they operated. They just helped themselves to whoever they wanted. They weren't normally on the same shift but Peterkin was in charge of the whole place, he was the boss man.
Was there anyone you could turn to?
No. you were all in your own. I kept wanting Dad but that just wasn't happening. There was one lady, Miss Hutchinson, every now and again, who'd come from the girls section and do a shift in our section, She must've known when it was my turn in the room. I'd come back with my butt bleeding and she'd tried dress it and make it better. She'd cuddle me like her own child, but that was only when she was on duty – otherwise I was on my own.
You had a dog while you were at the orphanage?
I called it Blackie, he followed me about. At night I'd take bit of sausage from the plate and back in the dormitory hand it through the louvres and he'd stand up against the wall and eat. They got wind of him being my friend and called me out one day. There were two or three people and Blackie. Peterkin said I wasn't allowed to make friends in there and he had someone else shoot him. He wanted me to see it. I punched this prick in the nuts that hard, and he back-handed me fair on my arse. That Peterkin was a nasty bastard.
What sort of feelings did you harbour toward Peterkin over the longer term?
I always liked firearms and years after I got out, I'd go over to the orphanage and park down the driveway about 300metres away and sit in in back seat with a rifle hanging out the window hoping to see him and shoot. Before he died, I talked about him in the Sunday Times. One of his daughters wanted to sue me for talking shit. But I wasn't the only one. I told my case-worker, they gave it to her lawyer and shut her down quickly.
So at age nine, you were 'adopted' by your mother. What was that like?
She'd remarried and we moved to a farm 10 miles out of Kondinin about 300km east of Perth. My stepdad was the biggest bastard you could imagine. He didn't want us kids. We became slaves. I was driving a tractor at nine, I didn't do much schooling, maybe two days out of 10.
How long did that last?
We moved back to Perth when I was 13. They put me into school at Kent St, South Perth, but I blew it up. We had gunpowder, we made sparklers and things under supervision but I'd seen how to make charges on the farms for tree stumps and things. Detonators were pretty easy to make with a few matchheads. It was on TV and in the papers. I didn't think it would be so big, it blew the whole classroom up, the whole science lab. I said I didn't know what I was doing, I talked my way out of it. My parents weren't very happy. That was the end of my school career.
How did you feel as a maturing teenager after all this abuse?
I felt unwanted. I felt dirty. I still feel the same today and I take at least three showers a day. But I never said anything to anyone. I didn't say anything until I was 65. I'd gone to tell my grandparents once and my grandpa said: 'Is he insane?' My grandma said something, I can't remember. He said that wouldn't happen in a nice place like Swanleigh.
You went to work next?
I got an apprenticeship as a carpenter. When I finished that I joined up for Nasho service, in 1968.
How did the army work out?
I got cancer out of the army. All the DDT dust in the fogger machine we put around the streets and river to keep the mozzies down. Two boys were drowned at a river crossing and one bloke had his head decapitated coming from back the Canungra pub to base in a car accident, saw his brains all over the road. There were lots of little things going on. My first part in the army was at Puckapunyal, Victoria. There was bastardisation by senior officers and I was a sandgroper. I wouldn't take any shit, so I got into lots of trouble.
Could you protect yourself?
I just wouldn't give in. They could give me as many as push-ups as they liked but they wouldn't get the better of me. If worse came to worst, I'd say: 'Meet me out the back.' I handled myself like a street fighter and I learned martial arts. I put that German bastard stepfather down when I got older, put him in Royal Perth Hospital for two weeks. Mum wasn't impressed.
How long did you last in the army?
I got out in 1971, started driving trucks, northwest then east-west. Did that for 35 years – road trains, three trailers, general flat-tops, freezers, chillers carrying booze and food. I drove for Brambles for about 27 years.
You said you got cancer …
I've got cancer in my jaw. Fifteen years ago, they gave me six months.
I've got another cancer too, lymphoma. Five years ago, they gave me 12 months.
Did you marry?
Yeah, got married three times. Eight kids scattered around the place, a couple dead, three of them truckies. First time I married things weren't working out – I'd be away, no contact, base wouldn't tell them where I was. We decided split but stayed friends, went out together for some years, still see each other. The others, I'd come home and there'd be another bloke with my missus – that happened twice.
How did you get along with the kids?
I didn't get to know them. Every time I'd come back from driving and ring to get them for an access weekend I'd be told things were re-arranged. Every now and then I'd be locked up because I'd go around to see them and some de facto would come out and shove two fingers at me. I'd have a go and belt him. The cops would take me aside, sometimes let me go, they knew where I was coming from.
Did you give your account to the Royal Commission?
Yes. I'd been watching news one night and saw this guy in Perth, the paparazzi wouldn't leave him alone. I knew him quite well, from driving trucks. He was a Pommie bloke who'd been told his parents were dead and shipped out here to Freo after the war. He went to Bindoon Boys town. He was about same age as me, and he was sexually abused up there. He'd just been telling his story. I felt bloody sorry for him, I knew how he felt. So I put the form in straight away and they flew over to see me and take my statement.
You applied for Redress?
Yeah, I was offered Redress but I've got lawyers who are pursuing a better deal.
Is there anything that would have helped you when you were in the orphanage?
A couple of things. Possibly putting more females than males in there. I'm also a big believer in rotation. They get too comfortable and think they can take us aside and have sex with us. If you get in someone fresh, it upsets the balance and it will change everything around, undo the trouble maybe.
What happened to your Mum and Dad?
Mum died about 25 years ago. She lived with that bastard stepfather until then. I lost track of my Dad after I left the orphanage. He remarried and I found his wife, Chris, she told me he passed on in 1961. She'd known I existed. When Dad was in hospital and not too flash he'd say: 'Get Ian.' So she'd walk into Perth and stand on different city corners for hours at a time with a photo of me when I was younger, looking for me. She never found me. The cops wouldn't have helped. It was like looking for a needle in haystack. She stood there for weeks, just looking. It's pretty bizarre when you think about it but in those days you couldn't find someone like you can now.
What about CLAN? Has that worked for you?
CLAN works really well. They've helped me a hell of a lot. And others too. I go out every now and again wearing my CLAN shirt but I don't actually go to CLAN, reason being I don't mix really well. I've been making model trucks since I was about 20. I've made hundreds – and I made one for CLAN for its 21st anniversary art exhibition, about two feet long, in the blue and yellow colours with CLAN on it.
This article appeared in The Clanicle, May 2020