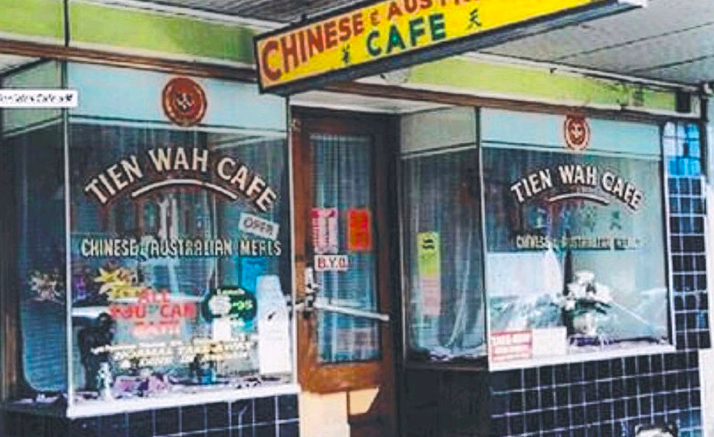 AS Geelong's past icons go, it's up there with Hy-Lite Park, ABC Café, Bright and Hitchcocks and McCann St.

But Tien Wah Café, illustrious a position as it holds in Geelong's social and culinary history, is reluctant to be consigned to a forgotten past.

Last weekend saw its celestial presence shining bright in cyberspace as hundreds of Facebook Geelong page followers recounted episodes and experiences at the Malop St Chinese and Australian Café.

And not surprisingly, really. For behind the Tien Wah's deep blue tiles and lace-curtained windows, beneath the menacing dragon over its veranda, the hearts and stomachs and sensibilities of a couple of generations of Geelong were tugged, sated and churned.

The testimonies posted on the page spoke of over-sized chicken rolls, giant hand-cut potato chips, fried rice in brown paper bags, takeaway chow mien in customers' own pots and pans, gar lee gai, legendary dim sims, sweet and sour in chicken and pork varieties.

They also attested to first dates that led to marriage, to chiko rolls claimed as aphrodisiacs, to dim sim-eating records, a Christmas tree that was up all year round, carved boxes, guitarist John Dallimore's tribute Tien Wah Blues, hangover cure banana fritters and more.

The Tien Wah, for 47 years until 2003 a Geelong landmark, was opened by Lee Man Yee after a syndicate behind the Golden Vine Chinese restaurant, then in Ryrie St, split.

He and his wife ran the show until the mid-1990s, Mr Lee using an abacus to sort his accounts.

"I would go there for Mr Lee's dim sims or spring rolls three or four times a week. Awesome," recalled a poster named Robert Hovendene on the Facebook page.

"I had two dozen shipped to me when I working overseas in the '80s."

"We have lived all over Australia and no Chinese has ever matched up to Tien Wah," Melaine Gill said.

But David Hayley, with a sense for Geelong icons, might have had the last word on the Tien Wah.

"Always there after footy, especially when Ablett senior kicked a bagful at Kardinia Park."
……….
IT'S a sign of the time.

And the time was when this sign's snaking tongue, firecracker tail and scaly reptilian body, hovering menacingly over a Malop St verandah, branded one of Geelong's first serious shakes at multiculturalism.

For the past decade the location of the dragon sign that sat atop the Tien Wah Café has been a mystery.

This week collectibles aficionado Mark Ward revealed he snapped up the sign when the restaurant went west.

It might have been headed for the tip otherwise.

After reading the Independent's account last week of locals lauding the former culinary centre's delights on Facebook, he dusted the sign off and set it up at the front door of his The Amazing Mill Markets.

"Everyone has a story about the Tien Wah, it's been a real talking point," Mr Ward said.

"Everyone was wondering where the dragon sign had gotten to."

The 2.5-by-1.5-metre sign was an icon of Geelong, a part of local history with which hundreds, even thousands, of folk had a connection, Mr Ward said.

He bought the sign after spotting workers removing it from the Tien Wah and, recognising its value of a piece of Geelong memorabilia, made an offer.

Mr Ward said Geelong memorabilia was a hot seller among local collectors.
Items he had sold in recent times included bar mirrors from the Terminus Hotel, dining room doors from the original Barwon Heads Hotel and gear from Geelong's former Hy-Lite Park.

But anyone hoping to lay their hands on the famed Tien Wah dragon best hold their breath a while.

"It's in fantastic nick," said Mr Ward.
"But I'm not selling it."
These articles appeared in the Geelong Independent