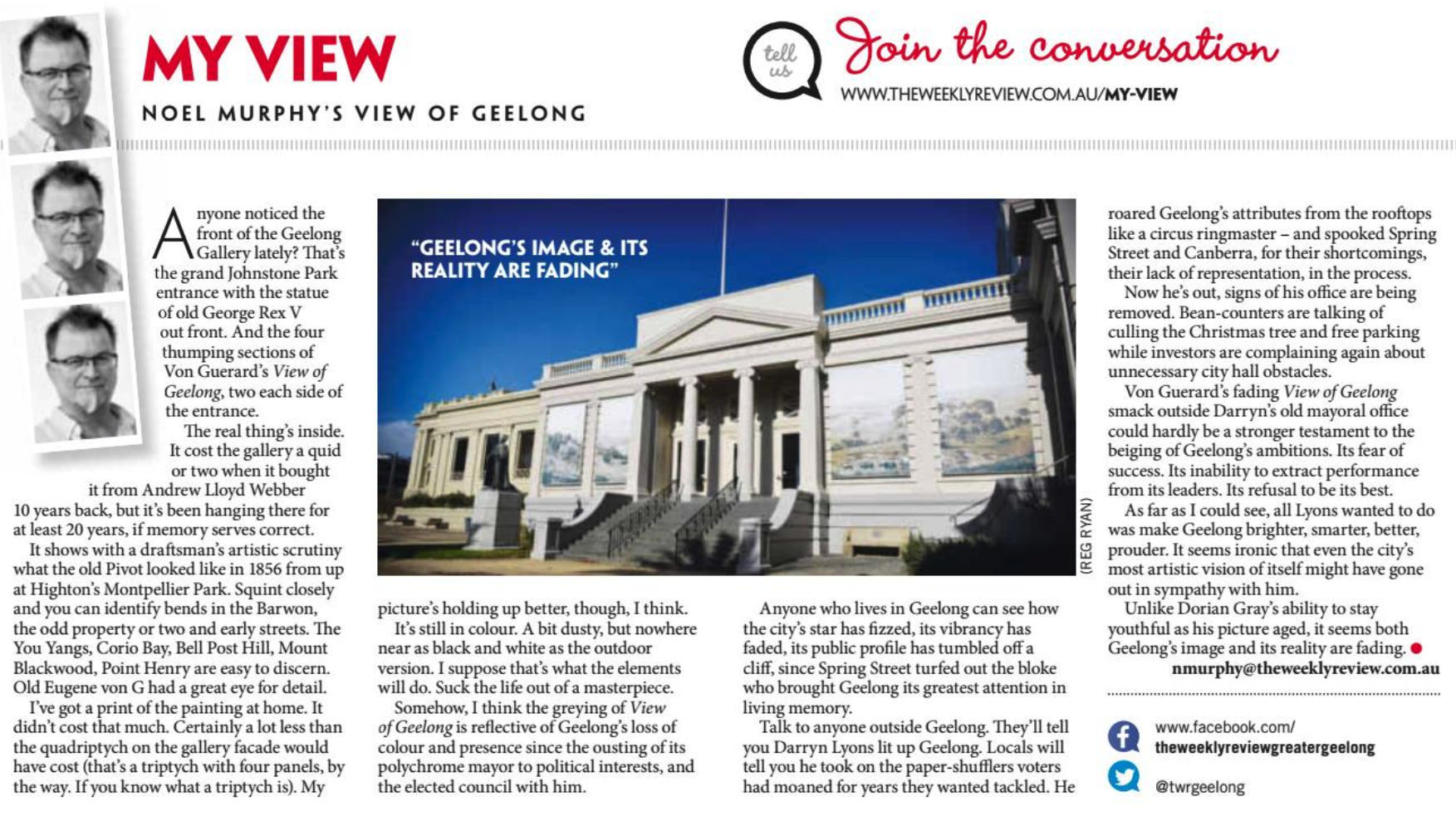 Anyone noticed the front of the Geelong Art Gallery lately? That's the grand Johnstone Park entrance with the statue of old George Rex V out front. And the four thumping sections of Von Guerard's "View of Geelong", two each side of the entrance.
The real thing's inside. Nice old painting. Cost the gallery a quid or two when it bought it from Andrew Lloyd Webber 10 years back, but it's been hanging about there for at least 20  years, if memory serves correct.
It shows with a draftsman's artistic scrutiny what the old Pivot looked like in 1856 from up at Highton's Montpellier Park. Squint closely and you can identify bends in the Barwon, the odd property or two and early streets. The You Yangs, Corio Bay, Bell Post Hill, Mount Blackwood, Point Henry are easy to discern. Old Eugene von G had a great eye for detail.
Got a print of the painting at home. Nice gilded frame, faux of course. Didn't cost that much. Certainly a lot less than the quadriptych on the gallery facade would have cost. That's a triptych with four panels, by the  way. If you know what a triptych is. My picture's holding up better, though, I think.
It's still in colour.   
Bit dusty, to be honest, but nowhere near as black and white as the outdoor version has become. Bit of bad luck, that, I suppose it's what the elements will do. Suck the life out of a masterpiece.
I make this observation because, somehow, I think the greying of View of Geelong is reflective of Geelong's loss of colour and presence since the ousting of its polychrome mayor to patently political interests, and Geelong's elected council with him.
Anyone who lives in Geelong can see how the city's star has fizzed, how its vibrancy has faded, how its public profile has tumbled off a cliff, since Spring Street — in a fit of electoral-induced paranoia — turfed out the bloke who brought Geelong its greatest attention in living memory.
Talk to anyone outside Geelong. They'll tell Darryn Lyons lit up Geelong. Locals will tell you he lifted the lid, raised the bar, took on the faceless paper-shufflers Geelong voters moaned for years they wanted tackled head-on.
He roared Geelong's attributes from the rooftops like a brash circus ringmaster — and spooked Spring Street and Canberra, for their shortcomings, their lack of representation, in the process. Now he's out, signs of his office are being removed — plants and greenery down Malop St — bean-counters are making overtures to cull the Christmas tree and free parking while investors are complaining again about unnecessary City Hall obstacles.
The fact von Guerard's fading View of Geelong sits smack outside Darryn's old mayoral office could hardly be a stronger testament to the beiging of Geelong's ambitions. Its fear of success. Its inability to extract performance from its leaders. Its refusal to be its best.
Far as I could see that's about all Lyons wanted. To  make Geelong brighter, smarter, better. Seems ironic that even the city's most artistic, iconic vision of itself might have gone out in sympathy with him. Unlike Dorian Gray's ability to stay youthful and handsome as his picture aged, it seems both Geelong's image and its reality are fading.
This story appeared in The Weekly Review 7 July 2016