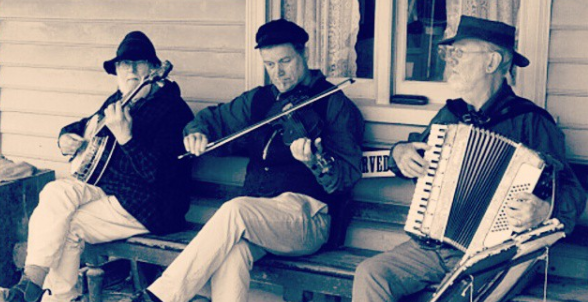 SOVEREIGN HILL: "Yikes!'' I think, as this bulky Baltic bloke tries to unbutton my vest. After thrusting his carcass between me and my fellow fiddler for his friends to snap another quintessential Aussie tourist pic, he starts tackling my woollen vest while I'm trying to scratch out the crochets of Merrily Kissed the Quaker's Wife.
My mistake. Shouldn't have said: "Nice jacket, bloke". He probably figured a swap was a great dinner tale for back home. Might have been a lucrative trade, too, the leather jacket was worth a packet. But I demurred. No deal, mate.  Not a lot of call for Riga clobber on Ballarat eBay. And don't sit on me bloody fiddle, you'll break it! Clod.
Funny how not everything's what it seems on the Hill. All a matter of perception, really. What the corpulent Latvian perceives at the Hill is rather different to what the average Aussie schoolkid soaks up barrelling up and down the gravel tracks of the Hill, scoffing raspberry drops and blotting schoolroom copybooks like a true-born native yob.
Mystique, romanticism, are high on the agenda, though, in their own way. And for a great many arrivals, the hackneyed Cockney accent I offer them, and the mongrel Monaghan brogue too, is gold, so to speak.
So, too, peculiarities like thumping great draughthorses, whomping shires and Clydesdales, daubed in Carringbush stripes of black and white. Giant colonial zebras, of course. And it might have worked once … at least until the paint ran off the poor beasts.
Old publicans would do anything to get the punters in to drink their methyl alcohol, and strange sights indeed you'd see before you went blind. Like Bengal tigers. The Montezuma Hotel hosted one in 1855. It got out, sure enough, and scared the stripes off everyone.
Inside the Hopkins and Coles store, it was secured by a couple of stout-hearted chaps who managed to sling a lasso over its head and hindquarters. Bloody lucky.
Then there was the elephant that turned a tad feral when an outraged yapping dog wouldn't ease up. As a newspaper correspondent reported, he "proceeded to vent his wrath, and ease his mind, by pulling down sundry tents, and showing clearly that he was by no means to be put upon with impunity".
Sometimes you might feel a little set upon yourself as the races and creeds of the planet clamber all over your haunting Willow on the Lake or your jaunty Princess Royals for their fridge-door souvenirs but that's the gig. It's the elephant in the room: your ugly whiskered mug, smoke-reeking vest and ancient tunes are just Antipodean mementoes. And don't forget it. Huzzah!
Some things, though, aren't for forgetting. The stories that drift over the goldfields, even today, help maintain a 19th century mystique that keeps the fiddlers and squeeze-box exponents entertained as much as the Indians, Chinese, Bosnians and Singaporeans tripping over the horse dung and squealing in front of them.
Like the aeronauts who captivated audiences in their hot-air balloons, overcoming gravity with fire and sails stitched together — these were wild exotic days of ever-new scientific advances and overcoming gravity was like alchemy. Magyk.
Travellers brought stories of white women held captive by savages in the wilds of Gipps Land. Others of young Aboriginal boys raised by God-fearing folk and paraded about in society — so sure was a one ebony lad of his ancestry he told the genteel mob he was white. Circuses, as always, brought the accidents of nature to your doorstep, two-ton Tessies and bearded ladies.
Treasure map tattoos purportedly adorned the buttocks of blokes like Kerosene Jack across the plains at Shortland Bluff past Geelong. Wild white men such as escaped convict Bill Buckley emerged from the bush after 30-plus years living with the blackfellas.
Even the son of bushranger Ben Hall eked a travelling show living as the famous Leopard Boy, adorned with 32 birthmarks across his body — in precisely the same spots the traps targetted 32 bullets to cut down his father.
His very own full-metal jacket, as it were. Bet the bulky Balt would've loved that.
— The Weekly Review