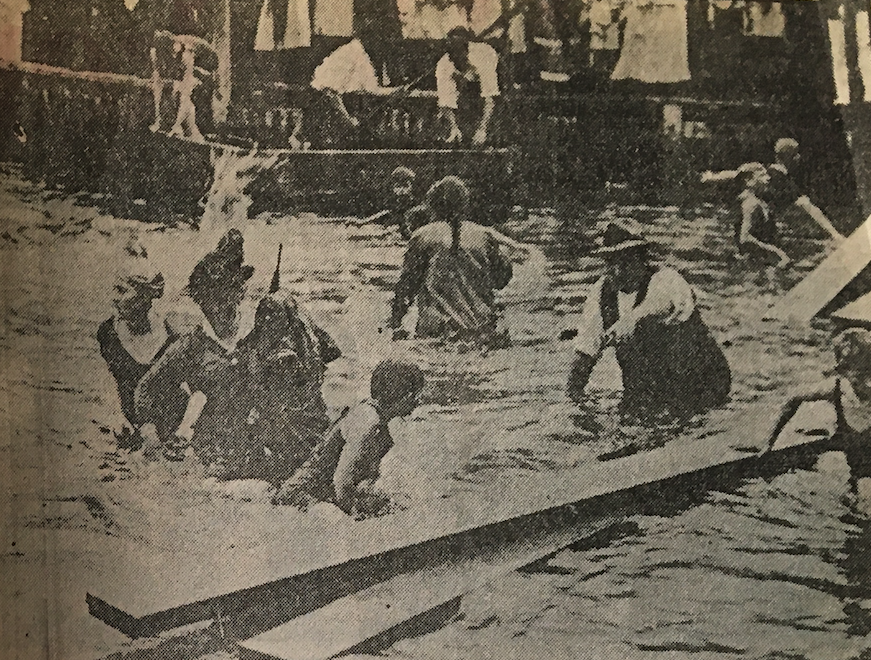 Curious to see the Geelong Convention Centre – a super-hoary old chestnut that's been around since the mid-1950s – supposedly set to materialise along Western Beach. I'll believe it when I see it.
And I'll believe the idea of the old Western Baths inspiring any design concept for some water-based landmark, if and when I see that, too.
Cynical, I know, but you can't ignore 65 years of futile civic jawboning about a supposedly desperately-needed convention centre just because a few politicians tell you a couple of hundred million has been set aside. It's not the footy club, you know.
Now I don't wish to be overly mischievous, the centre has enough image problems already because it's killing off the entire Deakin Uni Waterfront car park. When did Geelong's town and gown ambitions become so pedestrian?
The purported parking solution – shuttle buses between the Waterfront and Waurn Ponds campuses – is as loopy an answer as you'll hear in tertiary education. Drive from your home in, say, Geelong West, to catch a shuttle back into town, then reverse the process before driving home again.
Imagine getting convention centre users to park at Waurn Ponds and then shuttling them in and out of town. You know, I wonder if it didn't actually cross someone's mind.
Hopefully, more thought will go into any baths-inspired water-based design that might become part of the convention complex, as our Sarah Henderson suggests. Certainly wouldn't want a repeat of the mishap that befell the Western Baths at the Patriotic Swimming Carnival back in 1918.
That's when a dodgy temporary grandstand that had been accommodating then-mayor Howard Hitchcock and scores of suited gents and generously-helmeted ladies watching the swim races decided to nose-dive into the water below.
Eighty spectators were dumped ignominiously in a mess of timber beams and water. Shrieks and screams of alarm cut the air as the hapless spectators tumbled south. Mercifully, the water was just a metre deep. Many people were submerged nonetheless, although some well-balanced individuals maintained their equilibrium, landing on their feet and suffering a waist-high soaking only.
Wonderful entertainment, of course. If you weren't injured. Kids loved it.
Reports of the day say the casualty score was low with no-one seriously hurt beyond bruises and scratches. A lucky thing, which accounts for the initial screams of fear turning to laughter as men, women and kids splashed and scrambled to extricate themselves from the seawater and fallen woodwork.
"With the assistance of spectators ashore and the stewards, who came to the rescue with a boat, the unfortunate ones were lifted out of the water," reported Geelong magazine News of the Week.
"Cabs were summoned, and the majority were taken to their homes. Some of the men remained at the carnival in their wet clothes, saying that saltwater would not give them colds."
No colds from saltwater? Hmmm. I suspect the seawater hydrotherapy craze back in the day might have been behind this claim. The fate of Hitchcock wasn't reported, strangely enough, and whether he sustained scratches, bruises or sniffles remains a mystery for the ages.
Questions were raised whether any engineer or architect had signed off the statically-indeterminate grandstand. Someone suggested an inquiry. I'm sorry but I can't tell you. Can't confirm or deny, as they say.
The Geelong Advertiser referred to the collapse, rather casually, as a 'mishap', but didn't miss the opportunity to drop in a footnote about a more substantial mishap at the Hong Kong Jockey Club, where a grandstand had also collapsed, caught fire and killed some 573 poor souls.
The Western Baths collapse could have been a lot worse seems the inference. I doubt many people might have been barbecued, however. A lot of sneezes perhaps, which with a Spanish flu pandemic looming large at the time might have spelled trouble.
Western Beach, these days a neat enclave of yachts, greenery, clifftop views, jetties, paths, bollards, peppercorns, palms, birdsong, curious architecture and wicked sunrises, is not really renowned for mischief.
In the early days of white settlement it offered a challenge to travellers with its dense foliage. Mythical tunnels between a couple of pubs and the waterfront also supposedly enabled everything from rum-running and other smuggling to illegal immigrants.
Bar the grandstand collapse, the most serious danger WB's faced was a massive explosion 20 years back when this paper reported "Mayor fears gas blast" across the front page. The alarm was raised after a couple of city council bosses were in a post-Geelong Cup car stack – it conveniently drew attention from the controversy was the newsroom thinking at the time.
TXU argued the danger point and was backed by later engineering reports. Meanwhile, the cliff promenade was slammed shut, scaremongering accusations tossed about, resignations demanded, a boardwalk built … the car stack controversy didn't go away but that's another yarn for another day.
More general commentary on the threat was less complimentary: if there was any gas crisis, it was more likely a case of someone eating too many chevapis. Deadly. Knock the sump out of a grandstand any day.
An edited version of this article appeared in the Geelong Advertiser 28 February 2022