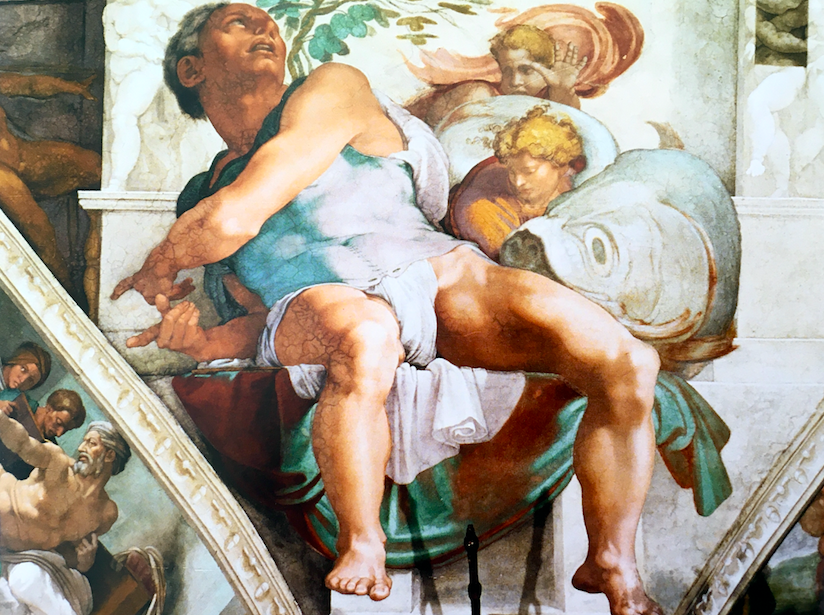 Normie Rowe had a hit, eons ago now, with a song called It Ain't Necessarily So, shortly before he was bundled up by Harold Holt and sent off to Vietnam.
Sending Australia's Elvis to war was as cynical a stunt as any of the cant, misrepresentation, fake news claims, propaganda and election mouthings we're bombarded with non-stop these days.
The Gershwin-penned lyrics to Rowe's hit were tripping through my head as I tripped through the oddly industrial Michelangelo's Sistine Chapel exhibition in Melbourne last week:
'It Ain't Necessarily So,
'The things that you're liable
"To read in Bible …'
It's an old whack at the good book, from Porgy and Bess, and not altogether undeserved. It came to mind as I looked at Michelangelo's Jonah in a seat with a big fish chewing on his leg. The metre gets a bit mangled as the song fights to make its words rhyme:
'Well, Jonah, he lived in a whale
'He made his home in
'That fish's abdomen …'
Not a bad effort really but it, in turn, reminded me of Geppetto and Pinocchio, whose nose grew long with his fabrications, and who also took a Jonah-like turn in the whale's belly. Another whopper came to mind, too; one you're not liable to read in the Bible.
What do you know about Lake Connewarre?
Complex mangrove, saltmarsh, swamp, lakes and river wetland. Yep. About 150 species of birds, 10,000 ducks and swans, rare plants, seagrass meadows, fish spawn sites, grass and herblands, scrub … the biggest native vegetation on the Bellarine.
Great place. But do you know about the Lake Connewarre whale?
Happened in 1861. Fin-back whale, second in size to only the blue whale, was spied by local fishermen, who took to the poor creature with vicious intent. The papers reported:
"Those of our sportsmen who fly at high game have now an opportunity of gratifying that feeling in rather an unusual manner. In Lake Connewarre is to be seen a whale of the fin-back species which, has been sporting its mammoth length in these, waters for some weeks past.
"When she, for the fin-back is a feminine, first found her way through Barwon Heads into the lake, she was accompanied by a young calf, which was speedily killed by the fishermen residing upon the banks. The mother, however, is another affair, for being particularly savage at the loss of the calf, and of large size and active in her movements, has made her would-be capturers pause.
"Nothing could be more exciting than for three or four boats well manned to essay the capture of this monster of the deep, which cannot get clear of the lake, at present, the water being too low over the bar, but should heavy rain set in there is no doubt she would slope from, such inhospitable quarters.
"To our sporting men who have just now nothing on hand we commend the capture of the whale, which would ensure more sport, combined with sufficient risk to make the affair uncommonly exhilarating. The oil, too, would be worth something."
That's an invitation that'd send today's Sea Shepherd warriors into conniptions. They might have been buoyed, however, to read a fortnight later:
"The whale in Lake Connewarre still continues in the most tantalising manner to play at Bo-Peep with both fishermen and amateurs, who have been making sundry attempts to kill the monster, but without success."
But the auguries some six weeks later again weren't so optimistic:
"The lady whale in Lake Connewarre has, after a few months' repose in her cozy bed, again given signs of vitality, to the great disgust of the fishermen in that locality, whose nets have suffered severely by the pranks played by the oleaginous monster when disporting herself in the waters of the lake.
 "The sufferers have arrived at the conclusion that an end must be put to this state of affairs, and a combination has been entered which, without much doubt, will result in the termination of her ladyship's career during the present week."
I'm sorry I can't cast any more light on the lady's fate. It didn't sound good.
What I can tell you, on a more positive note for Sea Shepherds and others anxious about the planet, is that Lake Connewarre's complex wetlands make it a fair candidate as an important CO2 sequestration site. Coastal wetlands, Deakin Uni's Blue Carbon Lab tell us, can soak up CO2 at between 30 and 50 times the rate of trees.
And while we're at it, guess what else makes a fantastic carbon soak?
That's right, whales. When they die, they sequester some 33 tonnes of CO2, taking it out of the atmosphere for centuries. Prior to that, they're pretty handy as well, with their poop fertilising the ocean, making phytoplankton blooms that soak up huge amounts of carbon dioxide. Trees, by comparison, soak up a measly 22 kg worth a year apiece.
This kind of info leads one of my old mates to suggest you could help stop climate change by building more salt lakes and throwing a few whales in them.
It almost sounds sensible but I'm not too sure it's something the whales will swallow.
This article appeared in the Geelong Advertiser 5 April 2022