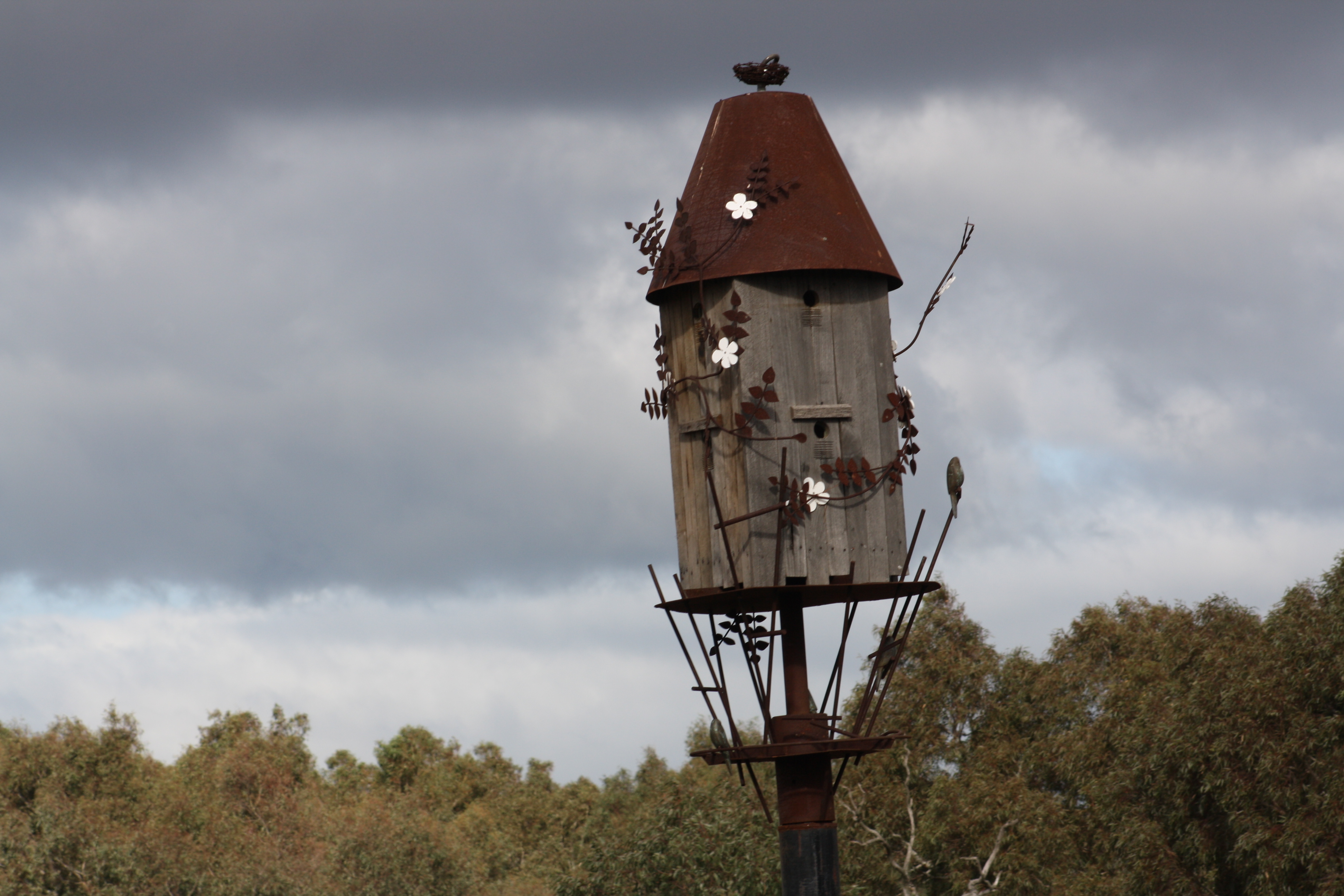 They rise up from the Armstrong Mount Duneed water as stark other-worldly structures, looking mediaeval, Nordic, even a little like something from a 1950s sci-fi movie.
But these things of metal and timber, and grey and brown, are both refuge and sentinel. And magnets for the rich birdlife to be found at Villawood Properties' Armstrong community.
Renowned sculptor Folko Kooper has built a clutch of the whimsical but carefully-targeted birdhouses as the latest addition to a striking collection of signature Kooper pelicans, eagles and cockatoos already at Armstrong.
They feature internal nesting boxes specific to local species such as wood ducks, corellas, Major Mitchell cockatoos, rosellas and lorikeets and boobook owls.
"There's a barn owl nesting box, as well, in case we get lucky and platforms on the way for cormorants or herons," says Mr Kooper.
"The birds are endemic to Geelong and its surrounds. There's quite a bit of research went into them and the birdhouses.
"The internal nesting boxes are all bird-specific and made by an enthusiast in South Australia who supplies national parks, councils and so on with nesting boxes."
The birdhouses, a stone's throw from the Surf Coast Highway, are part of the community growth and community art imperatives in Villawood estates across Geelong and Melbourne.
The Armstrong Mt Duneed community is current holder of the Urban Development Institute of Australia's Best Masterplanned Community award.
The birdhouses sit some five to six metres above the ground. They resemble multi-storey mediaeval houses and castle towers, and host artistic flourishes such as cockatoos and parrots, metal hat-like tops and flowering creepers.
Villawood Properties executive director Rory Costelloe said the birdhouses were aimed at engendering curiosity in the environment and art — positive pursuits for a young growing community.
"The Armstrong area hosts around 60 species of birdlife and Villawood is very attuned to the environment," Mr Costelloe said.
"This occurs in all our developments, from our water systems and housing to our walking trails, recycling, and our protection and preservation of native species.
"Art is a great and enjoyable way to help further pursue these important elements within the community.
"Folko has done a great job, yet again, in helping Villawood raise the bar for important community art in residential developments."
— Surf Coast Times 14 June 2018 https://freelocalnews.com.au/surfcoasttimes/print-editions/