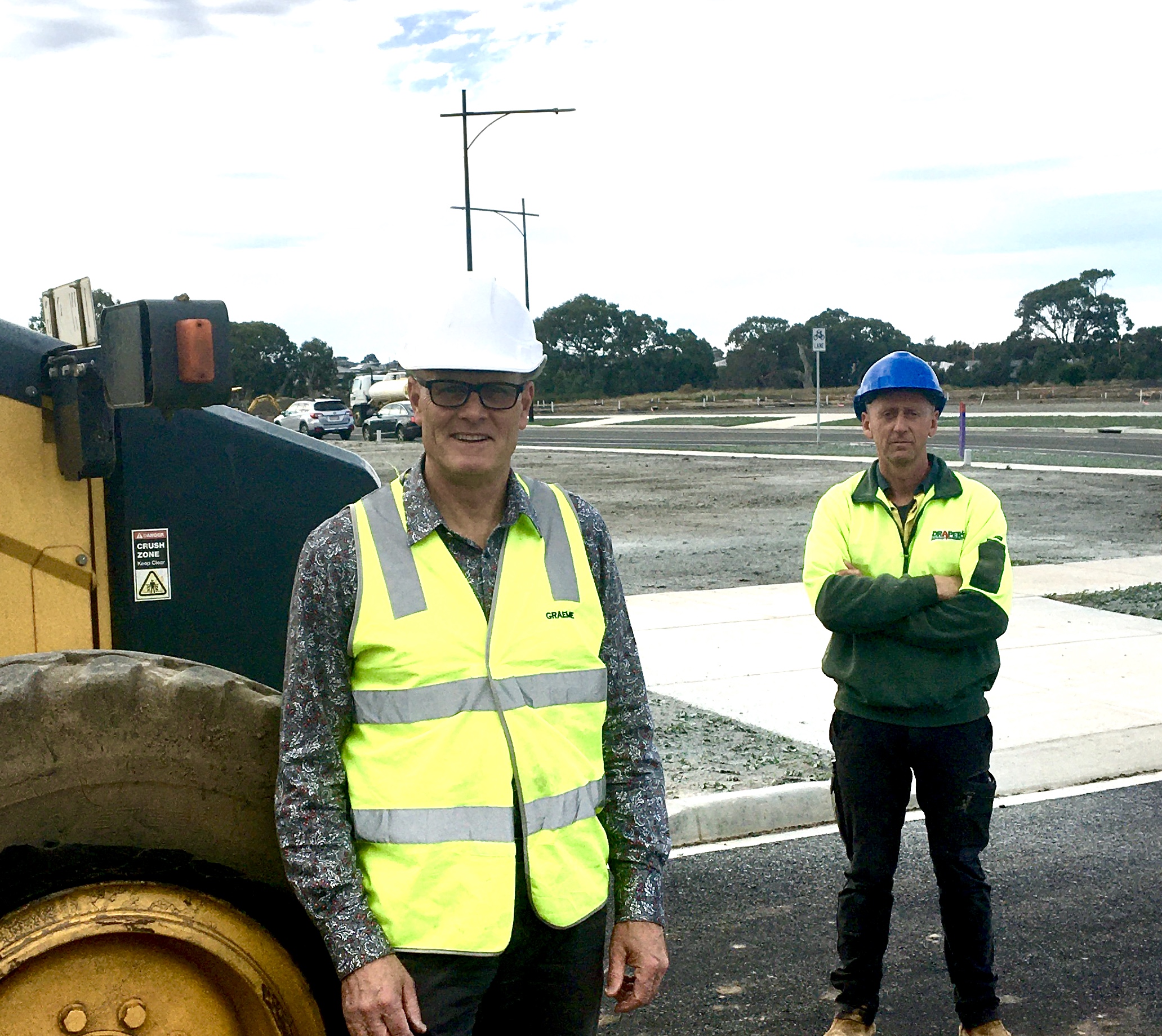 Above: Villawood development manager Graeme Quinn (left) and Draper's site manager Darren Smith at the new Armstrong Mount Duneed Waterhaven precinct.
Villawood Properties is about to launch the most premium land release yet at its award-winning Armstrong Mount Duneed, defying pandemic concerns elsewhere in the industry.
The developer is forging ahead confidently, as others hunker down, with major new projects and civil construction launches across Geelong and Melbourne.
Its new 160-lot Waterhaven precinct release comes in tandem with a major 2500-lot launch at Sunbury's new Redstone project, civil works starting at Lara's 1100-lot Coridale, a new park build at its Wandana project above Highton and even more projects in the pipeline.
The latest release reflects not only Villawood's positivity in the market and Geelong but the growing maturity of the masterplanned Armstrong community, which first hit the market late 2012.
With more than 2000 of 2800 lots now sold and seven stages under construction – plus a third, 35-home Armstrong display village – the UDIA-lauded project is well advanced.
Existing features such as its signature Club Armstrong residents' hub, the much-feted Bunjil's Nest and other parks, sports grounds, school, open space, giant artworks – and shopping centres and community centre in train – mean it continues to draw strong buyer interest.
Hayden Kelly and Sarah Lenaghan have been renting at Armstrong since moving from Queensland in 2018 before buying last week.
With two rapidly-growing young children, they elected to buy regardless of the pandemic lockdown. They in fact saw positives in their move.
"We have built before so we had confidence in our decision during these times," says Hayden.
"We were confident in buying as we both work in health care so our jobs are relatively secure.
"We also thought that, coming out the other side of the pandemic, some builders would offer good deals.
"Also, with our land titling in 12 months, it brought us more time to keep saving for the build."
Stamp duty exemptions, low deposits, competitive pricing and superior product helped as well.
Villawood executive director Rory Costelloe said buyer uncertainty due to Covid-19 was settling as initial wage and job concerns abated.
"We're finding a number of potential purchasers who were thinking of pulling out due to the quarantine are now more confident," he said.
"Many had been afraid of losing jobs rather than out of work."
David Draper, managing director of Waterhaven's builder, Draper's Civil Contracting, said Villawood's design and amenity were especially telling during the Covid lockdown.
"Its parks and gardens really drive home its value, in that people in isolation can still enjoy things you wouldn't find in poorer, older-style subdivision," he said.
"With professional, quality developers, this really shines through and Armstrong is a prime location and a quality product."
Draper's employs 55 staff and contractors on Villawood projects and 150 across more than a dozen Geelong projects.
The new Waterhaven precinct, to the south of Club Armstrong, will title in September, allowing for an early build start. It offers competitive features such as walking access to:
Club Armstrong.
Future neighbourhood shops and Armstrong Creek Town Centre opening July 2020.
Bunjil's Nest district park.
Future waterfront dining.
New state-of-the-art Mirripoa Primary School and future secondary school.
Armstrong presently has several new features in train, such as a new neighbourhood centre, set to start construction shortly, with a new supermarket, childcare, medical facilities and specialty stores.
A major shopping centre opposite Unity Way on the Surf Coast Highway is nearing completion while a new nature play park will also start later this month, to open in time for summer.
Villawood is also working with interested parties regarding the timing/scope of a nearby high-end waterfront dining and specialty commercial precinct, also along the Surf Coast Highway.
For more information, go to villawoodproperties.com.au/community/armstrong/  or phone 1300 710 726.
This article appeared in the Surf Coast Times' My Coastal Home, 14 May 2020