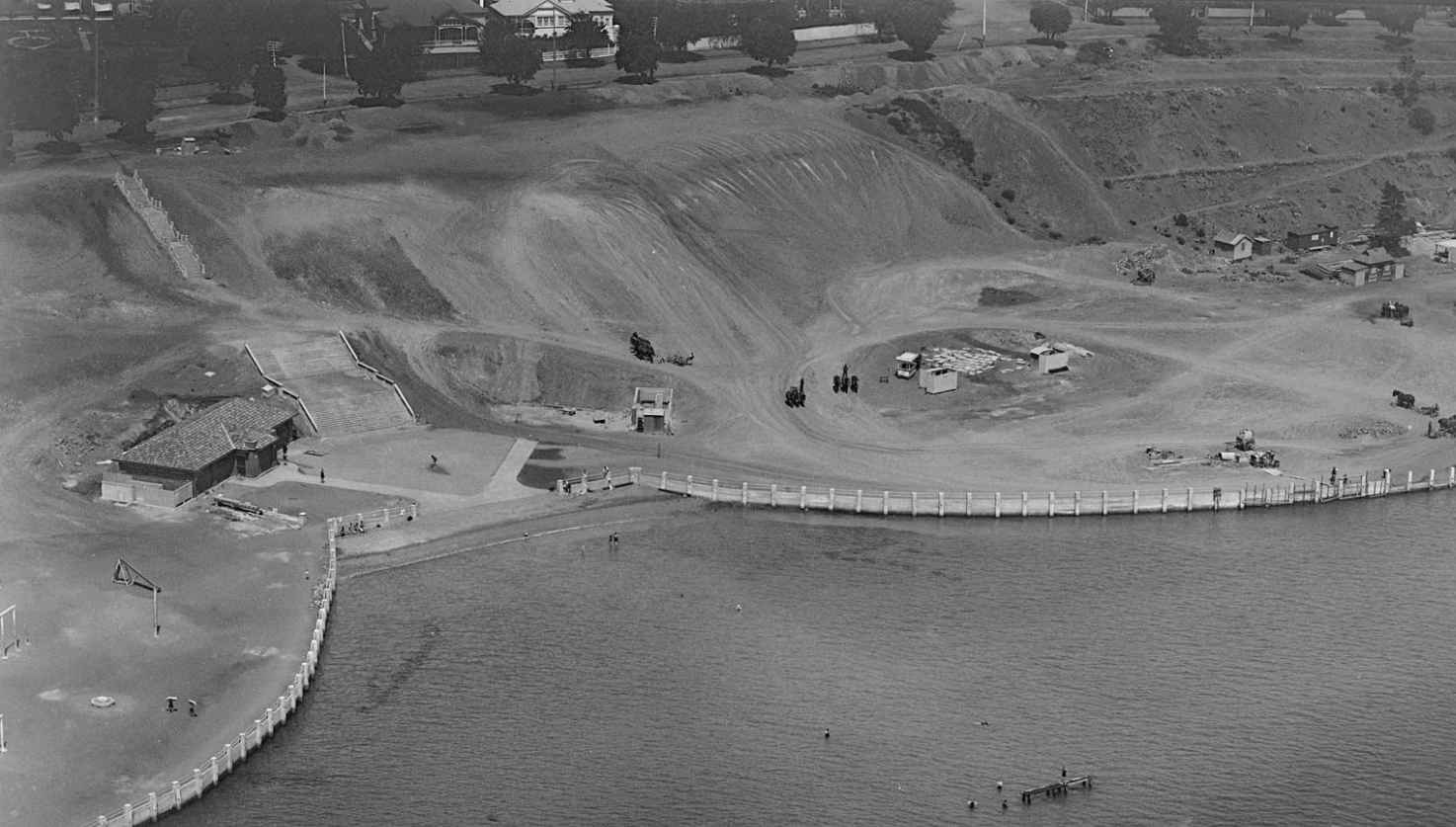 SLATE roofs, wrought-iron fleur-de-lis, sprawling water views, oaks and figs, pines and peppercorns, warbling currawongs and squealing kids … the hallmarks of Geelong's old Eastern Beach remain as elegant and alluring today as they ever were.
Dripping heritage with Merchiston Hall, Corio Villa, Rosehaugh, Pevensey St's terraces and grand homes, and Fitzroy St's Longville House – as well as clinker, cream and salmon-bricked offerings – it's a living museum of Victorian, Federation and inter-war architecture.
But it's the art deco beach reserve that shines brightest amid Eastern Beach's silvan precinct of bunya bunyas and cypresses, diamond-tiled verandas, observatories, bay windows, clerestories, fret and lacework, tan brick chimneys, cast-iron columns, ornate cornices, bluestone pavers and peppercorn husks. And, of course, its spectacular cliffs, forever views.
Hard to imagine it was once a dusty hole in the ground at the base of a precipitous cliff. But a rare construction site image by photographer-pilot Charles Pratt captures the early site works of a decade-long project that brought the much-vaunted Eastern Beach Bathing Complex to life.
The Eastern Beach Improvement Scheme, as it was initially dubbed, superseded nearby timber sea baths on rickety piers which had been popular with Geelong swimmers since settlement.
Cliff-faces and contours were graded, land reclaimed, a seawall erected, Spanish stairs, balustrades, paths, lawns, swings, picnic tables, waterslides, a kiosk and change-rooms installed. These were eventually followed, in the late 1930s, by a kids pool and an impressive two-deck timber promenade with a giant diving tower above and shark-proof bars beneath, installed after a woman lost her arms to a local attack.
Crowds flooded in and photos from the 1930s show the old sea baths looking tired. They'd be gone by 1938. Thick greenery along the slopes is similarly long gone; the Brougham St powerhouse smoking in the background, yet another casualty to time and tide. I've managed to hang on to a couple with my folks there when I was a little kid.
Eastern Beach was a very different beast to the old track it had once been to a malodorous tip around Eastern Park, and its 20th century coming of age eclipsed its earlier vantage point as a lookout to Geelong's busy city below. Now it was the view.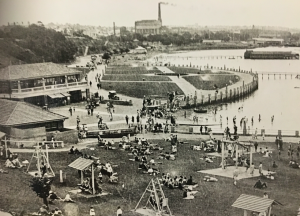 It's curious now to look back at the earliest images of the area. Paintings show a lightly-wooded, long-grassed area well uphill from the then- Corio St township. Police quarters and pilot houses sat astride its high point, taking in the first view of ships arriving at Point Henry.
In the 1840s there was little of note building-wise but by the gold rush of the 1850s the moneyed class were capitalising on Eastern Beach's view across Corio Bay to the You Yangs and beyond. Alexander Fyfe built his flash Singapore Terrace with its double-storey cedar clifftop apartments but they didn't last long, destroyed by fire in 1862.
Alfred Douglas erected Corio Villa after it was unloaded, without an address, in crates at Cunningham Pier. The boom 1880s saw more new arrivals start to properly fill out the Eastern Beach area.
While Eastern Beach seems ever-popular, it's had its issues. Its promenade fell into disrepair and was repaired after a public funding campaign in the 1990s. The kids pool was re-done, the diving tower rebuilt, the kiosk and changeroom upgraded. The metal plaques donors bought didn't weather well.
Restaurants and cafes have come and gone, the thrill of sliding on cardboard down the hillside slopes seems to have evaporated and water slides in the middle of the enclosure have been removed. Thuggish behaviour continues to attract attention, visitors ignore no-camping directives and the occasional sea urchin catches the unwary with a painful sting.
That's nothing, though, on the mishap that befell one young kid who a decade or so back tried running off the top of the diving tower to jump in the sea rather than the enclosure. He slipped and skewered himself on a large spike of reo steel poking up from the back of the promenade.
You can be sentimental about Eastern Beach but that'll bring a tear to your eye every time.