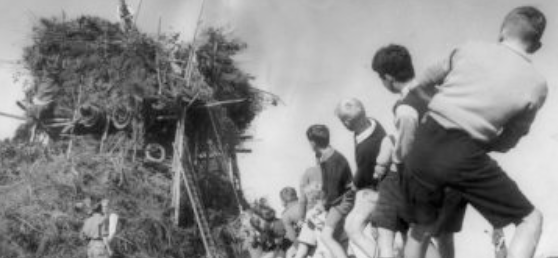 NOVEMBER'S fairly whipping along already, yeah? A new year in its sights, spring racing deep in its country cups, VCE exams wrapping up, Remembrance Day behind us and retailers crossing their fingers for a Christmas miracle.
Seems almost normal, which has certainly not been normal for a long time. But one November institution that's not coming back, been gone longer than Covid, is one that strikes a chord each year and especially so when I can sniff an election in the wind.
That's Guy Fawkes night, November 5, once a red-letter highlight on the calendar of all Aussie kids – bonfire night. Penny bungers, Tom Thumbs, skyrockets, sparklers, Roman candles and Catherine wheels enough to send dogs howling for cover, little tackers squealing with excitement and to set pyromaniacs twitching.
It's long been claimed Guy Fawkes was the only man to enter the British Parliament with honest intentions. Not so sure if trying to blow up the place was really all that honest; the torture and execution he and his co-conspirators copped for their gunpowder plot suggests otherwise. Given the efforts of our latter-day pollies, however, there's more than a few people might suggest his efforts be replicated occasionally.
Sooo … maybe it would be in the interests of our honorary members to reinstate bonfire night, to direct the attention of any such ne'er-do-wells elsewhere. What's a finger or two sacrificed to the greater good? Might teach kids a lesson or two in how to deal with risk.
Pity, I think, that in our litigation anxiety a great community bonding exercise has disappeared. Guy Fawkes night might have presented some issues but the neighbourhood clean-up preceding its soaring, roaring bonfires was a useful, and free, rubbish disposal. And the sense of fraternity engendered by fire-feeding, by spirits buoyed with neighbourhood-party beers, and the popping, hissing, fizzing, flashing blasts of fireworks … that's irreplaceable.
And effigies, too. What an incalculable loss to popular opinion, community voice and free speech.
Lots of other curious things now gone, in addition to bonfires, that Boomers' kids missed out on. Slades, Noddy's, Tarax, hot bread deliveries, the milko's horse's nocturnal clip-clop, hard-running garbos, wood-heaps, backyard chickens, billy-carts, milk-bars, dragsters, the dunnyman … well, maybe not so much the dunnyman.
Easy to get sentimental or nostalgic, I suppose, but kids who haven't sent an empty baked beans can into a low orbit with a moonshot tuppenny bunger haven't lived. I'm betting Elon Musk did something similar.
Cracker night was also about baked spuds in the bonfire, chestnuts, marshmallows, jaffle-iron sangers. A sly swig or two from the old man's long-neck, letting off a rack of Tom Thumbs behind your mate's mum. Priceless, even with a thick ear for your troubles. And raking through the ashes next morning for unexploded fizzers to dissemble and utilise the gunpowder for new nefarious purposes. Gold.
November's a bit of a tough one with my fam. It's Mum's anniversary, Dad's too, and Guy Fawkes night was actually their wedding anniversary. We still cite the old chestnut that Dad thought Mum was a cracker. The loss of bonfire night seems another injustice.
Kind of makes me think of John Lennon's song Remember and its fade-out line: 'Remember, remember the fifth of November.' The ensuing explosion seems just right.
This article appeared in the Geelong Advertiser 16 November 2021