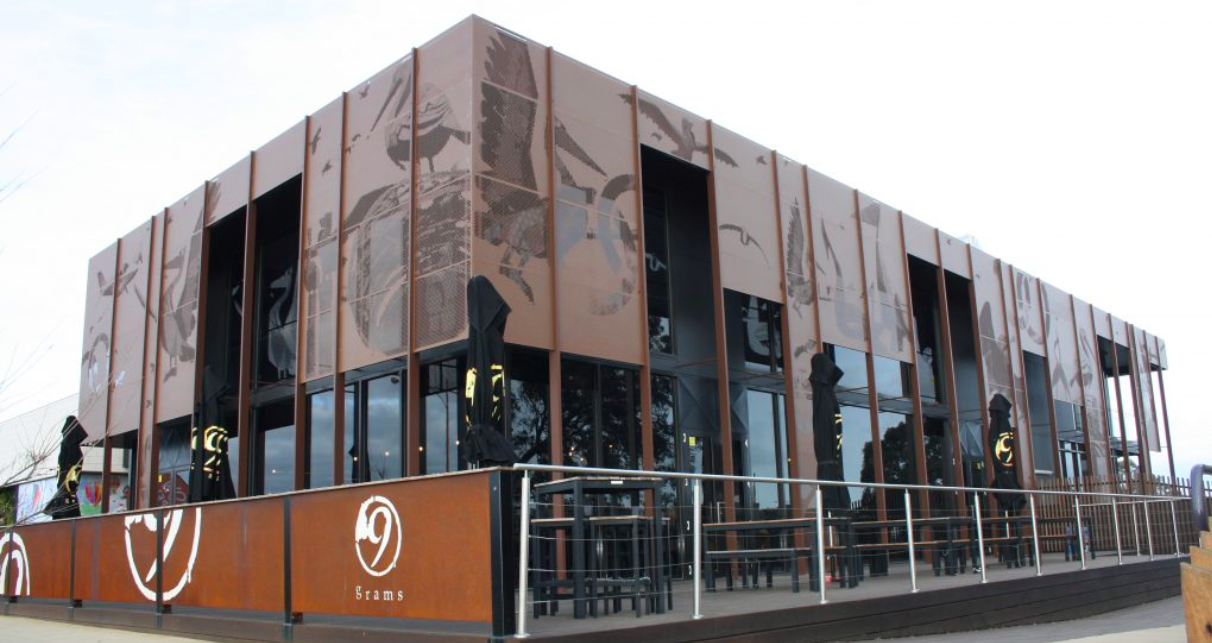 Villawood's Armstrong Mount Duneed flagship is coming of age with its rapidly-growing population, new shopping centres and new land coming soon, schools, family and retiree networks growing like Topsy. Time then for a recap on just what else is special about this award-winning community …
Heads up next time you're going into Club Armstrong or 9 Grams … take a look at the artistic images in the perforated brown fascia around the building.
Pelicans, herons, swans, a Beech Debonair light plane… they tag pretty neatly with the giant metallic wedge-tailed eagle next door at Bunjil's Nest. And the corten pelicans in the wetlands around the back.
Likewise, the cockatoo, parrot and other bird sculptures peppered around the neighbourhood. Not to mention artistic birdhouses and more flight-of-fancy sculptures – of biplanes curiously crossed with eagles.
If you're not yet suspecting an aeronautical theme then a clutch of streets named Aviation, Gulfstream, Boeing, Concorde, Compass, Magnetic, Glider and Decalage should seal the matter for you.  And the brightly-plumed air hangar beside the land sales office.
Wait up, what the devil is decalage?
Decalage, noun: The difference between the angles of incidence of the upper and lower wings of a biplane: A biplane has positive decalage if the angle of incidence of the upper wing is greater than that of the lower wing and negative decalage when the lower wing has the greater angle.
Must have been an engineer naming the streets out at Villawood's Armstrong Mount Duneed. And some aerodynamically-predisposed urban designers too.
All very fitting, of course. Armstrong Mount Duneed's been built where the old Geelong Airport was located, at the northern base of Mount Duneed.  Busy little airport in its day. Sightseeing trips along the Otways coast, light plane private flights wherever else you might fancy, flying lessons …
It started in 1963 when Les Mahon and Arthur Schutt set up a flying school with Alan Searle as instructor. Les famously painted the flight office light grey and dark gray, which Alan had to inform him were in fact bright red and bright blue. Les' colour blindness kept him out of the RAAF back in the days of the war. According to author Kenneth R. Riches, he made his way to England and joined the RAF instead.
The Schutt Flying Academy became the Geelong Aviation and Flight Training, Alan joined TAA, various instructors arrived from Moorabbin – all up some 17 were in Schutt's staff, things wrapped in 2011.
The highest point south of Geelong, Mount Duneed is an extinct volcanic cone whose 102 -metre elevation provides it commanding views of Bass Strait, Port Phillip Bay and the surrounding countryside. Conversely, it's a landmark visible from distant points of the compass.
Duneed's an old Gaelic term for circular mound. Avenues of tall cypresses, eucalypts, sheoaks and wattles line its roads and driveways. Vineyards, cattle, chickens and dams, along with a pistol club, a primary school, the occasional old homestead – such as the pretty bluestone Oakgrove – and thick green pastures punctuate the landscape.  Modest agricultural pursuits persist.
The Mount Duneed Cemetery, dating back to 1864, hosts names such as Barwon Heads 1853 Earl of Charlemont shipwreck survivor Ewing Blyth, along with
WW1 VC winner Rupert Moon – in an impressive rosemary memorial garden – along with a swathe of local names; Rainford, Winkler, Betts, Graham, Bingham, Decker.
Pioneering Presbyterian squatter John Armstrong preceded all of this, arriving at Port Phillip in 1839 and taking up a pre-emptive run with Geelong founder Alexander Thomson called Bush Station, also River Station – with his homestead reportedly on the site of present-day Geelong College – and extending to Barwon Heads and Torquay.
By the Gold Rush mid-1850s, the Government Gazette announced the sale of some two dozen farmlets of around 40 acres, which were subsequently  leased out by James Henty & Co.
Down the years, Mount Duneed has also hosted a post office, butcher's, saddlers, a Wesleyan and Anglican joint church, general store, an Aboriginal reserve with a sad history, a flour mill and a prodigious cricket team that once hosted some seven Dodds family member in a grand final team. True locals call the place Mount Dodds.
Across Duneed's lightly-wooded lower reaches, Armstrong Creek weaves a tree-lined flat path from its origins a few kilometres to the northwest. River redgums and billabongs mark its course, and its short tributaries. Yabbies inhabit dams across the flats.
But flight, height and outlook remain the common tongue of Duneed. And nowhere is this more evidenced than the 60 different bird species sighted in and around its wetlands and reserves.
Think pelicans, spoonbills, ducks, waterfowl, falcons, wrens, honeyeaters, parrots, goshawks … not just sculptor Folko Kooper's wonderful metallic birds and their whimsical nesting houses.
Oh and about those pelicans, in case you didn't know, their names are Haystacks, Winkipop, Bells and Rincon – each after an iconic surf break at nearby Torquay where you can really get flying.
This article appeared at https://villawoodproperties.com.au/community/armstrong/news/high-and-mighty-at-armstrong-mount-duneed/