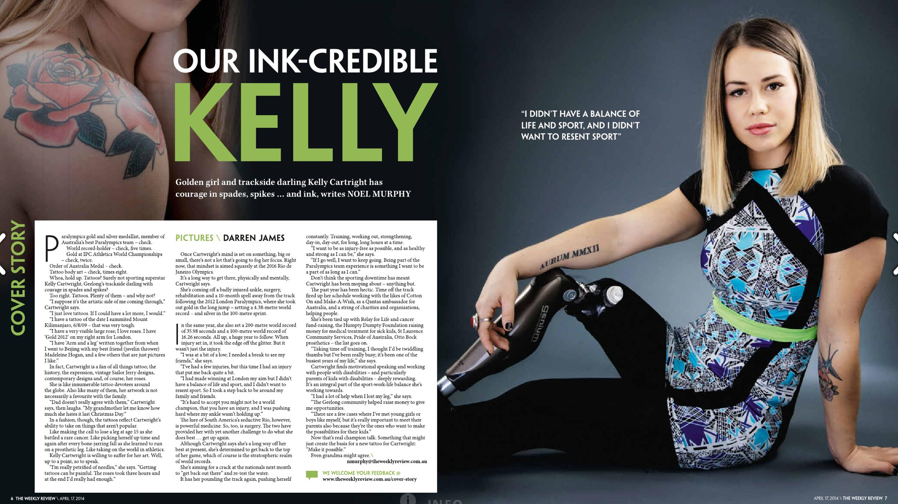 Paralympics gold and silver medallist, member of Australia's best Paralympics team – check.
World record-holder – check, five times.
Gold at IPC Athletics World Championships – check, twice.
Order of Australia Medal – check.
Tattoo body art – check, times eight.
Whoa, hold up. Tattoos? Surely not sporting superstar Kelly Cartwright, Geelong's trackside darling with courage in spades and spikes?
Too right. Tattoos. Plenty of them – and why not?
"I suppose it's the artistic side of me coming through," Cartwright says.
"I just love tattoos. If I could have a lot more, I would.
"I have a tattoo of the date I summited Mount Kilimanjaro, 6/8/09 – that was very tough.
"I have a very visible large rose; I love roses. I have 'Gold 2012' on my right arm for London.
"I have 'Arm and a leg' written together from when I went to Beijing with my best friend (javelin thrower) Madeleine Hogan, and a few others that are just pictures I like."
In fact, Cartwright is a fan of all things tattoo; the history, the expression, vintage Sailor Jerry designs, contemporary designs and, of course, her roses.
She is like innumerable tattoo devotees around the globe. Also like many of them, her artwork is not necessarily a favourite with the family.
"Dad doesn't really agree with them," Cartwright says, then laughs. "My grandmother let me know how much she hates it last Christmas Day."
In a fashion, though, the tattoos reflect Cartwright's ability to take on things that aren't popular.
Like making the call to lose a leg at age 15 as she battled a rare cancer. Like picking herself up time and again after every bone-jarring fall as she learned to run on a prosthetic leg. Like taking on the world in athletics.
Kelly Cartwright is willing to suffer for her art. Well, up to a point, so to speak.
"I'm really petrified of needles," she says. "Getting tattoos can be painful. The roses took three hours and at the end I'd really had enough."
Once Cartwright's mind is set on something, big or small, there's not a lot that's going to fog her focus. Right now, that mindset is aimed squarely at the 2016 Rio de Janeiro Olympics.
It's a long way to get there, physically and mentally, Cartwright says.
She's coming off a badly injured ankle, surgery, rehabilitation and a 10-month spell away from the track following the 2012 London Paralympics, where she took out gold in the long jump – setting a 4.38-metre world record – and silver in the 100-metre sprint.
In the same year, she also set a 200-metre world record of 35.98 seconds and a 100-metre world record of 16.26 seconds. All up, a huge year to follow. When injury set in, it took the edge off the glitter. But it wasn't just the injury.
"I was at a bit of a low; I needed a break to see my friends," she says.
"I've had a few injuries, but this time I had an injury that put me back quite a bit.
"I had made winning at London my aim but I didn't have a balance of life and sport, and I didn't want to resent sport. So I took a step back to be around my family and friends.
"It's hard to accept you might not be a world champion, that you have an injury, and I was pushing hard where my ankle wasn't holding up."
The lure of South America's seductive Rio, however, is powerful medicine. So, too, is surgery. The two have provided her with yet another challenge to do what she does best … get up again.
Although Cartwright says she's a long way off her best at present, she's determined to get back to the top of her game, which of course is the stratospheric realm of world records.
She's aiming for a crack at the nationals next month to "get back out there" and re-test the water.
It has her pounding the track again, pushing herself constantly. Training, working out, strengthening, day-in, day-out, for long, long hours at a time.
"I want to be as injury-free as possible, and as healthy and strong as I can be," she says.
"If I go well, I want to keep going. Being part of the Paralympics team experience is something I want to be a part of as long as I can."
Don't think the sporting downtime has meant Cartwright has been moping about – anything but.
The past year has been hectic. Time off the track fired up her schedule working with the likes of Cotton On and Make-A-Wish, as a Qantas ambassador for Australia, and a string of charities and organisations, helping people.
She's been tied up with Relay for Life and cancer fund-raising, the Humpty Dumpty Foundation raising money for medical treatment for sick kids, St Laurence Community Services, Pride of Australia, Otto Bock prosthetics – the list goes on.
"Taking time off training, I thought I'd be twiddling thumbs but I've been really busy; it's been one of the busiest years of my life," she says.
Cartwright finds motivational speaking and working with people with disabilities – and particularly parents of kids with disabilities – deeply rewarding. It's an integral part of the sport-work-life balance she's working towards.
"I had a lot of help when I lost my leg," she says.
"The Geelong community helped raise money to give me opportunities.
"There are a few cases where I've met young girls or boys like myself, but it's really important to meet their parents also because they're the ones who want to make the possibilities for their kids."
Now that's real champion talk. Something that might just create the basis for a new tattoo for Cartwright: "Make it possible."