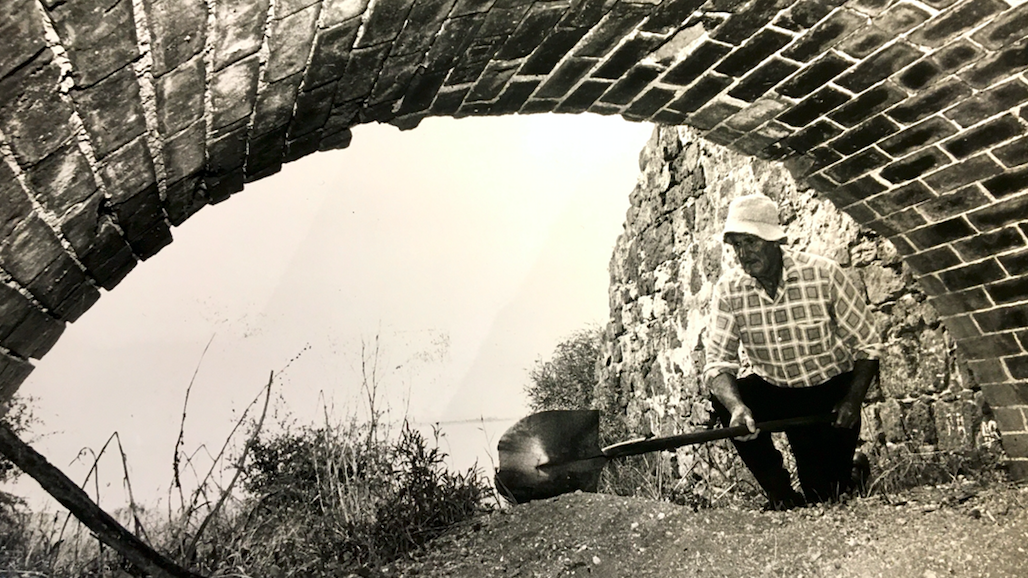 Hidden away among the sheoaks and peppercorns just over the edge of the East Geelong Golf Club's fourth tee are three slightly bizarre bluestone and brick structures dating back to the 1860s. A couple more are invisible, buried under grass and time beside them.
Last I looked, these cave-shaped edifices were a mess of empty grog cans, bottles, campfire ashes, milk crates, bedding, graffiti, rocks and general refuse. A heritage rubbish tip, basically.
A couple of years back, they hosted a large ramshackle tent camp with washing line, cricket bats lying about and a slightly menacing ambience. Today they're more a homeless than itinerant redoubt.
All quite remiss, given the contribution these structures made to Geelong's early construction, given the singular efforts of people like Mick Bloxham to retain them for posterity and given earlier, short-term civic efforts to safeguard, even celebrate, them.
These structures are Stingaree Bay's historic lime kilns. Nestled in the grassy cliff-face between Limeburners Point and the Animal Health Labs, tricky to get to, overgrown and pitifully derelict, they're a crumbling ruin forgotten and slowly but surely falling victim to demolition by neglect.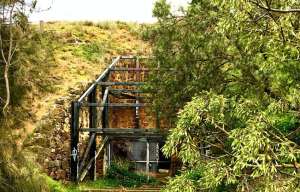 In their day, these lime kilns featured tall retaining walls, brick-lined chimneys, vaulted tunnels and a timbered front areas for bagging and storing the lime, which was widely used across the Western District as mortar in construction. Once readied, the lime was loaded onto boats for transport. The kilns operated until around 1880, when kilns at Lara and Waurn Ponds took over.
A decade or back, don't ask me when exactly, the City and heritage agencies pulled their finger out to preserve the long-time efforts of Mick Bloxham, a tireless volunteer who had worked to maintain the kilns for years.
Tall, black steel studs were installed to keep the crumbling walls intact, mesh caging to keep miscreants and vandals at bay, and interpretative signage erected to explain what the devil these ancient stone sculptures were all about.
Nice idea. No back-up or follow-through, though. Mick's gone to God and what should have been his legacy is instead an insult to his selfless heritage and community-mindedness. Pity.
More the pity, too, is the terrific Geelong folklore these kilns plug directly into losing a tangible foothold.
You see, before these kilns were built on the east of Limeburners Point, kilns operated on the west side. From about 1841. Prevailing winds meant they stunk out the nascent botanical gardens, hence the move.
Digging out one of these kilns, in 1847, a worker unearthed five keys he claimed he found about 4.5 metres underground. Port Phillip Superintendent Charles La Trobe was intrigued, speculating the depth meant they'd been deposited centuries earlier.
More recent studies suggest the deposit depth might have been more like 2500-plus years old but it turns out the keys fell to that 4.5-metre drop from higher above. They were probably there in the first place because metal objects were often embedded in new diggings to detect the leaching of payable metal.
They've all been lost, by the way. But that hasn't stopped stories of a fleet of European ships summering in Corio Bay in the 1520s, dropping the oddly-warded keys on the shore. Or Mercator projection-reconfigured old maps of the era showing Australia's east coast, and stopping at Warrnambool – after Geelong – where the mysterious Mahogany Ship is suspected of being a missing Portuguese caravel. You'll find a nice replica, Notorious, plying the east coast these days by the way.
Story-teller/artist Robert Ingpen immortalised the keys in his magical Voyage of the Poppykettle story that's been part of primary schooling for a couple of generations of Geelong kids.
Sorry, I'm getting away from the lime kilns. Thing is, they're not fiction or some other fancy, they're fact. And they're part of a city that purports to pride itself on its built history, its drafting and architectural schools, and its wealth of history. But not quite enough, regrettably, because these kilns just about cactus.
And when they're gone, they'll be gone for good.
This article appeared in the Geelong Advertiser's Picture the Past 8 November 2021.