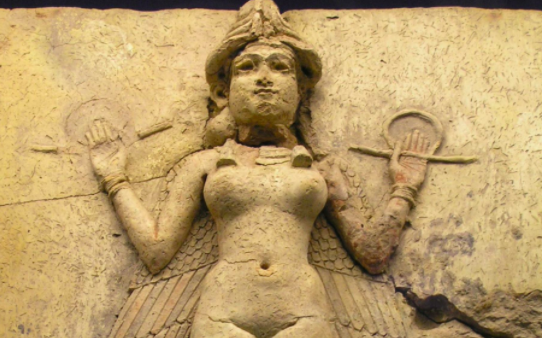 Demonic times right now. Plague, death, lockdown, stocks crashing, job losses, anxiety and paranoia. Food rationing can't be far away, surely.
In this touch-wood lucky country, however, loss of income aside, cabin fever's the main poser many people are facing. Netflix and Stan, delivery pizzas and Uber eats, experimenting in the kitchen? Sounds like a regular Sunday night.
Sure, you can feel for people living on their own, in solitary confinement, but they were already doing that. Likewise, those cheek-to-jowl in crowded homes.
House arrest's awkward but we're not exactly in Calcutta. It could be so much worse.
I've been scribbling away, reading books, papers, old comics and way too much Twitter. I'm dabbling with Duolingo Francaise and making an innovative mess of DADGAD guitar.
I've also been reading a spooky little book called The Genesis Plague.
Ever heard of Lilith? Nice girl but misunderstood, this book contends. But she's up there with succubi, the Whore of Babylon, Delilahs, Jezebels, screech owls and Typhoid Mary.
Lilith, you see, is an old world demon brutally murdered somewhere in ancient Mesopotamia for killing oh so many men and boys. Cast a murderous affliction, curse, spell, whatever, over them all.
It supposedly led not to the Dark Ages we know – started by a couple of volcanos in New Guinea, Indonesia and maybe Iceland around 530AD – but to the Dark Millennium of some indistinct period up to 10,000 years BC. So the story goes.
For all the wicked female demons, hags and she-devils that Lilith spawned throughout folklore, religion ­and other superstitions, author Michael Byrnes suggests she wasn't really nasty.
Just misunderstood, and an unfortunate super-carrier. And how many of them are amongst us right now? Without universal testing, anyone's guess.
Lilith, for those unfamiliar with her, was Adam's first wife. So says the apocryphal book of the Bible called the Book of Lilith. Eve was Adam's second wife, after Lilith was turfed out of Eden by His Omnipotence for being too demonstrably forthright in the garden bedroom stakes.
She returned to Eden as a serpent armed with an apple and revenge on her mind. Ideas probably spawned with her new bloke, Satan-El. She was subsequently cut from the mainstream Bible although she still gets a guernsey in the Talmad and the Kabbalah, even the Dead Sea Scrolls.
Sexual appetites aside, Byrnes' story has Lilith carrying some serious bug she infected all these blokes with – but didn't really know what she was doing. Apart from the fact she'd probably been run out of the last town she lived. Bit like dropping into parties after an Aspen ski trip.
Not sure if you've been boning up on other plague yarns like Contagion or The Andromeda Strain, maybe Love in the Time of Cholera, but Lilith and self-isolation have got me thinking apocrypha and apocalypses.
Coronavirus is the latest in a long list of existential threats. Yep, a clear and present danger we'd been warned and warned about. And pretty much ignored.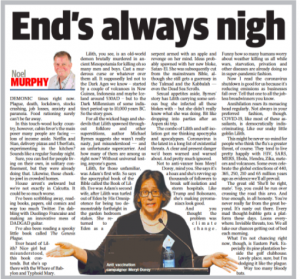 Not to anti-vaxxer boss Meryl Dore, mind you. She says it's a hoax and she's revving up thousands of followers to break self-isolation and storm hospitals. Like Trump and Bolsonari, she's making pyromaniacs look good.
And you thought the problem was climate change. Funny how so many humans worry about weather killing us all while overlooking the wars, starvation and privation already doing so in super-pandemic fashion. And other diseases, too.
Now I read the coronavirus shutdown is good for us because it's reducing emissions as businesses fall over. Tell that one to all the jobless breadwinners you know. A real knee-slapper.
Annihilation rears its menacing head regularly and in various forms. Not always in your preferred fashion, though. COVID-19, like most of these assailants, is democratically indiscriminating. Like our snaky little goblin Lilith.
This might be never-so-mind for people who think the flu's a greater threat, of course.
They tend to live pretty happily with HIV, SARS, MERS, Ebola, Hendra, Zika, meteors and volcanos. Some even celebrate the global extinctions of 440, 365, 250, 210 and 65 million years ago as evidence we'll all somehow prevail.
The great old 'She'll be right, mate'. Yep. You could be run over crossing the road this arvo. And true enough, in all honesty. You're never really far from the great beyond.
Maybe half a dozen wild blokes with baseball bats will smash into your Geelong West home at 3.30 in the morning. Perhaps some meth junkie will go you in a CBD convenience store after midnight – maybe someone who wants your dunny paper.
It's nasty out there. Every mad thought bubble gets a platform these days. Loons and loops everywhere. Invisible threats, too. We all take chances of one species or another just getting out of bed each morning.
What I'm not chancing right now, though, is Eastern Park. Especially its pine plantation beside the golf clubhouse. Lovely place, nice shady trees, sure, but I'm dodging it like the plague.
Way, way too many bloody bats.
This article appeared in the Geelong Advertiser 7 April 2020
Link: https://regionalnews.smedia.com.au/geelongadvertiser/TranslateArticle.aspx?doc=NCGA%2F2020%2F04%2F07&entity=ar01703