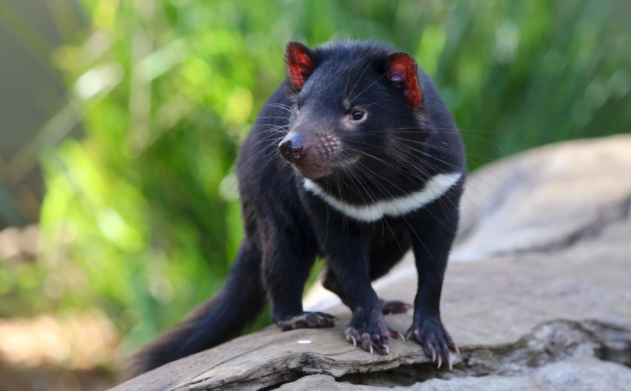 TEND to worry a bit when I see introduced or invasive species and nature trying to coexist. Not a great track record with our catalogue of cane toads, prickly pear, rabbits, brumbies, foxes, mynas, boneseed …
The list goes on a bit. You can add wasps, blackberries, feral cats, goats and, the most feral of all, humans. Latest in this long, everexpanding list to wreak havoc is none other than the Tasmanian devil. An endangered species. Go figure.
Threatened by an epidemic facial tumour cancer, this small carnivorous marsupial – Sarcophilus harrisii by its biological name but also widely known as Taz, thanks to Bugs Bunny cartoons – is in trouble for wiping out the Maria Island population of penguins.
And it's having a fair crack at the island's shearwater and Cape Barren geese quota, too. Burp! Which is pretty poor form given the island's status as a refuge for other endangered species, too, such as forester kangaroos, redneck wallabies and pademelons.
Even more reprehensible is the fact that before the little devils were sent there, there were plenty of warnings by experts they would wreak havoc on the island's seabirds. No one's saying how many devils were put there, it might have about 50, but 10 years and 3000 pairs of breeding penguins later, it seems hindsight's pretty instructive. Makes you wonder why we have experts at all.
There was a time in Tassie when the chattering classes favoured protecting kangaroos over the devils, even the nowextinct Tasmanian tiger. An old clipping I found from the Hobart Town Mercury of 1874 says as much.
It reports a request from a London dealer to one Joseph Omant, an ancient rello of mine it turns out, for no less than: "… 12 striped wolves (meaning our native tigers), for which he offers four pounds each; 12 devils at 10 shillings each; 24 porcupines at 10s each; 24 platypus at 10s each; and, 12 wombats at 12s each".
That's a fair shopping list. He also wants: "… 100 pairs of firetails at 8s per pair in London, 100 rosellas at 10s per pair; large kangaroos (foresters) at 20 pounds per pair; wombats 6 pounds per pair (alive); 50 pairs of loriquets or swift paraquets, at 1 pound per pair." And all pickled, too.
Oddly enough, the Mercury sees this as an opportunity to help its declining boomers. Like now, it seems they were popular game: "Taking these liberal offerings into consideration, perhaps it will not be out of place to suggest that now since our kangaroos are disappearing, many shepherds would serve their master's interest by killing and pickling tigers and native devils, instead of carrying on a wholesale slaughter of our most valuable game.''
Makes me think of late mate Jack O'Meara, long-time spearhead of Geelong Trades Hall and the Henry Lawson Society, who loved the little penguins he would find washed up and roughed up on the beach at Torquay.
Took them in, fed them, kept them warm in funny little knitted jumpers, tried to clean them of parasites before sending them back to sea. I had a brother of very similar avian-poetry disposition so I tend to sympathise with the little things, too; a bit more than old Omant might have, at any rate.
The devils still face their own problems, mind you, penguin culls notwithstanding. But the work that's been done trying to sort out their tumours – and a good bit of it has involved Deakin Uni and East Geelong's Animal Health Labs
– has been a neat kind of species crossover. Neater than those nasty bat or pangolin crossovers the AHL's also been working to counter with its vax efforts.
The way the devil tumours mask themselves from the animal's immune system is driving hopes of improved cancer therapies for humans. Read it in the latter-day Mercury. So there.
As for anything that's left of the Maria Island penguins, they might need to round up a few of Warrnambool's Oddball Maremma sheepdogs for the job. Either that or take some inspiration from their own cartoon compatriot, Rico, from the Penguins of Madagascar. His predilection for regurgitating explosive devices at will could be just the thing for sorting out that snarling old Taz once and for all.
This article appeared in the Geelong Advertiser 30 June 2021
https://regionalnews.smedia.com.au/geelongadvertiser/TranslateArticle.aspx?doc=NCGA%2F2021%2F06%2F29&entity=ar01901