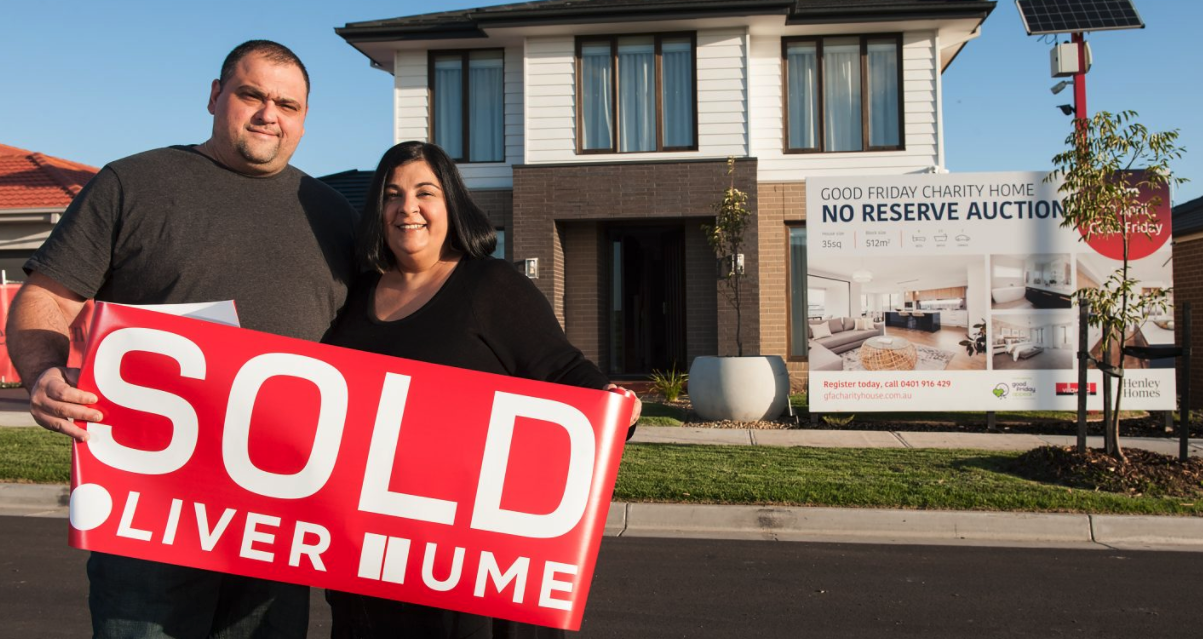 Villawood's Rathdowne GFA Charity Auction Home at Wollert has fetched an amazing $790,500 for the Royal Children's Hospital.
This year's Charity House was put to tender after Covid-19 shut down the usual auction day carnival festivities – but a close contest still took place with delighted Murrumbeena couple Helen and George Demaris taking out line honours.
More than 100 tradies and donors poured their hearts into building the stunning double-storey 35-square Henley home. Many have connections of one sort or another to the Royal Children's.
Exquisitely fully furnished and landscaped, the Electra 35 home features five living areas, a home theatre, expansive butler's pantry, SMEG™ appliances, soft furnishings and decorative pieces – all on a 512sqm block.
"It's unfortunate Covid didn't allow us to host the great family-focussed auction and party we normally do but the result has been fantastic just the same," Villawood Properties Executive Director Rory Costelloe said.
"The Royal Children's means so much to so many people. Everyone involved in building the charity home has been happy to give, which is just tremendous.
"And we're all delighted at the great result, thanks to George and Helen Demaris."
The Demarises are immensely proud of their purchase and excited about their new home. They've sold up their souvlaki business at Murrumbeena to make the move to Rathdowne.
"We want to start a family and we want to have it here," Helen says. "It's a family-orientated new estate with its families and younger couples, that's what it was that attracted us.
"And it's closer to my family. I grew up nearby in Thomastown and all my family are living near Rathdowne so it's perfect for us."
The annual Good Friday Charity House Auction sees Villawood and Henley – and hundreds of volunteer tradies – provide a house and land free of charge to the Royal Children's Hospital.
This year's package marks 11 years of Villawood donating the land. Over this time, the auction has raised more than $7.4million.
Like many people in Victoria, George and Helen hold close ties to the Royal Children's.
"We all know someone, be it family or friends, that has been touched by the Royal Children's Hospital and the amazing work they do and we are no exception," she says.
"The Children's is a great organisation. We keep saying we can't believe all the money we've given is going to the hospital. It's a real honour."
When Helen and George decided to look from the southeast to Melbourne's north they enlisted Helen's father, another George, to check over the houses they inspected.
"When we looked at this house, he was 'Oh, I don't have to do anything to this'," says Helen.
"Unfortunately, he passed away very suddenly in February. George and I looked at each and said: 'We have to buy this, there's nothing Dad needs to do'.
"It's also important for us to now be near my mum, Janet, and my younger brother Alex, in Epping – plus all the cousins, too."
George and Helen are also looking to open up a new business near their new home. In fact, George is thinking of setting up in Rathdowne's retail centre when it gets under way.
George won't part easily with his trade-secret souvlaki recipe even though he's sold his shop but he will make a concession.
"Come around to the new house I'll get a lamb on a spit together and make you one personally," he says, grinning from ear to ear.