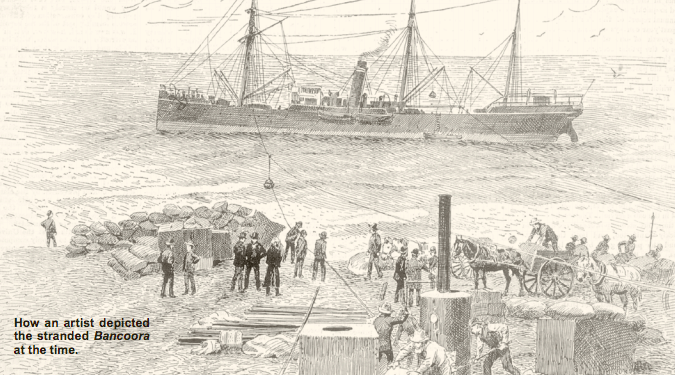 BREAMLEA is known more for its mosquitoes than its rhinoceroses. Or its monkeys. Or elephants.
Historically, it's perhaps best known as the stomping ground of old Bill Buckley – the Go-Between Man, the Wild White Man, who spent some 35 years living with the region's indigenous population prior to white settlement of Port Phillip.
The sand dunes of Bream Creek that debouche to the sea host a quaint tea-tree village of ramshackle beach shanties, award-winning architecture and everything in between. Musicians, backyard brewers, photographers, collectors, fisherfolk and seaside retirees.
In 1891, the dunes played host to the comings and goings of all manner of seafarer, salvage hound and speculator, plus some 2000 sight-seeing stickybeaks. Even on a 35-degree summer's day you'd be scratching to find so many on the beach today. Little wonder the enterprising local farmers were charging a usurious 2/6- a vehicle to cross their paddocks to get there.
The great attraction was the steamer Bancoora that found itself grounded during a fine winter's gale on July 13. It was en route from Calcutta, India, to Melbourne and it was menagerie – a floating zoo.
A rhinoceros, a troop of sacred monkeys, a sedge of Asian cranes – and by some reports a young elephant – were sequestered among some 200,000 gunny bags and wool sacks and a hefty consignment of rice.
As with many such tales of the seas, accounts vary and by one the rhinoceros escaped once brought ashore to roam the bush for three weeks before expiring of starvation.
Best accounts, however, suggest all the creatures were brought ashore, passengers safely landed and cargo, while damp, secured stowed on terra firma. For the main part, anyways.
Five people were in fact arrested and charged with larceny of various goods and chattels off the Bancoora – jewellery including silver bracelets and bangles, a brooch, ornamental miniature glass jugs, clothing. It was hardly a treasure ship, as messrs Gundry, Tennington, Fernandez and Rosser duly learned. None of your women and lace or gold and cotton and pearls on this trip, baby.
Fortuitously, the innocent "Hindoos" on the Bancoora grievously suspected initially of the crimes were vindicated by the clever trapwork of constables Keogh and Rawlings, who managed to put a "different complexion" on the miscreants, as (the Advertiser) politically incorrectly reported at the time.
A beach auction was staged on the beach of the gunny bags and wool packs. The animals made it to Melbourne's Royal Park where the Zoological and Acclimatisation Society was able to add them to its collection. The ship was refloated, repaired and in time dispatched to the South African war as it was known and the nearby beach named for its famous visitor, Bancoora.
The rhino, regrettably, wasn't so lucky. A youthful two-year-old, it only lasted three months before giving up the ghost to its foreign climes.
This article appeared in the Geelong Advertiser 5 December 2011, and an edited version in Queenscliffe Maritime Museum newsletter the Queenscliffe Spring 2020