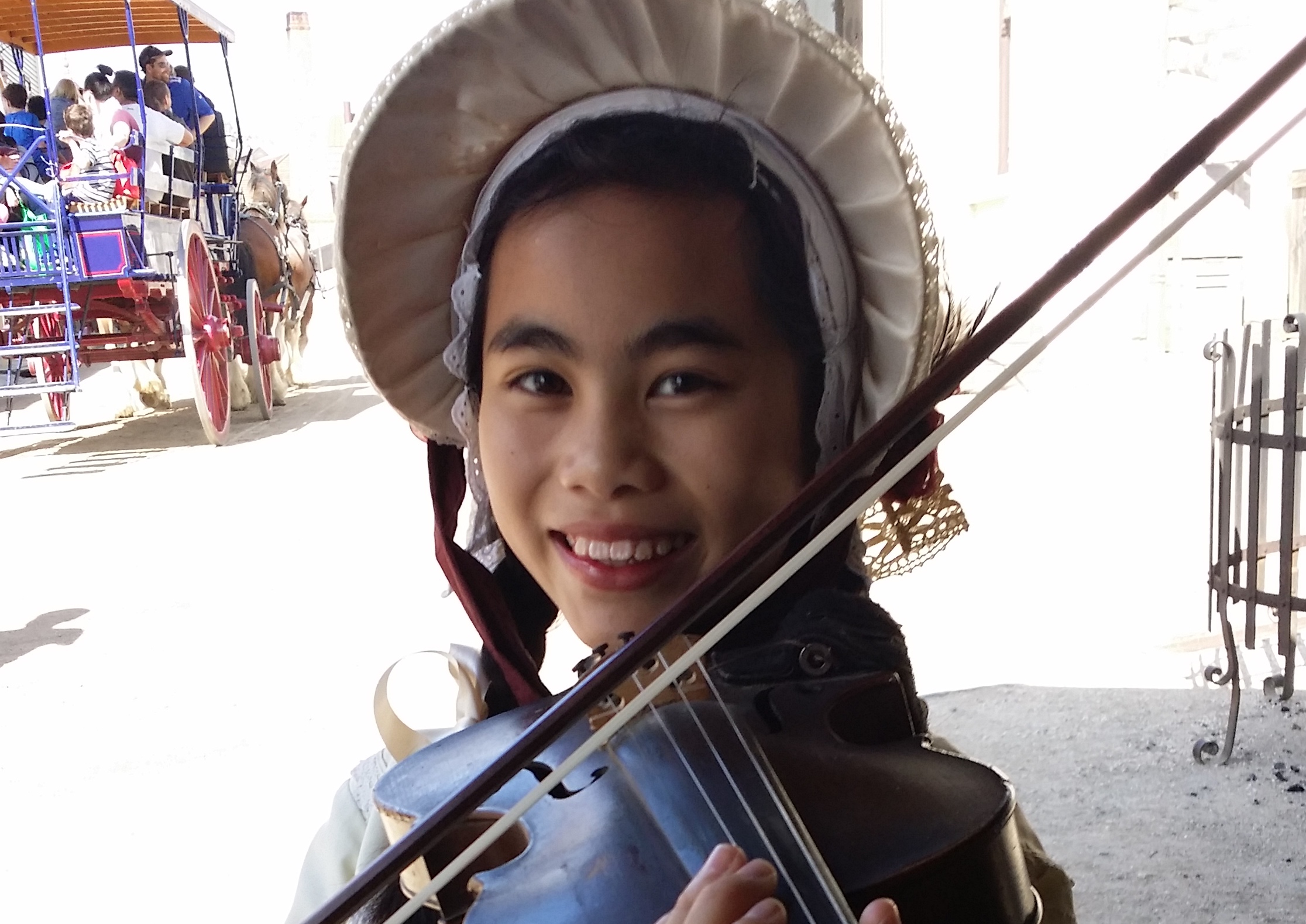 Sovereign Hill, 1855, circa 2017: A pretty 12-year-old girl in a pale yellow 1850s dress and bonnet sidles up to a crusty banjo-playing street musician as a clutch of Chinese, Indians and Japanese come at them armed with cameras, phones, videos, selfie sticks and iPads.
The Babel of tongues, clicking of shutters and mass of wide grins in this little exercise is everyday stuff at Ballarat's Sovereign Hill, back-to-back winner of Australia's Best Tourist Attraction award.
Francesca, at just 12, is a friendly chatterbox and a striking drawcard for young children, especially little girls entranced with her costume and her delicate Asian features. She scratches at the street musicians' fiddles and mandolins, pokes at their piano accordions, just as any curious kid her age might have done back in the Roaring Days. During the week, she's a normal grade six schoolkid.
Barrie McAuslan, a retired teacher of Caledonian extraction, researches popular songs and tunes of the 1850s, then he sings them — accompanied by a five-string banjo he's converted to a four-string tenor banjo with an unusual tuning. He's fiercely keen on Scottish lyrics and melodies, and provides a wealth of information on them to Hill arrivals.
As everyday as this scene might seem, there's in fact nothing pedestrian or ordinary about Sovereign Hill's winning formula.
Sovereign Hill has a workforce of 350 servicing more than 500,000 visitors to its 19th century goldfields museum each year. Remarkably, it has an additional workforce –another 250 volunteers — who happily immerse themselves in everything from music, drawing, painting and rope-splicing to spinning wool, embroidery, horse-driven machines, theatre and lectures.
As a personnel resource for the Sovereign Hill Museum, volunteers are invaluable. Many of these volunteers, young and old alike, go through a major learning curve at Sovereign Hill.
"Volunteering encourages you to learn," McAuslan says.
"People come to us from all sorts of backgrounds. They might come from a mining background, they might want to get a glimpse of what great-great-grandpa experienced. You need to read the diaries of people on the goldfields so you can tell them."
McAuslan says the volunteers enjoy a fairly strong social life, offering support and encouragement to each other. A strong sense of purpose pervades the museum — and a quiet but effective sense of leadership driven by education, experience and fun.
The history nous, the artisan skills, the acting, the banter and patter the volunteers learn or build upon — across all age groups — presents ready rewards for each of them.
A key aspect of volunteering at Sovereign Hill is its fun factor, and the sense of creativity and achievement this helps provides.
Not surprisingly, a sense of community reverberates through the Hill and far outside its walls into the community. Many of the coterie of volunteers are good friends
Kelly Steegstra, who leads the volunteer programs at Sovereign Hill, says the chief motivation for the museum's volunteers is contributing to a community-based organisation they're passionate about.
"The study found volunteers are getting a broader multicultural understanding from all the different cultures they encounter, providing a life-long learning factor and feeling connected.
"Volunteers support us in just about every little area of Sovereign Hill's operations, They're in our education programs all the way through to our retail points, and behind the scenes helping our historians."
The upshot of all this is simple. Volunteers, nine to 90, are crucial to the smooth and successful running of Sovereign Hill just as much as the volunteering and Sovereign Hill is important to their personal success.