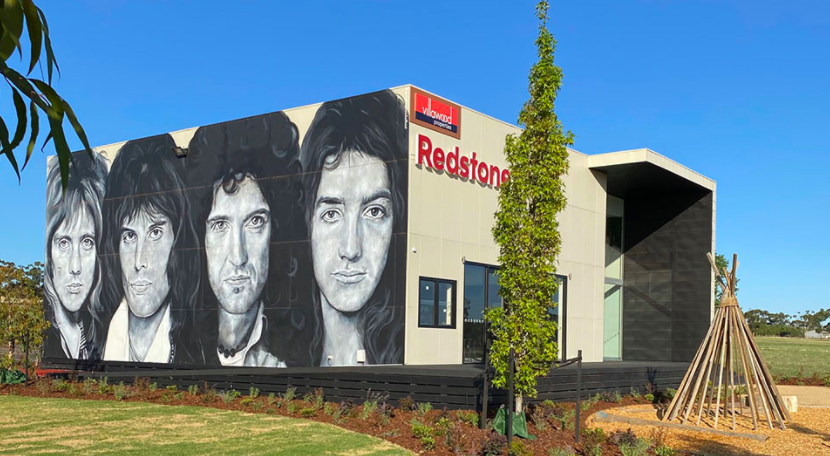 Melbourne's newest, and prettiest, growth centre is rich in history, sport, music, indigenous heritage, asylums, scandal, topography, even Ned Kelly.
The satellite town of Sunbury, just 10 minutes beyond Melbourne Airport, is about to become a new showstopper homebuyer option as Melbourne's growth veers strategically from its southeast focus to the north and west.
Spearheading the transformation is award-winning developer Villawood Properties' 2500-lot, state-of-the-art Redstone housing project.
It's the forerunner of a broader 15-year, 5300-lot plan that will help treble Sunbury's population, transform the north and west's economic status and open the beautiful Macedon Ranges.
Ready commuter access to CBD, indeed right across Melbourne, business prospects to be bolstered by airport growth and a third runway, an outer ring road, greater regional and interstate access will all combine to shape the future of Sunbury and Melbourne's northwest periphery.
Economic impacts aside, as Villawood says, this is all about community and setting new standards for residential housing that will be emulated across the country.
So think resort-style residents club, a slick 25,000sqm town centre, the opening of lengthy tracts of Jackson's Creek to the public for the first time since white settlement.
Think new levels of engaged community lifestyle, household water and energy efficiencies, jaw-dropping views across Melbourne, Mount Macedon and surrounds … all up, an enriched mix of infrastructure upgrades, retail and quality housing against a backdrop of green open space.
It's a potent mix for a country town that already boasts swifter access to the Melbourne CBD than many southeastern suburbs, and which will be even better serviced by a 2023 rail upgrade linking with the Metro Tunnel.
Historically, Sunbury enjoys an important status. The pioneering Clarke family hosted the original Ashes cricket match between Australia and England at their Rupertswood homestead. The Clarkes reportedly harboured Ned Kelly's armour at one stage.
One of Melbourne's earliest homesteads, Emu Bottom, was built at Sunbury in 1836 by George Evans – who crossed Bass Strait on the Enterprize, one of John Fawkner's party of Melbourne's founding settlers.
The prehistoric aboriginal Sunbury Earth Rings, or bora rings – ceremonial sites of great significance are listed on the Register of the National Estate.
More contemporary history, government land scandals of the 1970s, ongoing uncertainty about the former mental asylum's use, have also coloured the town's canvas.
Now, however, Sunbury's history is being rewritten. Two precinct structure plans for the town will add 20,000 new dwellings and 52,000 people to its existing 40,000.
Villawood, as the largest land-holder in Sunbury – with 29 per cent of the land in the two PSPs – will contribute much of that in its Redstone, Sherwood Heights and Raes Road projects.
It's planning to do so in the singular fashion that has garnered it a reputation as one of, if not, the leading developers in Australia. Its design, environmental, community and sustainability credentials are formidable.
For one, it gives a block of bushland to the state forest system for every lot it sells – no less than 270 hectares to date.
It's presently crusading for greater sustainability through thermal design in housing and its Aquarevo project at suburban Lyndhurst is picking up industry awards for its 70 per cent water and 60 per cent non-renewable energy savings.
Most recently, it called on other developers to follow its lead with more wetlands, which Deakin University scientists say can sequester CO2 emissions at 30 to 40 times the rate of trees.
Villawood's Sunbury projects will see the next evolution of its Aquarevo efforts while its initial 100-hectare Redstone open space will tap into a far larger 1200-hectare regional park.
Executive director Rory Costelloe has a vision of delivering the best masterplanned communities Villawood has ever produced.
"There will be many things to love about Redstone, there's so much on offer," he says.
"There's the exclusive residents-only Club Redstone, Redstone Major Town Centre, Redstone Hill Park, Jackson's Creek reserve, parks, proposed schools, childcare, proposed community amenities, a variety of housing options and so much more.
"Our vision is to also salute the rural comforts of Sunbury's unique picturesque location, its existing township and suburb history. This will add real value to what is already a very attractive and interesting town."
Fellow executive director Tony Johnson, who lived in Sunbury for 30 years, is similarly excited.
"Redstone will be like no other community you've seen before," he says.
"We're going to be opening Jackson's Creek to the public, basically for the first time since settlement. Redstone's 100-hectare open space parcel will ultimately connect to a larger 1200-hectare regional parkland surrounding both Jackson's Creek and Emu Creek.
"This will provide an exciting new opportunity for Sunbury locals to enjoy these beautiful natural assets and protect them for generations to come.
"We're building a fantastic new town centre as well and, frankly, I think when people see Sunbury itself and what we're offering they're going to be knocked for six."
Link:  shorturl.at/defwY