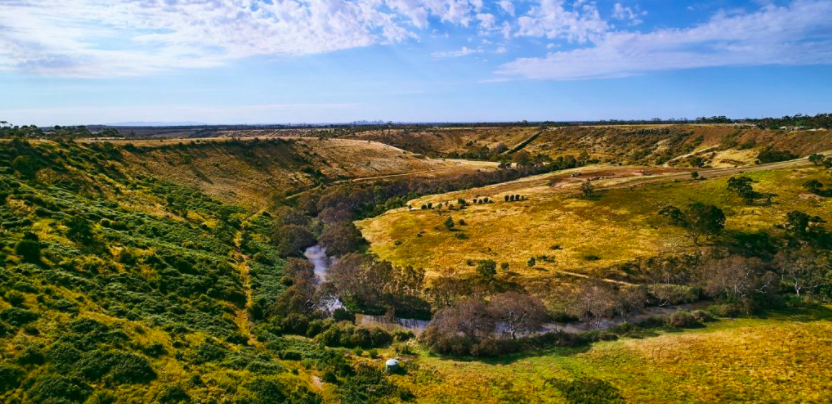 Big changes are afoot in Melbourne's northwest where a 5300-lot project by Villawood Properties is set to transform the sleepy satellite city of Sunbury.
Redstone, the first of three housing projects by the award-winning developer, will see a 2500-lot community just behind Melbourne Airport on the main road into Sunbury.
With a signature Villawood residents club, a 25,000 sqm town centre and 100 hectares of open space featuring Jackson's Creek – site of the legendary 1970s rock festivals – Redstone is tipped to be a major drawcard for home-buyers and a springboard for new business investment in the corridor.
As Melbourne's traditional southeast growth rebalances itself westward and northward, Sunbury offers ready rail and road commuter access to the CBD and adjoining corridors.
Northwest growth is also underpinned by Melbourne Airport, its third runway plans and ongoing growth as well as regional and interstate road and rail including a planned metropolitan outer ring road nearby.
From a property perspective, Villawood's Redstone – and sister projects Sherwood Heights, a boutique 300-lot offering, and the 2500-strong Raes Road – are bolstered by population growth, growing demand, and affordability, as Melbourne's northern corridor becomes increasingly expensive, at or above the metropolitan Melbourne average .
The longer-term possibility of access to the proposed Beveridge Intermodel Freight Terminal further strengthens the argument for the northwest corridor's economic growth.
Likewise, decentralisation imperatives as job growth proliferates in the CBD at the expense of suburban and peri-urban areas, together with potential agglomeration benefits , all point to Sunbury and surrounds as a key focus for growth.
In addition to freeway CBD access, rapid rail transit clean across Melbourne, and all the signature features that have earned Villawood leading developer status, Sunbury also has an ace up its sleeve.
It's an extraordinarily picturesque town with broad sweeping vistas to Melbourne and the pretty Macedon Ranges.
It boasts what is arguably Melbourne's best back yard, with bush, gardens, vineyards, Gisborne, Woodend, Hanging Rock and much more as close as 10 minutes away.
And Sunbury has a rich and colourful history. Think the Clarkes, Rupertswood and The Ashes, Emu Bottom, seminal rock festivals, including a Queen brouhaha which Villawood has happily recalled with a giant mural of the rockers on its Redstone land sales office.
Villawood's in for the long haul, too. For one, executive director Tony Johnson has a special interest in the town.
He lived there for 30 years, raised a family of three daughters and immersed himself in practically every community organisation there – particularly the yellow and blue colours of the Rupertswood Football and Netball Club, the Sharks.
Johnson is spearheading Villawood's sister Sandhurst Retail, which will build Redstone's town centre, further sharpening the group's focus on the pointed delivery of community facilities and services.
"This regional hub combines everyday retail with entertainment, leisure and community services through a high-quality design that gets the fundamentals right and puts the community and operators' needs first," he says.
With Sunbury at the epicentre of Melbourne's north and west – and Melbourne's fastest and largest population growth – Villawood will be a key player. `
Its 5500-lot holdings make up 29 per cent of all the land within the area's two precinct structure plans – Sunbury South and Lancefield Road – planned to accommodate 20,000 new homes and 52,000 people .
Much of Villawood's considerations are predicated on Melbourne Airport. Globally, airports are increasingly important employment hubs exhibiting rapid jobs growth. The airport hosts 20,000 jobs now, which is expected to rise to 35,000 by 2038.
Villawood also expects major demographic and cultural changes shaping Melbourne to drive buyers to Sunbury.
In typical Villawood fashion, however, the marketing focus will be on community, services, lifestyle and environment. As Villawood founder and fellow executive director Rory Costelloe says:
"The vision for Sunbury is to deliver the best masterplanned communities Villawood has ever produced, promoting robust key points of difference within the projects that sets a new and aspiration standard for resort-style living in Sunbury.
"In the execution, our vision is to also salute the rural comforts of Sunbury's unique picturesque location, existing township and suburb history; adding value to an existing historic suburb.
"There will be many things to love about Redstone with so much on offer, including the exclusive residents-only Club Redstone, Redstone Major Town Centre, Redstone Hill Park, Jacksons Creek reserve, parks, proposed schools, childcare, proposed community amenities, a variety of housing options and so much more."
And so much more is right.
REDSTONE FEATURES:
• 2500 lots
• Major Town Centre (25,000m2)
• Club Redstone
• Redstone Hill Regional Open Space 16ha
• 45ha of Jackson Creek Landscape Reserve
• Catholic Primary School
• Multiple Display Villages
• 12-year project
• Extensive Medium Density
SHERWOOD HEIGHTS FEATURES:
• 300 lots
• Average lot size 800m2+
• Retention of natural topography
• Direct abuttal to Jacksons Creek Landscape Reserve
• Infill development
• Premium locality in Sunbury
• 12km along Jacksons Creek to Redstone
• 6-year project
• Sherwood is a joint venture project with the Salesian Society
RAES ROAD FEATURES:
• 2500 lots
• Catholic Primary & High School
• Government Primary School
• Club Raes
• 80ha of Jackson Creek Landscape Reserve
• Future Train Station
• Active Open Space
• 12-15 year project
• Raes is a joint venture project with the Salesian Society
Sources
VicRoads https://www.vicroads.vic.gov.au/planning-and-projects/melbourne-road-projects/outer-metropolitan-ring-e6-transport-corridor
Sunbury and affordability, Sunbury Themes and Strategic Directions, Feb 2020 Oliver Hume
City of Whittlesea: https://www.whittlesea.vic.gov.au/media/4909/strong-economy-beveridge-intermodel-fact-sheet-2019.pdf
Sunbury and affordability, Sunbury Themes and Strategic Directions, Feb 2020 Oliver Hume
Sunbury and affordability, Sunbury Themes and Strategic Directions, Feb 2020 Oliver Hume
VW_LandHoldings&Strategy_BuildersPresentation
Link: shorturl.at/AGQUV