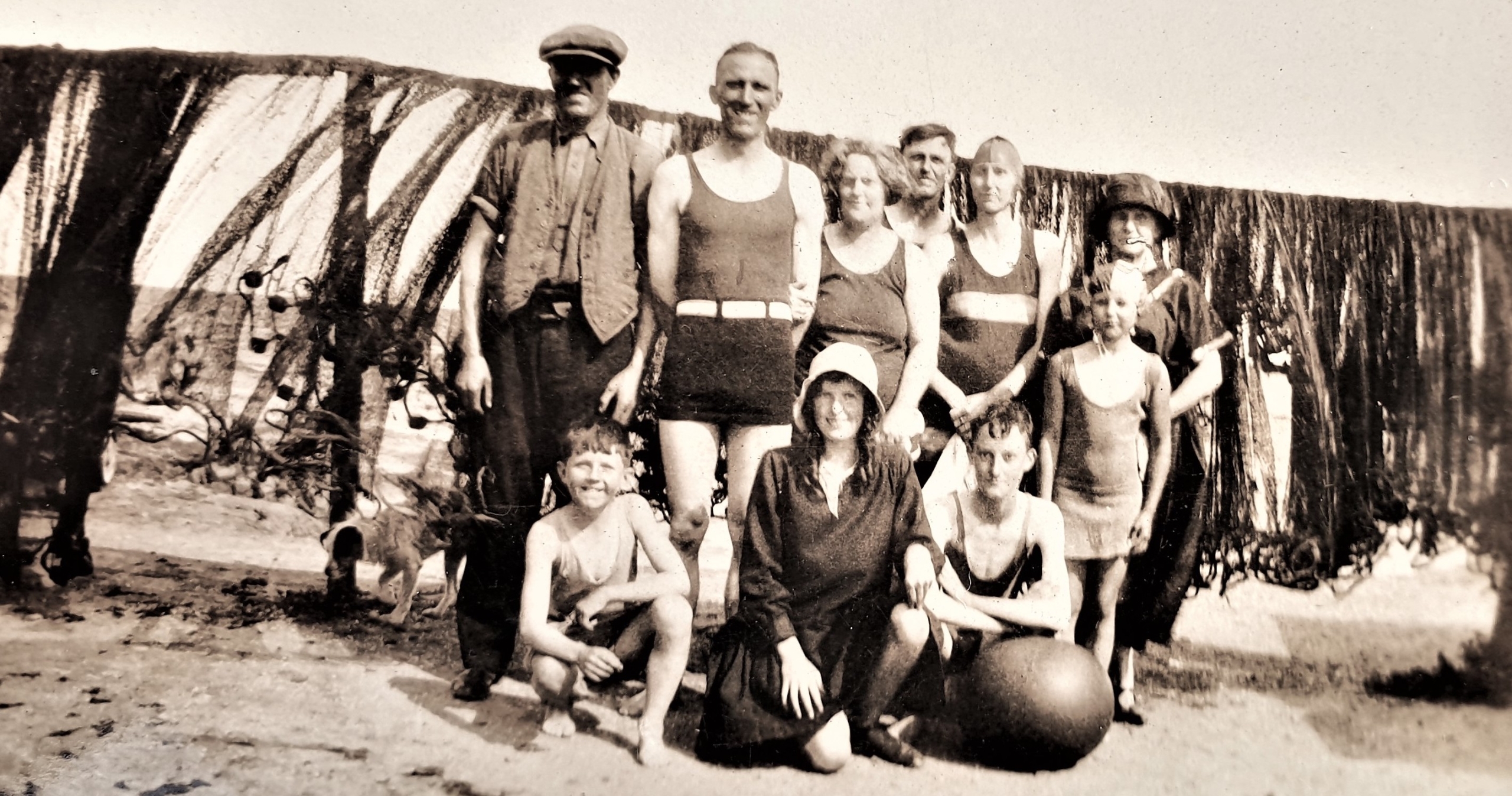 Have to admit it's not the first place I'd think of going swimming but folks were of hardy stock on the Board of Works Metro Farm back in the 1930s. Come summer's soaring quicksilver, and miles from any decent swimming holes, let alone seaside resorts, you made do.
Cars and buses, of course, were a luxury or non-existent in the Depression. The highway was kind of close but Geelong was miles away. Even so, I still reckon I'd draw the line at splashing around in the suspicious waters off a sewerage farm. But then, these folks were inured to such anxieties.
They trusted grassy filtration systems and the lucerne, pasture grasses, clovers and native barley grass they were fertilising. Some of them worked as agitators, shit-stirrers, chest-deep in tanks of muck. Going to the beach? Big deal.
There had to be some sort of immunity. If you believed Charlie Prowse, the local doctor, Metro Farm folks were the healthiest people on the planet. I've got some 40 odd stitches holding my carcass together courtesy of old Prowsie, so I have to give it some credit. Still …
This 1932 photo, of the indomitable Losewitz family in their best beachside clobber, is one of a wealth of images that have come to light in a project plotting the social history of several housing clusters on the farm. Townships that generations of Geelong commuters have travelled past daily largely unaware – for many, completely clueless – of their existence.
They were Murtcaim was in the west, the Bottom-End in the south, The Ranch, 160 Road and the Head of the Road, or Top End township, where a swimming pool, sports pavilion and community hall survive today.
The farm hosted four schools, Cocoroc – Aboriginal for croaking frog – Cocoroc South, Cocoroc West and Murtcaim, along with a post office, general store, football oval, cricket pitch, park, local church, as well as regular dances, concerts, suppers, card nights, parties, weddings.
It was also home to cricket bat willows, aircraft hangars, an extraordinary array of birdlife, stockmen, woodcutters, carpenters, blacksmiths, plumbers, engineers, cattle studs. Permanently drought-proof, it produced stock, hay, grain and cereal crops. Its cattle were so robust and prize-winning, they were banned from sale for almost 10 years and only reinstated during World War II because of food shortages.
All up, a busy rural community of timber homes and some 300 people in the 1930s, growing to about 500 before they all sheared off to Werribee and elsewhere from the 1960s. By the 1970s, they were all gone.
Doctor Monika Schott has just penned a book, The Faraway Land of the House and Two Cows, on the back of a Deakin Uni thesis, about the old farm community. It's a mighty achievement that captures in warm and riveting detail a century of ordinary people living extraordinary lives in this little-known, now-vanished, corner of the world.
Schott has catalogued in microscopic fashion a thriving, rambunctious troupe of labourers, stockmen, housewives, kids, cricketers, footballers, tennis players and bosses on this giant government farm. She paints an environment peppered by everything from schoolyard snake bites to boozy romantic interludes, all of it underscored by the pungent odour of ordure.
She immerses readers in things like mulberry jam, roast duck, beer, sherry and whiskey. And the grim stuff, too – 38 million gallons of it a day. And that was the best part of a century ago. Lord knows how much Melbourne's producing these days.
For this old Werribee scion, forever defensive to critics, there was always one more thing the farm hosted: "The best part of you, mate."
This story appeared in the Geelong Advertiser 23 May 2022.