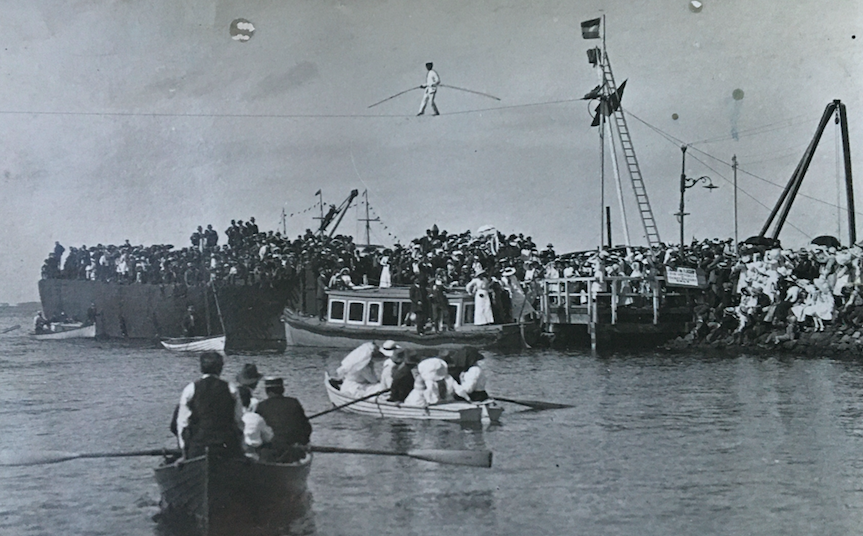 So try this one. Close your eyes and put yourself high up one of those treetop adventure courses. Don't look down but imagine your harness and helmet are gone, the support ropes as well. Imagine the moveable thick timber pole you're walking is replaced by a wildly swinging cable just three centimetres or so thick.
If you want to get smart, like the great funambulists of the past, you could up the ante a little. Why just walk when you can pedal a bicycle with grooves in its wheels to accommodate the rope? Maybe piggyback a willing sucker for the ride? Or take a stove up with you and cook breakfast al fresco.
Not quite you? Same here. But there's been no shortage of tightrope walkers happy to try all sorts of breathtaking stunts down the years. Rivers, canyons, skyscrapers, bridges … give them a rope between a couple of coconut trees and they'll have a crack at it.
The fun in funambulist, by the way, comes from the old Latin funis, for rope. Not fun from the old Middle English fon, to be a fool, although I think that might be moot. Pretty bloody foolish to me. Mind you, I'm more than willing to relocate my heart into my throat to watch these daredevils at work.
Nothing like a suburban circus highwire act to send a chill up your forearms. Likewise with those alien avatars who can climb a dozen chairs stacked ridiculously one on top of the other. Same with parachutists, bungee thrill-seekers, BASE jumpers  … I've got a brother who's blithely thrown himself off mountains, viaducts, hot air balloons, choppers – even the Westgate Bridge a couple of times. Great source of amusement and trepidation in equal measure.
So, yeah, all mighty stuff even if I'm one of those tongue-tied, twisted, earth-bound misfits as Pink Floyd's Learning to Fly might suggest.
Not so gravity prone, however, was the redoubtable James Alexander who went hopping about some 10 metres above the Geelong waterfront in 1878. The densely-packed crowd pictured here under a sea of hats  and hanging off every possible vantage point available – pier, launch, dinghy, slippery rock wall ­– gives a fair idea of the interest Alexander's skyborne showboating drew.
A parochial answer to the illustrious Frenchman Charles Blondin, who toured Australia four years earlier, Alexander was known for similarly outrageous tightrope feats. He performed with a bag over his head, with his feet in baskets, carried women and kids on his back, cooked pancakes and omelettes, stood on his head, danced a Highland fling, sat on a chair in front of a table.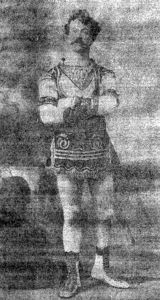 He gave several performances while in Geelong, to considerable fanfare, until it all soured when tragedy struck on Malop Street, not far from Eastern Park, when Alexander's 12-year-old assistant Henry Ruffin fell to his death.
"(Alexander) walked safely across, and then set out on his return; at the same moment Ruffin set out to meet him, and everyone admired the little fellow as, dressed in a showy costume, he jauntily and without the slightest sign of fear walked along the slender cord which supported him," this newspaper reported.
"Soon, however, the feeling was changed to one of horror. Alexander and Ruffin met, as arranged, about half-way across the rope; then knelt on it together and shook hands; and then, for some cause, Ruffin, as soon as he let go Alexander's hand, lost his balance and fell heavily to the ground.
"A cry of horror arose from the crowd. For a moment everyone seemed paralysed, except the father, who rushed forward, picked up the boy in his arms, and carried him into the hotel."
Falling eight metres to the road, the boy fractured his skull and died in hospital the next day. A subsequent coroner's inquest absolved Alexander of blame but queried the lack of safety regulations in his performances.
Safety wasn't what the crowds came to see, though, and Alexander inevitably found himself victim to his craft too, dying after a fall during a performance at Bathurst in 1918.
Hate to say it but seems even with 40 years haute cuisine under his belt, he couldn't make an omelette without cracking a few eggs.
This article appeared in the Geelong Advertiser 31 January 2022