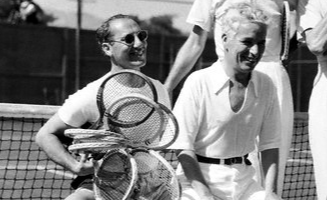 An old story tells of Groucho Marx and Charlie Chaplin fronting up at the Beverly Hills Tennis Club in 1937 for a US v England celebrity match.
Chaplin was deadly earnest about his game, Groucho arrived with 12 rackets and a suitcase. Chaplin asked what was in the case. Groucho asked what was in his.
Chaplin didn't have one, prompting Groucho to quip: "No suitcase? What kind of tennis player are you?"
A couple of lacklustre games later, Groucho plonked himself down, opened up his suitcase and unpacked a picnic lunch.
Best tennis story I knew until the 2022 Australian Open came along. I know it's more than a week over now but my ribs are still recovering from it.
Major event? Major catastrophe more like it but hilarious. Better than throwing Groucho and his brother in a sack with Chaplin, the Keystone Cops and Three Stooges and letting them slapstick their way out.
More laughs than a barrel of nitrous oxide as far as I'm concerned. Should be the new Melbourne Comedy Festival.
I wouldn't give a hoot about tennis, normally. Quiet please! Siuuuu! Throp. Grunt. Pop. Ooph. Plop. Ugh. Boring.
But this had everything: Organisers fudging unvaxxed players in, the Djokovic family flying circus and dodgy exemption, crowds going nuts over the KK class clowns, Medvedev's dummy-spits, crowd Covid rules tricked up something chronic. Check these:
TA paid for Djoker's lawyers, a house he never used and a flight from Dubai, presumably first class. Now he's talking of suing for $6m. Czech player Voracova, similarly turfed out too but left high and dry by TA, is talking compo as well.
Attendances were capped at 50 per cent because of Covid but it wasn't about safe distancing and applied to the overall tournament instead. Hence wide-open spaces until the finals, then a super-spreader cheek-to-jowl affair.
The AO happily took money from Chinese sponsors then stripped Aussie protesters asking 'Where is Peng Shuai?'. Then about-faced.
Medvedev was fined for throwing a wobbly over Tsitsipas' old man coaching in another language from the sidelines. What was Mr T saying if he wasn't coaching? 'What's for tea tonight, hombre?' 'Mum rang, been out shopping.'
Kyrgios-Kokkinakis antics, trickshots and clouting kids in the guts brought some life to the AO, and a new breed of numb-nut in the crowd. Like watching Jacko's headstands or Merv's calisthenics.
Medvedev's 'What would Novak do?' BOOOO! Plus the carry-on about the State Government not mentioned in the speeches for fear of being booed, not to mention filibuster-length speeches like a drunken uncle with a wedding mic.
And close to the best stunt in the whole AO – the good old dunny-break cheating. How to beat your opponent with a Royal Doulton ace.
Gold. Rolled gold. The lot of it. Love it. You couldn't script a soap opera better.
Barely had to watch the games for all this fun. I didn't know the KKs won. Or whatsisname over Medvedev. I did cotton on to Ash Barty's win, something about Evonne Goolagong Cawley too, but I didn't have to turn the TV on to learn that.
What I don't get about tennis is the silencer syndrome. Why are the crowds muted? Neutered's more like it and one more ridiculous aspect to the Open. Imagine AFL, NRL, A-League or any cricket crowds being told to shut up. is this sport or putting babies to bed? Imagine we never had "Lillee! Lillee! Lillee!"
Oh yeah, the lack of OH&S is one more aberration. AO seems to be doing its level best to bump its players off in insanely oppressive Gobi Desert temperatures. Duty of care? What's that? I'm just waiting for the overdue court case.
The Aussie Open strikes me something like the old Colosseum games. Designed to turn the attention of the heaving, restless masses away from Rome's depravity, corruption and madness with gladiator fights and lions eating Christians. Top fun, I'm sure.
Our latter-day madness is more Covid fears, lockdowns, business frustration, unemployment, mental health angst and so on. The entertainment's not as bloody as much as cheating, hypocrisy, stuff-ups, politics and idiocy all round. Still top fun.
As for showcasing Melbourne to the world as a tourism/investment destination, well … it's probably been more like Nero fiddling while the old Eternal City burns. A monument to stupidity, with a bit of decent tennis thrown in, if you like that sort of thing.
I used to wonder why people paid so much to sit in 40-degree heat to watch this stuff but, hey, if the next Aussie Open's going to be anything like this year's I'm bang up for it – as the Romans say, morituri te salutant.
Or as Groucho says: Outside of a dog, a book is a man's best friend. Inside of a dog it's too dark to read.
This article appeared in the Geelong Advertiser 8 February 2022.