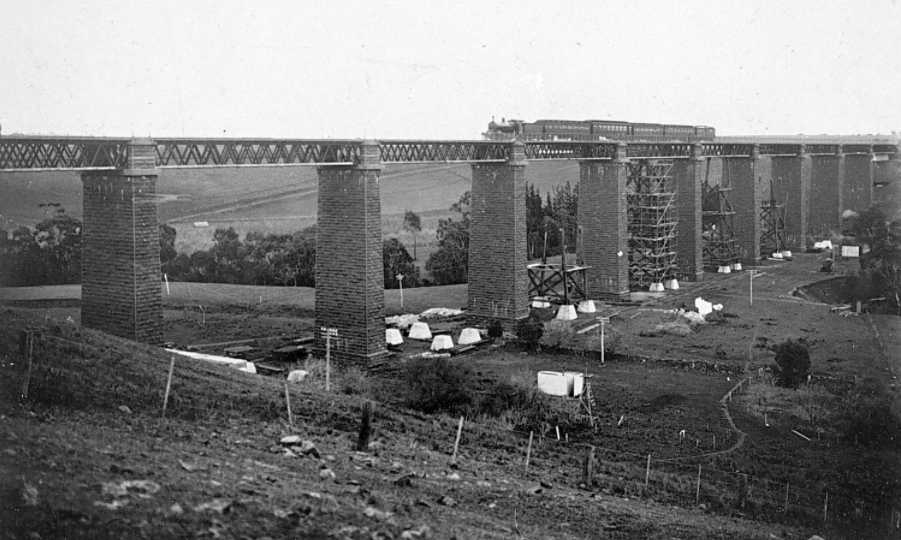 Nice part of the world, the old Batesford or, to be more specific, 38.0899° S, 144.2847° E if you're engineering- or GPS-inclined. I mention these co-ordinates because the town hosts what was for many years considered the greatest engineering feat in Australasia.
At 440 metres long and more than 34 metres high, its 1862 bluestone Moorabool Viaduct on the Geelong-Ballarat rail line was the largest early metal truss bridge in Australia … until NSW built its Hawkesbury River Bridge a quarter century later in 1889. It's still the second longest rail bridge in Victoria, after Gippsland's Stratford Bridge across the Avon.
The viaduct's original trusses were built to a design by the impressively-named Isambard Kingdom Brunel, Britain's great 19th century engineer. It's an impressive creation, even from a distance, and has been long celebrated by artists and photographers alike and, these days, by birds-eye-view drone videographers.
The viaduct's a little off the beaten track and requires some effort to get to it proper. A bumpy, plunging country lane off Steiglitz Road, Viaduct Road, will get you within sight of it, and a sweeping Moorabool Valley vista as well.
Otherwise you'll have to get up behind Batesford's Mayfield estate and leg it along the rail line reserve. Either way's worth the exercise, you'll find some friendly donkeys, sizeable country piles and more impressive vistas.
The bridge is just one of Batesford's many curios and talk points. The low-lying town boasts a beautiful five-arch bluestone bridge, gorgeous sandstone homes with dormer windows, a pub that's the oldest in Geelong with arguably the best beer garden in the state, the other-worldly Dog Rocks, pretty old churches, a frightening oral history of indigenous massacre, a dark and moody conservation precinct of gnarled old trees and wallabies, black burn-out marks up and down Dog Rocks Road, vineyards, artichoke crops, orchards, Johnny Cash stories, a surprising number of giant contemporary homes and the pretty gum-lined Moorabool River, threatened by overdrawing users, snaking through its midst.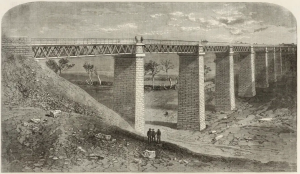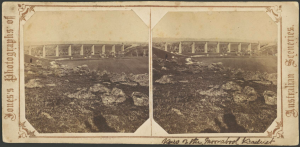 Batesford's bridges have been a thing. Not just the viaduct but the bluestone job next to the pub which was an exercise in frustration to build back in the late 1850s, at a cost of 3885 pounds, with several fatalities tied to the dangerously-steep approaches to the bridge that weren't tackled until well after.
The viaduct, at 180,000 quid with its 10 spans of 40 metres each, and massive bluestone piers, seems to have been comparatively trouble-free. Likewise, reinforcement works with steel trestle piers, in 1918, to accommodate larger locos and in the process create a dauntingly leviathan structure across the Moorabool Valley.
Engineering infrastructure was crucial to early Geelong's growth, and the Geelong-Ballarat line was the first main trunk line beyond the Geelong-Melbourne line. The overall Melbourne-Ballarat route, via North Geelong, was selected for having the least gradients.
If you look closely at nearby Lara, you'll find Brunel commemorated among a bunch of engineers in street names – Archimedes, Watt, Stephenson, Smeaton, Nasmyth and Rennie – that another engineer again, Edward Snell, drafted up back in the 1850s.
Snell wanted the place named Swindon for the English town where Brunel's Great Western Railway had a major terminus linking London and Bristol. Snell was the bloke built the Geelong-Melbourne line, a controversial undertaking in which he cleaned up tidily before scarpering back to England. The line had to be all but rebuilt by the Government shortly after.
One-time Ballarat commuters will remember traversing the mighty Moorabool Viaduct before it was finally closed to passenger travel in the 1990s after dropping station stops along the route in 1978. Time and tide and government coffers and all that.
Ironic, too, given that when the viaduct and Ballarat line were completed they put horse-drawn carriages out of business. One account tells of a transport price war, for a while, but the horses ran out of choof well before the engines.
This article appeared in the Geelong Advertiser 3 January 2022