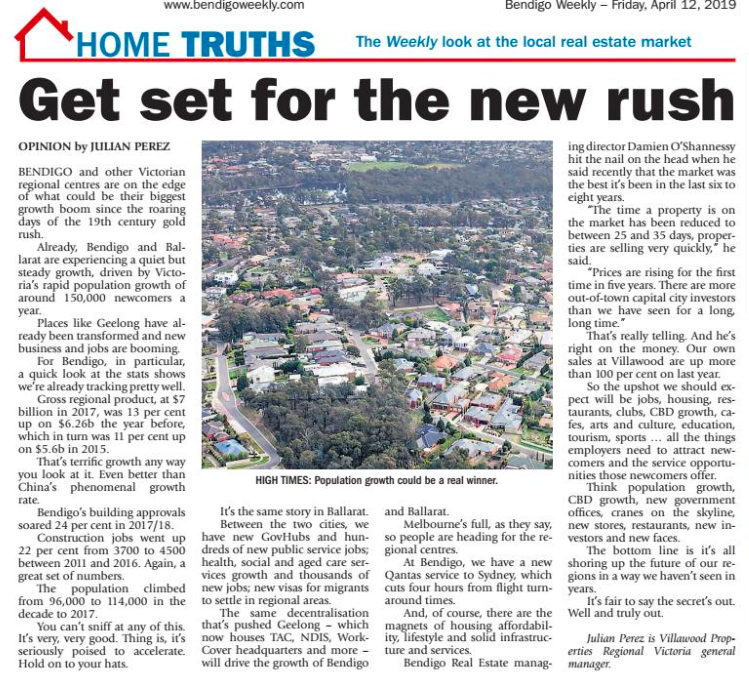 Bendigo and other Victoria regional centres are in the edge of what could be their biggest growth boom since the roaring days of the 19th century Gold Rush.
Already, Bendigo and Ballarat are experiencing a quiet but steady growth, driven by Victoria's rapid population growth of around 150,000 newcomers a year. Places like Geelong have already been transformed and new business and jobs are booming.
For Bendigo, in particular, a quick look at the stats shows we're already tracking pretty well.
Gross regional product, at $7 billion in 2017, was 13% up on $6.26b the year before, which in turn was 11% up on $5.6b in 2015. That's terrific growth any way you look at it. Even better than China's phenomenal growth rate.
Bendigo's building approvals soared 24% in 2017/18. Construction jobs went up 22% from 3700 to 4500 between 2011 and 2016. Again, a great set of numbers.
The population climbed from 96,000 to 114,000 in the decade to 2017. Jobs jumped 41,000 to 48,000 from 2011 to 2016.
You can't sniff at any of this. It's very, very good. Thing is, it's seriously poised to accelerate. Hold on to your hats.
It's the same story at Ballarat. Gross regional product has jumped 33% from $4.2bn to $5.6bn and jobs have grown from 42,000 to 55,000 since 2006. Building approvals are running hot, worth $342m up to January this financial year – just shy of the 2014/15 year's total of $362m.
Population's up from 89,000 in 2008 to 109,000 this year. Healthcare, manufacturing, construction and professional jobs were up 18, 8.6, 6.9 and 5% respectively at the 2016 Census. Lots more good numbers. Better than good.
Between the two cities, we have new GovHubs and hundreds of new public service jobs; health, social and aged care services growth and thousands of new jobs; new visas for migrants to settle in regional areas.
The same decentralisation that's pushed Geelong – which now houses TAC, NDIS, WorkCover headquarters and more – will drive the growth of Bendigo and Ballarat. Melbourne's full, as they say, so people are heading for the regional centres.
At Bendigo, we have a new Qantas service to Sydney which cuts four hours from flight turnaround times. Ballarat's access to Melbourne will improve dramatically as the Melbourne Airport rail link paves the way for a one-hour train connection.
And, of course, there are the magnets of housing affordability, lifestyle and solid infrastructure and services.
Bendigo Real Estate managing director Damien O'Shannessy hit the nail on the head when he said recently that the market was the best it's been in the last six to eight years.
"The time a property is on the market has been reduced to between 25 and 35 days, properties are selling very quickly," he said.
"Prices are rising for the first time in five years. There are more out-of-town capital city investors than we have seen for a long, long time."
That's really telling. And he's right on the money. Our own sales at Villawood are up more than 100 per cent on last year.
So the upshot we should expect will be jobs, housing, restaurants, clubs, CBD growth, cafes, arts and culture, education, tourism, sports … all the things employers need to attract newcomers and the service opportunities those newcomers offer.
Think population growth, CBD growth, new government offices, cranes on the skyline, new stores, restaurants, new investors and new faces.
The bottom line is it's all shoring up the future of our regions in a way we haven't seen in years.
It's fair to say the secret's out. Well and truly out.
– with JULIAN PEREZ, Villawood Properties Regional Victoria General Manager.