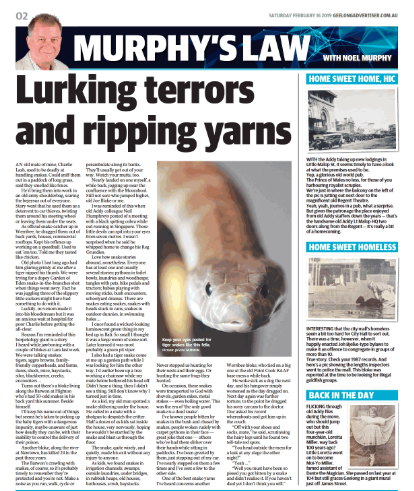 AN old mate of mine, Charlie Lash, used to be deadly at handling snakes. Could sniff them out in a paddock of long grass, said they smelled like foxes.
He'd bring them into work in an old army shoulderbag, scaring the bejaysus out of everyone. Story went that he used them as a deterrent to car thieves, twisting them around his steering wheel or leaving them under the seats.
As official snake catcher up in Werribee, he dragged them out of back yards, houses, commercial rooftops. Kept his reflexes up working on a speedball. Used to eat 'em too. Told me they tasted like chicken.
Old photo I lost long ago had him glaring grimly at me after a tiger nipped his thumb. We were trying for a dopey Garden of Eden snake-in-the-branches shot when things went awry. Fact he was juggling three of the slippery little suckers might have had something to do with it.
Luckily, no venom made it into his bloodstream but it was an anxious wait at hospital for poor Charlie before getting the all-clear.
Reason I'm reminded of this herpetology giant is a story I heard while jawboning with a couple of blokes at Lara last week. We were talking snakes: tigers, aggro browns, family-friendly copperheads, and farms, dams, sheds, mice, haystacks, silos, blackberries, creeks, encounters …
Turns out there's a bloke living along the Barwon at Highton who's had 50-odd snakes in his back yard this summer. Beside himself.
I'll keep his name out of things but seems he's taken to picking up the baby tigers with a dangerous impunity, maybe unaware of just how deadly they can be, with their inability to control the delivery of their poison.
Another bloke, along the river at Newtown, has killed 24 in the past three years.
The Barwon's crawling with snakes, of course, so it's probably timely to remember they're protected and you're not. Make a noise as you run, walk, cycle or perambulate along its banks. They'll usually get out of your way. Watch your mutts, too.
Nearly landed on one myself, a while back, jogging up near the confluence with the Moorabool. Still not sure who jumped higher, old Joe Blake or me.
I was reminded of this when old Addy colleague Neil Humphreys posted of a meeting with a black spitting cobra while out running in Singapore. Those little devils can spit into your eyes from seven metres. I wasn't surprised when he said he whipped home to change his Reg Grundies.
Love how snake stories abound, nonetheless. Everyone has at least one and usually several stories: pythons in toilet bowls, laundries and woodheaps; tangles with pets, bike pedals and tractors; babies playing with moving sticks, bush encounters, schoolyard dramas. There are snakes eating snakes, snakes with heads stuck in cans, snakes in outdoor dunnies, in swimming holes …
I once found a wicked-looking luminescent green thing in my bed up in Bali. So small I thought it was a large worm of some sort. Later learned it was most probably a green pit viper.
I also had a tiger snake come at me up a garden path while I was looking for him the other way. I'd earlier been up a tree working a chainsaw while my mate below bellowed his head off. Didn't hear a thing, then I didn't see a thing. Still don't know why I turned just in time.
As a kid, my old man spotted a snake slithering under the house. He called in a mate with a shotgun to despatch the critter. Half a dozen of us kids sat inside the house, very nervously, hoping he wouldn't be startled by the snake and blast us through the floor.
The snake, quite wisely, and quietly, made his exit without any injury to anyone.
As kids, we found snakes in irrigation channels, swamps, outside laundries, under bridges, in rubbish heaps, old houses, hothouses, scrub, haystacks. Never stopped us hunting for their nests and their eggs. Or hunting the same frogs they hunted.
On occasion, these snakes were transported to God with shovels, garden rakes, metal stakes — even boiling water. This was the era of 'the only good snake is a dead snake'.
I've known people bitten by snakes in the bush and chased by snakes, people woken rudely with carpet pythons in their face — great joke that one — others who've had them slither over their hands while sitting in paddocks. I've been greeted by them, just stepping out of my car. I've nearly stepped on them a few times and I've sent a few to the other side.
One of the best snake yarns I've heard concerns another Werribee bloke, who tied on a big one at the old Point Cook RAAF base mess a while back.
He woke sick as a dog the next day, and his hangover simply worsened as the day dragged on. Next day again was further torture, to the point he dragged his sorry carcass to the doctor. Doc asked his recent whereabouts and got him up in the couch.
"Off with your shoes and socks, mate," he said, scrutinising the hairy legs until he found two tell-tale red spots.
"You head outside the mess for a leak at any stage the other night?"
"Yeah …"
"Well you must have been so pissed you got bitten by a snake and didn't realise it. If you haven't died yet I don't think you will."
….
HOME SWEET HOME, HIC:
WITH the Addy taking up new lodgings in Little Malop St, it seems timely to have a look at what the premises used to be. Yep, a glorious old world pub. The Prince of Wales no less, for those of you harbouring royalist scruples. We're just in where the balcony on the left of the pic is jutting out next door to the magnificent old Regent Theatre. Yeah, yeah, journos in a pub, what a surprise. But given the patronage the place enjoyed from old Addy staffers down the years — that's the handsome old Addy Lt Malop HQ two doors along from the Regent — it's really a bit of a homecoming.
….
HOME SWEET HOMELESS:
INTERESTING that the city mall's homeless seem a bit too hard for City Hall to sort out. There was a time, however, when it happily enacted Joh Bjelke-type bylaws to make it an offence to congregate in groups of more than 10. True story. Check your 1987 records. And here's a pic showing the lengths inspectors went to police the mall. This bloke was reported at the time to be looking for illegal goldfish groups.
……
BACK IN THE DAY:
FLICKING through old Addy files during the move, who should jump out but this four-year-old munchkin, Loretta Miller, way back 100 years ago? Little Loretta went on to become Moi-Yo Miller, famed assistant of Dante the Magician. She passed on last year at 104 but still graces Geelong in a giant mural just off James Street.
https://regionalnews.smedia.com.au/geelongadvertiser/default.aspx?publication=NCGA