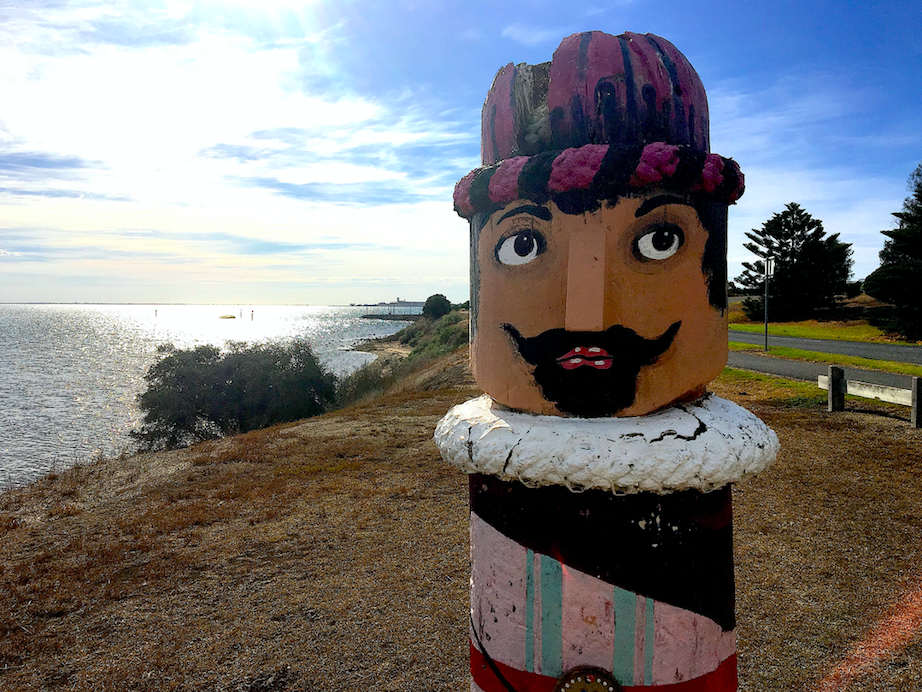 INTRIGUING to watch the changes on Point Henry out across Stingaree Bay as its one-time American bauxite-aluminium synthesiser cuts out of town.
I doubt we're about to see a return to the days of majestic coffee palaces on the shellgrit-saltpan, one-time port precinct but the curlews and sandpipers there might have less traffic to contend with – until some techno park or wetlands condo enclave pops up, that is.
Funny things, the seaside stories you'll find around Geelong. Weird, wonderful, good, bad and lots more in between.
On the debit side, there's a quagmire of clay targets beside Eastern Park. Shooters just up and off after decades of polluting the place, leaving millions of shattered chunks along the waterline and in the water.
The historic lime kilns there are vandalised and degraded. Mick Bloxham would be thrashing about in his grave. After years of him single-handedly cleaning them of boxthorns, authorities built some protective cladding and interpretative signs to highlight their importance. Just a mess again these days. Homeless folks there in mangled tents last time I looked.
People been making a mess of the place for donkeys' years. The bay used to be a chemical cesspool. Rubbish galore across its floor, asbestos poking out of its industrial northern cliff faces. Been abused ever since settlers drove cattle across the bay from Point Henry to Limeburners.
But the city's waterside has credits on the ledger, too, and they're starting to shine. New townhouses, office projects, marinas, high-rises, even a convention centre – yes, that 60-year-old chestnut ­– peppered along the shoreline.
A multitude of tales attach to the CBD waterfront: Eastern Beach bathing beauty contests, tightrope walkers, piers on fire, ships sunk in the bay, shark attacks, woolstores demolished despite heritage rulings – others that couldn't be knocked down despite official collapse concerns – cruise ships, warships, helicopter crashes, an IMAX theatre in storage for years, a Maori utu curse against Harding Park's developers, bizarre imported palm trees.
If the newcomers investing in our Lazarus waterfront look further, they'll find Siberian migratory birds beside the boat-ramp carpark burnouts, Robert Ingpen's Poppykettle Hairy Peruvians in tree-huts beside Tail-Light Alley.
Follow the waterline further and they'll trip over a glorious harbour built without a permit at Curlewis; stories of a beautiful timber spa house and glorious hotel burned to the ground at Clifton Springs' The Dell; John Batman's Rebecca crew, a wild red-haired giant and the founding of the Yarra River's Bearbrass at Indented Head; TV's Seachange and first-homebuyer grant con artists at St Leonards; buried gunboats, mysterious skulls and pirate treasure at Queenscliff; pre-European visitors from China at Point Lonsdale.
Keep moving along the west coast and there's a trove of treasures: politicians swimming illegally on shipwrecks at 13th Beach; Breamlea's rhinoceros castaway; mysterious underground bunkers at Torquay; pilot whale carcasses and nudists at Point Addis; shark attacks at Fairhaven; a putrid, dead blue whale at Cathedral Rock that now graces the Melbourne Museum; biplanes on Lorne's beach and salvage divers drinking their own urine in the pub there to prove their toughness.
There are shipwreck horrors, terrorists at the Barwon Heads pub, Southside paragliders, a literary wonderworld at Airey's, surfing nirvanas, metaphysical blue viviante at Anglesea, metaphysical architectural too, geological marvels at Cumberland River, terrorist hermits at Apollo Bay – and strange stories about things in the sky the day before Freddie Valentich went missing to a supposed UFO.
It's Weird and Wonderful Central. If you turn back to Geelong's Eastern Park, I reckon you'll find more strange – Renaissance cockatoos, kangaroos and aardvarks suggesting the Portuguese discovered us in the 1500s.
Yeah, that's right. A kangaroo was supposedly painted into a Portuguese liturgy musical score dating to around 1580. It popped up in a New York exhibition on sacred song down the ages a few years back.
The curators asked: If it was a kangaroo how did Europeans know about them? Hmmm. But a lecturer at La Trobe Uni said maybe it wasn't a roo at all but an aardvark.
Yeah, a bloody aardvark. This kind of scuppered late Newtown author Ken McIntyre's Secret Discovery of Australia hypothesis ­­that Portugal's Cristóvão de Mendonça arrived here in 1522, or thereabouts, losing a set of mysterious keys at Limeburners Point and a Mahogany Ship at Warrnambool.
But hold on. Next thing to surface was a sulphur-crested cockatoo in a 1497 Italian painting, Madonna della Vittoria, by Andrea Mantegna. And it's sitting smack on top of the Madonna and Child.
Yeah, yeah, a bloody cockatoo this time. What's going on?
So like I suggest, next time you're looking out to the old Alcoa site, you might wonder what's going on out there. You might wonder what the Yanks are taking with them, or leaving behind, as they clear out. I'll say secret electricity subsidies for one thing – and Jeff Kennett will back me.
But you might also wonder what else Mendonça could have taken back with him from his Antipodean tour. Myself, I'm going with orange-bellied parrots.
And I'm keeping close tabs on international sacred liturgy exhibitions. Surely, it's only a matter of time.
https://regionalnews.smedia.com.au/geelongadvertiser/default.aspx?publication=NCGA