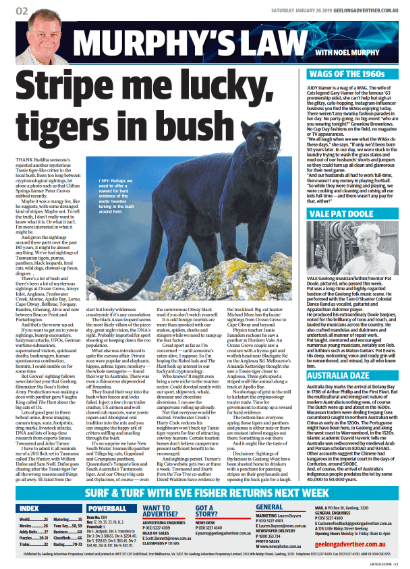 Thank Buddha someone's finally reported another mysterious Tassie tiger-like critter in the local bush. Been too long between cryptozoological sightings, let alone a photo like the shot Clifton Springs' farmer Peter Groves nabbed recently.
Maybe it was a just a mangy fox, like he suggests, with some deranged kind of stripes. Maybe not. To tell the truth, I don't really want to know what it is. Or what it isn't. I'm more interested in what it might be.
And given the sightings around these parts over the last 180-odd years it might be just about anything. We've had sightings of Tasmanian tigers, pumas, panthers, black leopards, feral cats, wild dogs, chewed-up foxes, dingoes …
There's a lot of bush out there and there's been a lot of mysterious sightings: at Ocean Grove, Aireys Inlet, Anglesea, Freshwater Creek, Moriac, Apollo Bay, Lorne, Cape Otway, Bellbrae, Torquay, Bambra, Gherang, Alvie and now between Beacon Point and Portarlington.
And that's just the warm-up act. If you want to get on to yowie sightings, bunyip encounters, hairyman attacks, UFOs, German wartime submarines, supernatural visitors, quicksand deaths, bushrangers, human spontaneous combustion, hermits, I could ramble on for quite some time.
But Peter Groves' sighting follows news late last year that Geelong filmmaker Stu Ross' Robot Army Productions' is making a doco with panther guru Vaughn King called The Hunt about the big cats of Oz.
Lots of good gear in there: bobcat urine, drone imagining, camera traps, scats, footprints, drag marks, livestock attacks, DNA, lots of long-time research from experts Simon Townsend and John Turner.
I have to admit it all reminds me of a 2011 flick set in Tasmania called The Hunter with Willem Dafoe and Sam Neill. Dafoe goes chasing after the Tassie tiger for all the wrong reasons and things go all awry. Ill-fated from the start but lovely wilderness countryside if it's any consolation.
The black Asian leopard seems most likely villain of the piece. Very shy, great night vision, the DNA's right. Probably imported back in the day for sport shooting or keeping down the roo population.
What else was introduced in the day is quite the curious affair. Private zoos were popular and elephants, hippos, zebras, tigers, monkeys – the whole menagerie — found their way to Austral. There was even a rhinoceros shipwrecked off Breamlea.
They found their way into the bush when fences and locks failed. Inject a few circus trailer crashes, US airmen and well-clawed cub mascots, some yowie capers and Aboriginal oral tradition into the mix and you can imagine the happy Ark of critters sniffing and snarling through the bush.
It's no surprise we have the NSW's Emmaville panther and Tilliga big cats, Gippsland and Grampians panthers, Qld's Yengarie lion and SA's Tantanoola tiger. And our own Otways big cats and thylacines, of course — even the carnivorous Otway black snail if you don't watch yourself.
It is odd that OS tourists are more than spooked with our snakes, spiders, sharks and stingers while we need to ramp up the fear factor.
Great sport as far as I'm concerned — until someone's eaten alive, I suppose. So I'm hoping the Robot lads and The Hunt really hoik up interest in our backyard cryptozoology.
Who knows? It might even bring a new niche to the tourism sector. Could dovetail neatly with our sport, shipwreck, whale, dinosaur and chocolate diversions. I can see the campervans rolling up already.
Not that everyone would be excited about that. Freshwater Creek's Harry Cook reckons his neighbours won't back up Tassie tiger reports for fear of attracting cowboy hunters. And certain tourism bosses don't believe campervans present sufficient benefit to be encouraged. Not that the Otways fringe towns of Winchelsea agrees, it loves them.
And the sightings persist. Turner's Big Cats website gets two or three a week. Townsend and Snarls from the Tea-Tree co-author David Waldron have evidence by the truckload. Big-cat hunter Michael Moss has thylacine sightings from Ocean Grove to Cape Otway and beyond.
Physics teacher Jamie Saunders reckons he saw a panther at Hordern Vale in recent years. An Ocean Grove couple spotted a creature with a hyena gait and wolfish head near Blackgate Road on the Anglesea road. Melbourne's Amanda Ketteridge thought she saw a Tassie tiger closer to Anglesea. Three girls spied a striped wolf-like animal along a track at Apollo Bay.
No shortage of grist to the mill to kickstart the cryptozoology tourist trade. Time for government to stump up a reward for hard evidence. Could be post-manufacturing economic diversification policy.
The bottom line: everyone spying all these tigers and panthers and pumas is either nuts or there's a lot of mutant inbred moggies out there. Something is out there.
And it might just like the taste of you.
Disclaimer: Sightings of thylacines in suburban Geelong West over the years have been sheeted home to local drinkers with a penchant for painting stripes on their greyhounds and opening the back gate for a laugh.
WAGS of the 1960s:
Judy Hamer, wife of Cats legend Gary Hamer, of the famous '63 premiership side, is a wag of a WAG.
She can't help but sigh at the glamour, café-hopping, Instagram influencer business you find the WAGs enjoying today.
There weren't any swanky fashion parades in her day. No party-going, no big-event 'who are you wearing tonight?' Gownlow Brownlows. No cup day fashions on the field, no magazine or TV appearances.
"We all laugh when we see what the WAGS do these days," she says.
"If only we'd been born 50 years later.
"In our day, we were stuck in the laundry trying to wash the grass stains and mud out of our husbands' shorts and jumpers so they could turn up clean and all glamorous for their next game.
"And our husbands all had to work full-time, there wasn't any money in playing football.
"So while they were training and playing, we were cooking and cleaning and raising all our kids full-time – and there wasn't any pay for that, either!"
VALE PAT DOOLE
Vale Geelong musician/luthier/mentor Pat Doole who passed on this week.
Pat was a long-time and highly-regarded bastion of the Geelong folk music scene. He performed with the Tam O'Shanter Colonial Dance Band as vocalist, guitarist and Appalachian dulcimer player.
He produced his extraordinary Doole banjoes, noted for their brilliancy of tone and touch, and lauded by musicians across the country. He also crafted mandolas and dulcimers and undertook all manner of repair work.
Pat taught, mentored and encouraged numerous young musicians, notably son Rob, and luthiers such as Maton Guitars' Pat Evans. His deep, welcoming voice and ready grin will be remembered, and missed, by all who knew him.
 AUSTRALIA DAZE
 Today's Australia Day marks the arrival at Botany Bay in 1788 of Arthur Phillip and the First Fleet. The multicultural and immigrant nature of modern Australia is nothing new, of course, and long precedes the arrival of the Brits.
The Dutch were up and about in the 1600s, everywhere from WA and Tasmania to the Gulf of Carpentaria. Macassan traders were dealing trepang caught in northern Australian with China as early as the 1200s.
The Portuguese might have been here, in Geelong and along the West Coast to Warrnambool's Mahogany Ship site, in the 1520s.
Islamic academic Dzavid (crct) Haveric tells me Australia was discovered by medieval Arab and Persian scholars in 820AD and 934AD.
He cites continuous visits to Australia over the centuries by Muslim ethnicities such as Zanggi, Baijini, Omani, Indian, Chinese, Malay and Indonesian – all prior to the 1400s.
Other accounts suggest the Chinese had kangaroos in the imperial court in the days of Confucius, around 500BC.
And, of course, Australia's indigenous people's arrival predates the lot by some 40,000 to 50,000 years.
So have a happy Oz Day, the lot of you!
— Geelong Advertiser, 26 January 2019
https://regionalnews.smedia.com.au/geelongadvertiser/default.aspx?publication=NCGA