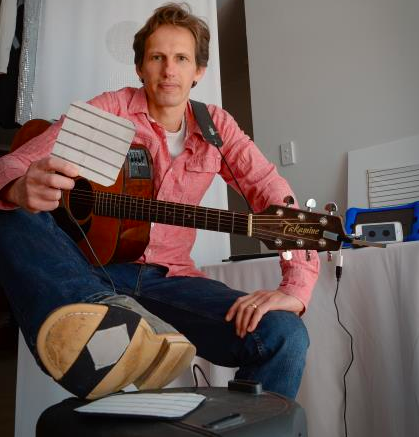 MUSICIAN-scientist Richard Helmer's never been one for letting the grass grow under his feet – especially on stage.
The Hamlyn Heights engineer, researcher and inventor is in fact putting his feet to good use with his latest contraption, a stomp pad he's optimistically declaring "one small step for musicians, one giant leap for sound".
Dr Helmer's stomp pad is an e-textile accessory that gives musicians, djs and other performers a limitless array of sounds via mobile devices.
As a drummer and guitarist, it's opening new doors for him.
"When I'm on stage in the band and improvising to the audience's response, I don't want to be trapped by backing tracks," he told the Independent.
"I want a back beat that can keep up and follow me, adding punch when and where I need it.
"Usually I have little time to set up, guests may be waiting or the unexpected happens and you don't want to slow down proceedings. I need my equipment to be oh so simple to set up and use.
"Stomp Pad feels natural, you just plug it in and it works, wherever I am. It's also lightweight and easily transportable.
"Any muso will tell you, you don't want to be lugging around heavy gear! Pocket-sized Stomp Pad gets you tapping big beats on your mobile device."
Dr Helmer has also invented an air guitar T-shirt that wearers play by moving their arms and body about.
His invention of a boxer's singlet with electronic sensors to distinguish between punches and what simply looks like contact could yet revolutionise the sport.
He plays drums and guitar with the Geelong party band Madhouse and emerging acts The Beautiful People and Veeva.
Dr Helmer's interactive technology company Superinteractive has launched a crowd-funding campaign for the ground-breaking Stomp Pad at superactive.com.au
This article appeared in the Geelong Independent 8 May 2015
https://geelongindy.com.au/indy/08-05-2015/breakthrough-stomps-musos/