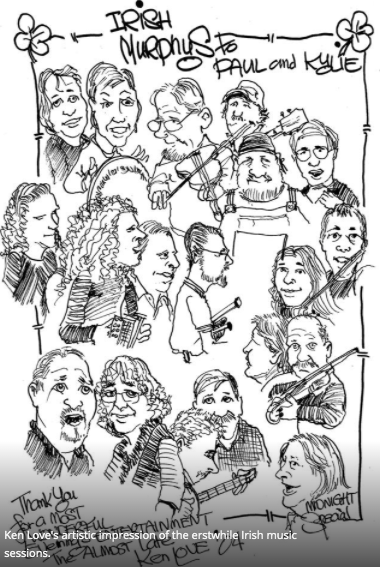 THE Gaelic musicians were deep in concentration, their heads bowed over their bodhrans and fiddles. They didn't notice straightaway as Ken Love was ushered amidst them in his wheelchair.
Wisps of blue-grey smoke rose above their heads, these were the days before ciggies were banned indoors, as a dozen or more tunesmiths lilted their way through such melodies as The King of the Fairies, Jenny's Chicken's, The Teetotaller.
Fumes wafted from the Guinness and Kilkenny pints, from the Jamesons tumblers. The boots and shoes kicking and skidding on the dark timbered floor kept time with a rhythmic Irish tattoo.
Drinkers hushed approval as their eyes followed fingers dancing across ebony fretboards, knuckles and wooden clappers kneading pigskin drums.
Ken Love was transported. All his life, he'd wanted to go to Ireland. Hoped to, planned to, dreamed about it _ but increasingly, that ambition was too distant. Now, it was untouchable as a fairy's fiddle.
Somehow, though,  in a smoky, noisy Irish Geelong pub, that dream was unfolding.
Ken Love could feel it with all his senses: the driving cadence of the reels and jigs and airs; the pungent smell and taste of the pub atmosphere; the tones of whistles, strings, timber and hide; the clever articulated elbows and wrists bowing, belting and strumming; the mouths agape in songs haunting, sad, joyous and risqué; the showcase of Irish maps, sketches and advertising icons across the walls.
Ken Love's fevered imagination had him fairly on his Emerald Isle. His kith and kin, surrounding him, knew it. The musicians his family whispered to knew it as well.
As the tunes quickened, their intricate rise and fall insinuating their warmth into his being, Ken Love reached for his sketching pencils and pad. A career at a petro-chemical refinery, as a cleaner, belied a talent for caricature that might have carried him anywhere.
Swiftly, smartly, dabbing and scratching, he recorded the Gaelic minstrels providing their gift of music and then presented them with his gift. The musicians, curious and impressed, were deeply impressed by his skill and by his appreciation.
The caricatures were uncanny. The musicians patted Ken Love on the shoulder, shook his paw, praised his talent, thanked him for his work. Then they returned to their rollicking tunes.
Ken Love turned to his wife, Judy: "I am in a little village in Ireland, aren't I?" he whispered.
"Yes, darling, you are,'' she replied.
Ken Love smiled. Six days later, he died.
He fell victim to an advanced cancer only diagnosed a fortnight earlier.  It was a terrible shock to all of them, most of all to him.
But there's little doubt which heaven he went to _ that little Irish village pub we'd been privileged enough to emulate for him.
Last time I spoke to Ken Love's wife Judy, she told me she was determined to ensure her darling man's ashes made it to Ireland.
Which is wonderful but somehow I think Ken Love's there already. In his emerald Valhalla.
Sleinte.
This article appeared in the Geelong Advertiser 24 September 2005