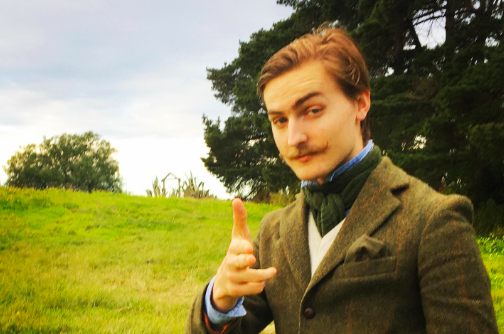 Long been intrigued by the urban legends, mythology and straight-up fanciful stories attached to Geelong.
Marathon walks to Melbourne backwards, pole-sitting events, Chinese teams playing the Geelong Footy Club, the mysterious dunny-truck/bus crash at Ryrie and Latrobe, the mass prison break of 1945, the bunyip hysteria of a century earlier, Doug Wade's kick for goal spoiled by a flying apple hitting the ball, the CBD's tunnels ….
Yep, pedestrianism was a thing once, before it was discovered by the public service, that is. Sorry, cheap shot, I take it back. And the giant bunyip bone that triggered the colonial hysteria was most probably from a diprotodon, a giant wombat from the megafauna. Likewise, Dougie's apple tormentor eventually identified himself, engineer Rod Pyle, nickname Gomer of course.
Was reading a Deakin Uni story last week about a one-time underground bowling alley in Melbourne, which brought to mind the old Geelong CBD tunnels stories which stubbornly persist.
Most notable of these is the apocryphal Terminus Hotel cellar annex complete with manacles on the walls. Was once a tunnel all the way through to the waterfront or alternatively a convicts' bedroom, as the story goes. Bricked over but people I know swear black and blue they know people who swear they've seen it. Must be real.
Similar story under The Deck/Max/Golden Age pub on Gheringhap but I've been down there. Not much sign of anything. But, of course, it might have all been filled in yonks ago. And what do I know?
There's also an underground range under Mercer St the cops use for shooting practice. Pretty close to the new City Hall offices from what I can gather, which could be handy for any Guy Fawkes fans with big ideas.  Might have to stand in line, though, the way Spring Street's been taking its own pot-shots at the CoGG lately.
Any rate, these subterranean ruminations got me to thinking of lesser-known curiosities around town. Someone really should get them altogether in one place someday.
Not sure for instance, how many people know about things like the First Nations stone arrangements at the You Yangs thought to be the world's first observatory. Geologists and experts say they're lined up in a way that tracks the winter and summer solstices and suggest they're maybe 10,000 years old.
Who knows about Button Hill (above) down at the one-time Fyansford paper mill? Paper there was once made from old clothing rather than timber, which meant removing buttons and buckles galore. So many so that the old buttons were simply thrown in a heap that gathered dirt and dust and grass until it took on the shape and status of a hill that rises considerably higher than the old mill itself.
Another curio that came to light on social media recently involved the sad case of a woman hit and killed by a train at the Skene St crossing in 1880. Commentary was understandably confused as Skene St, in Newtown, stops at Latrobe Terrace opposite Matthew Flinders, which has had the railway running underneath it through a tunnel since 1876.
Turns out Geelong's hosted two Skene streets. The site of the poor woman's incident is now known as Roy Street, next to St Paul's Church on Latrobe, where a pedestrian underpass existed for many years until closed a few years back.
Not sure if you know of the mini-island of Australia that exists in Geelong. If not, jump onto Google Earth, tap in 39° 50' 4" S and 144° 20' 11" E and see what pops up. Alternatively, tap in Belmont and wriggle around to Barrabool Road and look opposite the Riverview caravan park.
Others that people don't seem to know exist, or if they do they don't where, include the tall, historic lime kilns along the Corio Bay shoreline between the Limeburners boat ramp and the East Geelong Golf Club.
Likewise, the remarkable concrete coat-hangar aqueduct at Breakwater. Look east as you head from Belmont to Marshall, just past Barwarre Road, and you might spot it strung out over Goat Island on the Barwon flood plain. Otherwise, head down Tannery Road and keep an eye out to the north.
If you haven't seen it before, it will be surprise you. Might surprise you further that it's about to lose a couple of sections because it's too costly to maintain and becoming dangerous. Pity, because it should just about rate world heritage status, according to some of its champions.
There's a beautiful sunken garden that never quite happened in an old quarry site near Baums Weir at Fyansford, a birthplace memorial to J.F. Archibald of Archibald Prize fame at West Oval, the horror story the Wadawurrung tell me of the massacre at Batesford's Dog Rocks, the baby ghost between floors of Kitchener House and a host of murder sites and gruesome stories I might leave for another day.
But I will mention one you won't have heard, about a mate whose car was in his mechanic's yard when some crook jumped a fence and nicked his number plates. It's a trick being used to buy petrol lately.
The mechanic had recently bought up several cars with a view to fixing some for sale while using others for spare parts. When he was done with the parts vehicles, which were unregistered and unplated, he called in the crusher.
Yep, you guessed it. Bloke grabbed poor Pete's car and it's now considerably smaller than before. And nope, it's not an urban legend. But it did occur in Ballarat.
This article appeared in the Geelong Advertiser  26 July 2022.