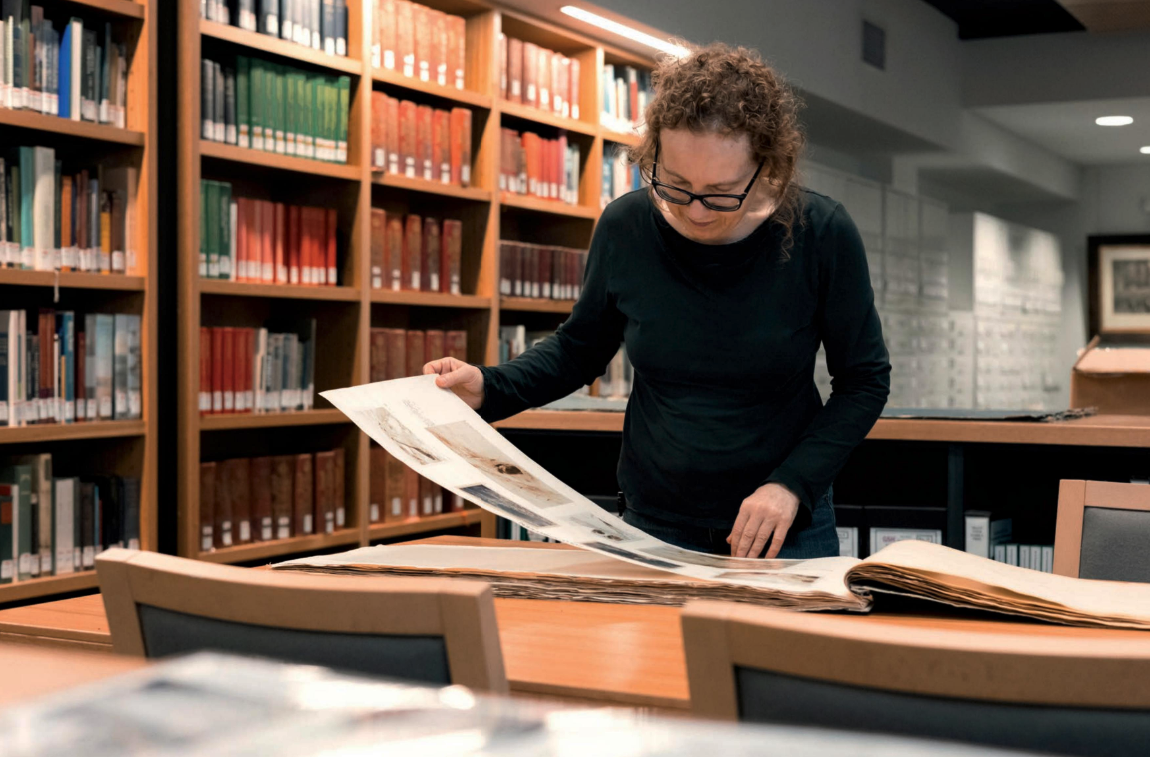 Explorer logs and Renaissance Bibles, ancient atlases, Latin tomes and learned transcripts, exquisite engravings and artwork beautifully bound in pigskin and leather – you can be excused if Deakin University's library collection momentarily catches your breath.
There was a time when libraries did so quite deliberately, in fact. So-called hygienic libraries sterilised their books with formalin vapour to guard against tuberculosis and other nasties. Deakin's Special Collection, housed within its Alfred Deakin Prime Ministerial Library on the Geelong Waterfront, is breathtaking in a more cerebral than visceral sense.
Visitors can pore over a text by Roman historian Sallust, purchased by Deakin in Mexico, that dates to 1575. Or immerse themselves in the stunning artwork of Australia's indigenous peoples and wildlife from French navigator Francois Peron's 1802-04 Voyage de Decouvertes aux Terres Australes.
A 1560 Breeches Bible draws its name from a Genesis reference to Adam and Eve stitching together fig leaves as breeches to protect their modesty. A Justinian history, with cotton-and-tongs spine, dates to 1606 while an 1852 first edition of The Life and Adventures of William Buckley has been signed by the Wild White Man.
Nested neatly in the Dennys Lascelles Building off a shady laneway that once carried rail trucks to and from Cunningham Pier, the library is a little-known Geelong treasure despite a catalogue of clever exhibitions over recent years. Covid hasn't assisted visitor numbers but for those willing to explore, the library is a fascinating labyrinth of collections.
Its rare book collection, for instance, features volumes on architecture, missionaries of the Pacific, Papua New Guinea, 19th century travel, natural history, scientific expeditions, domestic science, nutrition, cookery and women in the home. Worlds in a bottle, almost.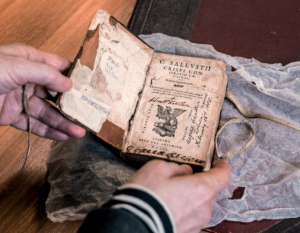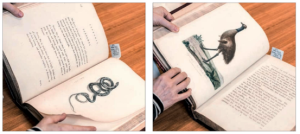 You'll also find manuscripts galore, genealogy and Western Victoria collections, children's literature research and school textbook collections, multicultural literature, a swag of books by Deakin Uni authors, poetry … the list goes on and on, eventually running out to more than 60,000 titles.
The thing is, they're old, they're beautiful, rare and fragile. They're valuable and they're also vital research tools, notably for ecology, marine science and palaeontology. There's a startling array of memorabilia, artefacts, pamphlets and brochures from yesteryear, 5000 posters on everything from religion to tax and Communist China, maps, real estate subdivision advertisements ….
Throw yourself deep into it and you'll come up with souvenir photographs from old Geelong, Colac, Warrnambool and many other towns, collections by historical societies from Barrabool through Ararat and Casterton. The Australian schoolbook trove is the largest in the country, with 5000-plus and going back to the mid-1800s of inkwells, nibs and blotting paper – long before today's cyber home-schooling.
Imagery contained within the library is little short of stunning. The Peron works of Nouvelle Hollande are staggering but likewise lesser recognised works such as striking renders by Deakin architectural students of old farm buildings in the Warrock restoration project in Western Victoria.
Special Collection librarian Kristen Thorton finds her work among the weird and wonderful intriguing. "Everything has a little story to it," she says. "And as soon as you start researching anything, even weird things, you unearth some extraordinary material.
"It's really a collection within a collection with a vast range of objects and books dating from mediaeval times to the present.
"We don't just have physical visitors, either, we get international requests as well. Just before Christmas, for instance, we had a researcher from The Netherlands who was tracking down the only surviving copy of a 19th century Melbourne pamphlet for an article he was writing.
"Deakin is a new university, not old like Melbourne with its years and years of donations and bequests. Even others, like Monash, set up more recently, have been very well resourced so, to develop a point of difference, we've built up our own specialisations.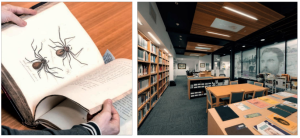 "Books are great, of course, and we have some fabulous, beautiful books for research but by their very nature books are numerous. You'll find that even rare books are held elsewhere as well, and we have a good collection of rare books ourself, but what we've been doing is pushing into ephemera.
"So, say you have an architecture collection, you expand it into trade catalogues of designs, gardens, fencing, whatever. You push into rarer areas, including those resources which might not have really even been meant to survive."
Of course, hovering over all this is the redoubtable figure of Alfred Deakin, three-time prime minister of Australia, founding father of federation, diplomat and journalist, and holidaymaker at nearby Point Lonsdale.
Deakin was a monumental figure in Australia's Federation movement and drafting of the Constitution. He studied English and French literature, western and eastern philosophy and religion, history, politics, literary criticism. He was a State and Federal politician over a 40-year career, a renowned orator and father to three daughters. His role was critical in the success of the 1898-99 referenda campaigns that led to Federation.
Deakin is etched into the floor-to-ceiling glass frames of the library – a stunning mural photographic exhibition with revealing monochromes of Deakin with colleagues, military figures, family. The library contains numerous books by and about Deakin, and dozens more from his own private library. A gorgeous engraved sterling silver inkwell presented him by the Federal Press in 1904 as a token of its regard is an elegant testament to both the man and the depth of the collection in his name.
Link:  https://www.deakin.edu.au/library/special-collections
This story appeared in Geelong + Surf Coast Living, Autumn 2022