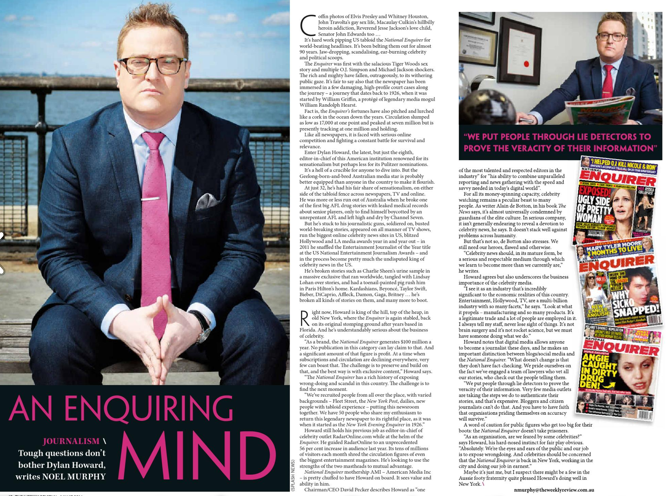 Dylan Howard: Think coffin photos of Elvis Presley and Whitney Houston, John Travolta's gay sex life, Macaulay Culkin's hillbilly heroin addiction, Reverend Jesse Jackson's love child, Senator John Edwards too …
It's hard work pipping US tabloid the National Enquirer for world-beating headlines. It's been belting them out for almost 90 years. Jaw-dropping, scandalising, ear-burning celebrity and political scoops.
The Enquirer was first with the salacious Tiger Woods sex story and multiple O.J. Simpson and Michael Jackson shockers. The rich and mighty have fallen, outrageously, to its withering public gaze. It's fair to say also that the newspaper has been immersed in a few damaging, high-profile court cases along the journey – a journey that dates back to 1926, when it was started by William Griffin, a protégé of legendary media mogul William Randolph Hearst.
Fact is, the Enquirer's fortunes have also pitched and lurched like a cork in the ocean down the years. Circulation slumped as low as 17,000 at one point and peaked at seven million but is presently tracking at one million and holding.
Like all newspapers, it is faced with serious online competition and fighting a constant battle for survival and relevance.
Enter Dylan Howard, the latest, but just the eighth, editor-in-chief of this American institution renowned for its sensationalism but perhaps less for its Pulitzer nominations.
It's a hell of a crucible for anyone to dive into. But the Geelong-born-and-bred Australian media star is probably better equipped than anyone in the country to make it flourish.
At just 32, he's had his fair share of sensationalism, on either side of the tabloid fence across newspapers, TV and online. He was more or less run out of Australia when he broke one of the first big AFL drug stories with leaked medical records about senior players, only to find himself boycotted by an unrepentant AFL and left high and dry by Channel Seven.
But he's stuck to his journalistic guns, soldiered on, busted world-breaking stories, appeared on all manner of TV shows, run the biggest online celebrity news sites in US, blitzed Hollywood and LA media awards year in and year out – in 2011 he snaffled the Entertainment Journalist of the Year title at the US National Entertainment Journalism Awards – and in the process become pretty much the undisputed king of celebrity news in the US.
He's broken stories such as Charlie Sheen's urine sample in a massive exclusive that ran worldwide, tangled with Lindsay Lohan over stories, and had a toenail-painted pig rush him in Paris Hilton's home. Kardashians, Beyoncé, Taylor Swift, Bieber, DiCaprio, Affleck, Damon, Gaga, Britney … he's broken all kinds of stories on them, and many more to boot.
Right now, Howard is king of the hill, top of the heap, in old New York, where the Enquirer is again stabled, back on its original stomping ground after years based in Florida. And he's understandably serious about the business of celebrity.
"As a brand, the National Enquirer generates $100 million a year. No publication in this category can lay claim to that. And a significant amount of that figure is profit. At a time when subscriptions and circulation are declining everywhere, very few can boast that. The challenge is to preserve and build on that, and the best way is with exclusive content," Howard says.
"The National Enquirer has a rich history of exposing wrong-doing and scandal in this country. The challenge is to find the next moment.
"We've recruited people from all over the place, with varied backgrounds – Fleet Street, the New York Post, dailies, new people with tabloid experience – putting this newsroom together. We have 50 people who share my enthusiasm to return this legendary newspaper to its rightful place, as it was when it started as the New York Evening Enquirer in 1926."
Howard still holds his previous job as editor-in-chief of celebrity outlet RadarOnline.com while at the helm of the Enquirer. He guided RadarOnline to an unprecedented 56 per cent increase in audience last year. Its tens of millions of visitors each month shred the circulation figures of even the biggest entertainment magazines. He's looking to use the strengths of the two mastheads to mutual advantage.
National Enquirer mothership AMI – American Media Inc – is pretty chuffed to have Howard on board. It sees value and ability in him.
Chairman/CEO David Pecker describes Howard as "one of the most talented and respected editors in the industry" for "his ability to combine unparalleled reporting and news gathering with the speed and savvy needed in today's digital world".
For all its money-spinning capacity, celebrity watching remains a peculiar beast to many people. As writer Alain de Botton, in his book The News says, it's almost universally condemned by guardians of the elite culture. In serious company, it isn't generally endearing to reveal a devotion to celebrity news, he says. It doesn't stack well against problems across humanity.
But that's not so, de Botton also stresses. We still need our heroes, flawed and otherwise.
"Celebrity news should, in its mature form, be a serious and respectable medium through which we learn to become more than we currently are," he writes.
Howard agrees but also underscores the business importance of the celebrity media.
"I see it as an industry that's incredibly significant to the economic realities of this country. Entertainment, Hollywood, TV, are a multi-billion industry with so many facets," he says. "Look at what it propels – manufacturing and so many products. It's a legitimate trade and a lot of people are employed in it. I always tell my staff, never lose sight of things. It's not brain surgery and it's not rocket science, but we must have someone doing what we do."
Howard notes that digital media allows anyone to become a journalist these days, and he makes an important distinction between blogs/social media and the National Enquirer. "What doesn't change is that they don't have fact-checking. We pride ourselves on the fact we've engaged a team of lawyers who vet all our stories, who check out the people telling them.
"We put people through lie detectors to prove the veracity of their information. Very few media outlets are taking the steps we do to authenticate their stories, and that's expensive. Bloggers and citizen journalists can't do that. And you have to have faith that organisations priding themselves on accuracy will survive."
A word of caution for public figures who get too big for their boots: the National Enquirer doesn't take prisoners.
"As an organisation, are we feared by some celebrities?" says Howard, his hard-nosed instinct for fair play obvious. "Absolutely. We're the eyes and ears of the public and our job is to expose wrongdoing. And celebrities should be concerned that the National Enquirer is back in New York, working in the city and doing our job in earnest."
Maybe it's just me, but I suspect there might be a few in the Aussie footy fraternity quite pleased Howard's doing well in New York.