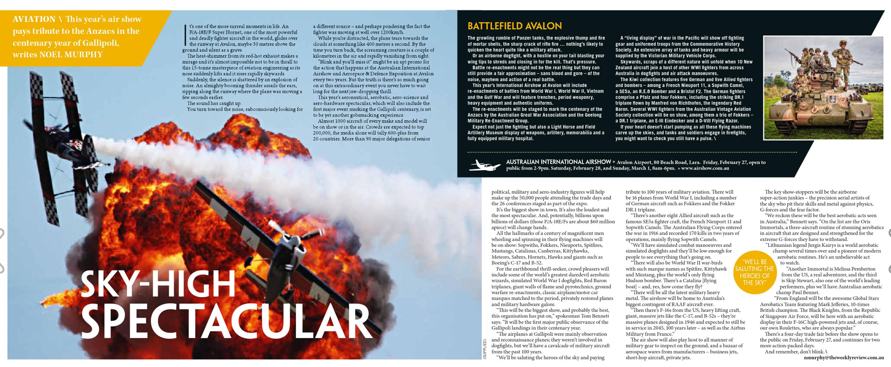 IT'S one of the more surreal moments in life. An F/A-18 Super Hornet, one of the most powerful and deadly fighter aircraft in the world, glides along the runway at Avalon, maybe 30 metres above the ground and silent as the grave.
The heat shimmer off its red-hot exhaust makes for a mirage and it's almost impossible not to be in thrall to this 15-tonne masterpiece of aviation engineering as its nose suddenly points upwards and it rises rapidly skywards.
Suddenly, the silence is shattered by a massive explosion of noise. An almighty booming thunder assails the ears, ripping along the runway where the plane was moving a few seconds earlier. The sound has caught up.
You turn toward the noise, subconsciously looking for a different source — and perhaps pondering the fact the gliding fighter was moving at well over 1200 km/h. While you're distracted, the plane tears toward the clouds at something like 400 metres a second. By the time you turn back, the screaming creature is a couple of kilometres in the air and rapidly vanishing from sight.
'Blink and you'll miss it' might be an apt promo for the action that takes place at the Australian International Airshow and Aerospace and Defence Exposition at Avalon every two years, but the truth is there's so much going on at this extraordinary event you never have to wait long for the next jaw-dropping thrill.
And this year's aeronautical, aerobatic, aeroscience and aero-hardware spectacular — which will also include the first major event marking the Gallipoli centenary — is set to be yet another gobsmacking experience.
Almost 1000 aircraft of every species and genus will be on show or in the air.  Crowds are expected to top 200,000, the media alone will tally 600-plus from 20 different countries. More than 90 major delegations of senior political, military and aero-industry figures will help make up the 50,000 people fronting for the trade days and the 26 major conferences that are being staged as part of the expo.
It's the biggest show in town. The loudest and the most spectacular. And billions upon billions of dollars — those F/A-18s are about $60 million apiece — will potentially be changing hands.
All the hallmarks of a century of magnificent men wheeling and spinning in their flying machines will be on show: Sopwiths, Fokkers, Nieuports, Spitfires, Mustangs, Catalinas, Canberras, Kittyhawks, Meteors, Sabres, Hornets, Hawks, giants such as the C17 and B52.
For the earthbound thrill-seeker, crowd-pleasers will include some of the world's greatest daredevil aerobatic wizards, simulated World War I dogfights, Red Baron triplanes, giant walls of flame and pyrotechnics, ground warfare re-enactments from the Great War, classic airplane/motor car marques matched to the period, privately restored planes and military hardware galore.
"This will be the biggest show, and probably the best, this organisation has put on," says spokesman Tom Bennett.
"It will be the first major public observance of the Gallipoli landings in their centenary year.
The airplanes at Gallipoli were mainly observation and reconnaissance planes, they
weren't involved in dogfights, but we'll have a cavalcade of military aircraft from the last 100 years.
"We'll be saluting the heroes of the sky and paying tribute to 100 years of military aviation. There will be 16 planes from World War 1 including a number of German aircraft such as Fokkers and the Fokker DR1 triplane.
"There's another eight Allied aircraft such as the famous SE5a fighter craft, the French Nieuport 11 and Sopwith Camels — the Australian Flying Corps entered the war in 1916 and recorded 170 kills in two years of operations, mainly flying Sopwith Camels.
"We'll have simulated combat manoeuvres and simulated dogfights, they'll be low enough for people to see everything that's going on.
"There will also be World War 2 warbirds with such marque names as Spitfire, Kittyhawk and Mustang, plus the world's only flying Hudson bomber. There's a Catalina — and, yes, how come they fly?
"On top of that, we have the pioneers of the jet age, including the English-made Canberra jet bomber which the Australian government flew in Vietnam with enormous accuracy, and the Meteor and the Sabre.
"There will be all the latest military heavy metal. The airshow will be home to Australia's biggest contingent of RAAF aircraft ever — Superhornets, Hawks, classic Hornets.
"Then there's F-16s from the US, heavy lifting craft, giant massive jets like the C17, and B-52s — they're massive planes designed in 1946 and expected to still be in service in 2045, 100 years later — as well as the Airbus Military from France, which is like a Hercules on on steroids."
It doesn't stop there, of course. The air show will play host to all manner of military gear to inspect, on the ground, and an extensive bazaar of aerospace wares from manufacturers — think business jets, short hop aircraft, private jets and much, much more.
Helicopters galore will be in the air and on display; air force, army and navy choppers, a Helicopter Industry Association exhibition, air ambulance, police, emergency helicopters, private commuter choppers — a veritable helicopter buff's fantasy world.
But the key show-stoppers will be the airborne super-action junkies — the precision aerial artists of the sky who pit their skills and metal against physics, G-forces and the fear factor.
"We reckon these will be the best aerobatic acts ever seen in Australia," says Bennett.
"Among the list are The Oris Immortals, a three-aircraft routine of stunning aerobatics in aircraft that are all specially designed and strengthened to for the extreme G forces they have to withstand.
"They'll be performing with huge pyrotechnics, with walls of flame, and each pilot will also perform individually too.
"Lithuanian legend Jurgis Kairys is a world aerobatic champ several times over and a pioneer of modern aerobatic routines, he's an unbelievable act to watch.
"Another Immortal is Melissa Pemberton from the US, a real adventurer. Apart from being an aerobatics pilot, and one of the best in a profession dominated by men, she's a champion mountain and rock climber, a champion base jumper and a cave diver.
"The third Immortal is Skip Stewart, also one of the world's leading performers, plus we'll have Australian aerobatic champ Paul Bennet.
"Also, from England, will be the awesome Global Stars Aerobatics Team featuring Mark Jefferies, 10-times British champion, plus the Black Knights from the Republic of Singapore Air Force with an aerobatic display in their F-16Cs high-powered jets and, of course, our own Roulettes, who are always popular."
Yep, a hard show to beat, no doubt about it.  It all gets under way on 24 February with a four-day trade fair — don't worry, if you're anywhere within about 30 km of Avalon you'll know it –before opening to the public on 27 February and continuing for two more action-packed days.
And remember, don't blink.