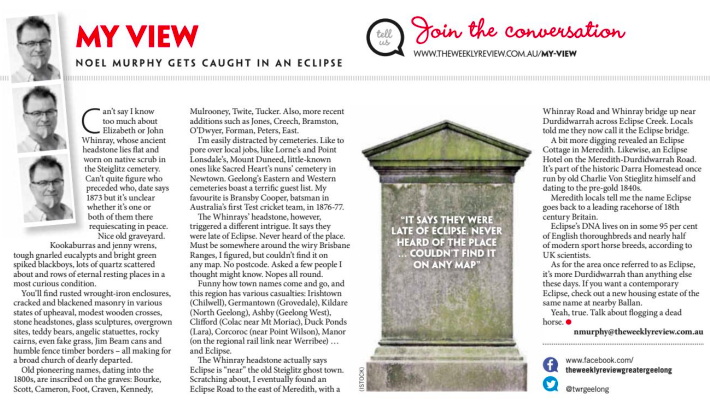 Can't say I know too much about Elizabeth or John Whinray, whose ancient headstone lies flat and worn on native scrub in the Steiglitz cemetery. Can't quite figure who preceded who, date says 1873 but it's unclear whether it's one or both of them there requiescating in pace.
Nice old graveyard. Kookaburras and jenny wrens, tough gnarled eucalypts and bright green spiked blackboys, lots of old quartz scattered about and rows of eternal resting places in a most curious condition.
You'll find rusted wrought iron enclosures, cracked and blackened masonry in various states of upheaval, modest wooden crosses, stone headstones, glass sculptures, overgrown sites, teddy bears, angelic statuettes, rocky cairns, even fake grass, Jim Beam cans and humble fence timber borders – all making for a broad church of dearly departed.
Old pioneering names, dating into the 1800s, are inscribed on the graves: Bourke, Scott, Cameron, Foot, Craven, Kennedy, Mulrooney, Twite, Tucker. Also, more recent additions such as Jones, Creech, Bramston, O'Dwyer, Forman, Peters, East.
I'm easily distracted by cemeteries. Like to pore over local jobs, like Lorne's and Point Lonsdale's, Mount Duneed, little-known ones like Sacred Heart's nuns' cemetery in Newtown. Geelong's Eastern and Western cemeteries boast an terrific guest list. My favourite is Bransby Beauchamp Cooper, batsman in Australia's first Test cricket team, in 1876-77.   
I've tripped through some VIP RIP venues too: Buenos Aires' stunning La Recoleta, Verdun's Citadelle Souterraine, Bali graveyards peppered with swastikas, Normandy's Omaha Beach. Pondered the baboons in Tutankhamen's tomb, sweated inside the Pyramids, wondered at New Orleans' above-ground tombs, tramped the Walhalla cemetery with its residents planted sideways into the hill.
Gawked, too, at royal mummies in London museums, monks preserved behind glass in Koh Samui, dead popes in crypts beneath St Peter's, ghastly saints' reliquaries in Lisbon. Went looking for Jim Morrison's grave in Paris but got gridlocked and discovered the great explorer Baudin's instead.
The Whinrays' headstone, however, triggered a different intrigue. It says they were late of Eclipse. Never heard of the place. Must be somewhere around the wiry Brisbane Ranges, I figured, but couldn't find it on any map. No postcode. Asked a few people I thought might know. Nopes all round.
Funny how town names come and go, and this region has various casualties: Irishtown (Chilwell), Germantown (Grovedale), Kildare (North Geelong), Ashby (Geelong West), Clifford (Colac road near Mt Moriac), Duck Ponds (Lara), Corcoroc (near Point Wilson), Manor (on the regional rail link near Werribee) … and Eclipse.
The Whinray headstone actually says Eclipse is 'near' the old Steiglitz ghost town. Scratching about, I eventually found an Eclipse Road to the east of Meredith, with a Whinray Road and Whinray bridge up near Durdidwarrah across Eclipse Creek. Locals told me they now call it the Eclipse bridge. 
A bit more digging about revealed an Eclipse Cottage in Meredith. Likewise, an Eclipse Hotel on the Meredith-Durdidwarrah Road. From way back. It's part of the historic Darra Homestead once run by old Charlie Von Steiglitz himself and dating to the pre-gold 1840s.
It was later home to Tasmania's first Premier, bloke named William Champ, a one-time commandant at the notorious Port Arthur and boss of Pentridge Prison's construction in Melbourne.
Meredith locals tell me the name Eclipse goes back to a leading racehorse of 18th century Britain. Eclipse was great granddaddy or somesuch to Copenhagen, the horse the Duke of Wellington rode  against Napoleon at Waterloo.
More curiously, though, Eclipse's DNA lives on in some 95 per cent of English thoroughbreds and nearly half of modern sport horse breeds, according to UK scientists, a few reporters and authors. This, courtesy of a shrewd Irish owner who spotted Eclipse's stud value early and cashed in big time on the stallion's retirement.
So now you know.
As for the old town/area once referred to as Eclipse, it's more Durdidwarrah than anything else these days. If you really want a contemporary Eclipse, probably best you check out a new housing estate of the same name at nearby Ballan.
Yeah, true. Talk about flogging a dead horse.
LINK: https://issuu.com/theweeklyreview.com.au/docs/gee-greatergeelong-20160609-iss