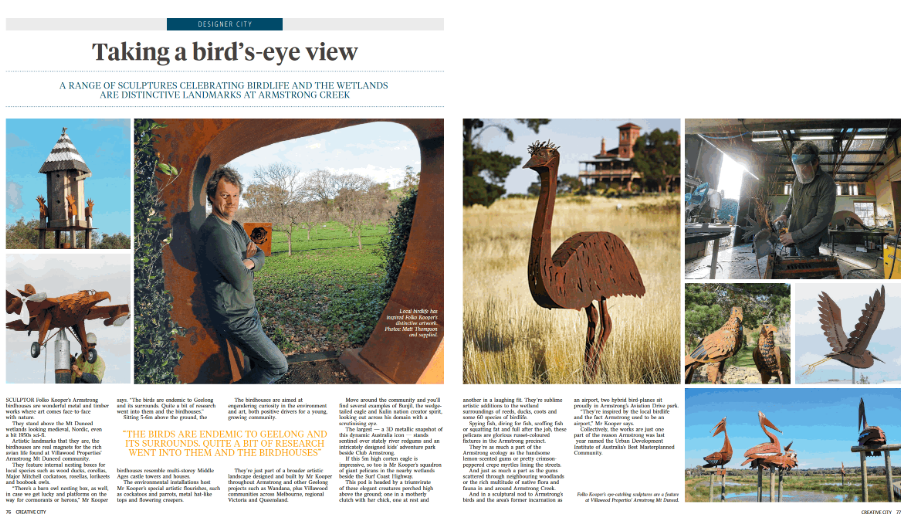 SCULPTOR Folko Kooper's Armstrong birdhouses are wonderful metal and timber works where art comes face-to-face with nature. They stand above the Mt Duneed wetlands looking medieval, Nordic, even a bit 1950s sci-fi.
Artistic landmarks that they are, the birdhouses are real magnets for the rich avian life found at Villawood Properties' Armstrong Mt Duneed community.
They feature internal nesting boxes for local species such as wood ducks, corellas, Major Mitchell cockatoos, rosellas, lorikeets and boobook owls.
"There's a barn owl nesting box, as well, in case we get lucky and platforms on the way for cormorants or herons," Mr Kooper says. "The birds are endemic to Geelong and its surrounds. Quite a bit of research went into them and the birdhouses."
Sitting 5-6m above the ground, the birdhouses resemble multi-storey Middle Ages castle towers and houses. The environmental installations host Mr Kooper's special artistic flourishes, such as cockatoos and parrots, metal hat-like tops and flowering creepers.
The birdhouses are aimed at engendering curiosity in the environment and art, both positive drivers for a young, growing community.
They're just part of a broader artistic landscape designed and built by Mr Kooper throughout Armstrong and other Geelong projects such as Wandana, plus Villawood communities across Melbourne, regional Victoria and Queensland.
Move around the community and you'll find several examples of Bunjil, the wedgetailed eagle and Kulin nation creator spirit, looking out across his domain with a scrutinising eye. The largest — a 3D metallic snapshot of this dynamic Australia icon — stands sentinel over stately river redgums and an intricately designed kids' adventure park beside Club Armstrong.
If this 5m high corten eagle is impressive, so too is Mr Kooper's squadron of giant pelicans in the nearby wetlands beside the Surf Coast Highway.
This pod is headed by a triumvirate of these elegant creatures perched high above the ground; one in a motherly clutch with her chick, one at rest and another in a laughing fit. They're sublime artistic additions to the wetland surroundings of reeds, ducks, coots and some 60 species of birdlife.
Spying fish, diving for fish, scoffing fish or squatting fat and full after the job, these pelicans are glorious russet-coloured fixtures in the Armstrong precinct.
They're as much a part of the Armstrong ecology as the handsome lemon-scented gums or pretty crimsonpeppered crepe myrtles lining the streets. And just as much a part as the gums scattered through neighbouring woodlands or the rich multitude of native flora and fauna in and around Armstrong Creek.
And in a sculptural nod to Armstrong's birds and the area's former incarnation as an airport, two hybrid bird-planes sit proudly in Armstrong's Aviation Drive park.
"They're inspired by the local birdlife and the fact Armstrong used to be an airport," Mr Kooper says.
Collectively, the works are just one part of the reason Armstrong was last year named the Urban Development Institute of Australia's Best Masterplanned Community.
— Geelong Advertiser Creative City 19 October 2018