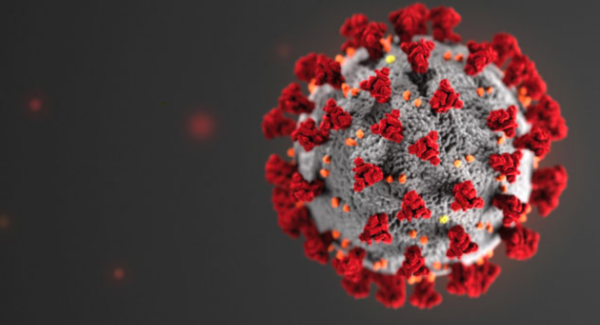 Absolutely no end to the weird and wonderful the Covid-19 era has managed to throw at us. On top of widespread fear and loathing, OCD-styled sanitising and a lemming urge for more cases, that is.
Riots and lockdowns, whacko politicians and regimes, and a crucible of human misery have lined up alongside heroic front-liners, balcony camaraderie, over-worked scientists, civil disobedience and a media frenzy bordering on roid rage.
The Great Game's become The Blame Game, global political and economic bases are shifting, democracy's tangling with totalitarianism, a new world order is evolving.
If the planet seems a little off kilter, you're right. It actually is, to tell the truth, at a tilt of about 23 degrees.
That's not room temperature by the way. It's a gradient, a hard lean, just as the Covid pandemic is a hard lean on our fear/frustration factor.
But how will the pandemic be remembered in the future? Not just in the history books, if they're still published, but in popular lore, in conventional wisdom?
What will you tell your grandkids when they ask about the coronavirus disaster?
I'll probably start with the sharp messages my kids wrote each other with felt pens on bananas. New breed lockdown comms. Why text or hiss or spit when you can advertise your displeasure to all via the kitchen bench fruit-bowl? Inventive insults, good value.
The tornado that ripped Waurn Ponds to bits was a standout. Tearing houses to pieces in a terrifying instant. Picking up roofs, walls and fences, and hurling them about. Families still trying to find missing trampolines.
The poor Aitkens saw their garage tossed about like a ragdoll. Oddly, however, not a single sock or pair of undies went missing from the clotheslines. Figure that one out.
Sunday evening Facebook sessions by Geelong muso Matiss Shubert were a standout also, albeit nowhere near as violent. Irish, Scottish, bluegrass and other tunes by request were delivered with various beers, stouts and whiskys and an acrobatic, exhibitionist hound-dog called Poppie.
French lessons on Duolingo didn't go quite as planned. Nor did the Spanish, or the free trip I'd landed to Chile for that matter. So I'm following French and Spanish news sites on Twitter and comparing my guesses with their translations. It's a work in progress.
I discovered an app that teaches you the basics of the local Wadawarrung language. Worrin-yaloke, Wurdi-yawang, Bengala, Boronggook, Kuarka-dorla, Jan Jook, Gowayn, Djilang. Best thing I've found in ages.
While everyone was out counting 10,000 steps on their phones, I went counting floors instead. Three times up and down Hyland Street at Fyansford or the Queens Park hill will give you close to 50 – and sore bloody hips from bouncing back down.
Between banana gags, the kids took up cooking. Everything from black beans, corn and tuna to black beans, corn and tuna. Occasionally with some pomegranate seeds. Apparently I'm vegetarian now and I'm not allowed to cook. Thank Jupiter for Pako's Enzo's fridge magnets.
Have to say I was impressed to learn three Melbourne IT brainiacs haven't been mucking about during the lockdown. They're finessing a new 44.2 terabits a second internet speed.
That's 44.2 million megabits a second, which makes the NBN's 100 megabits a second slow as a wet week. Could be pretty handy next pandemic, if this one ever stops. Sooner the better.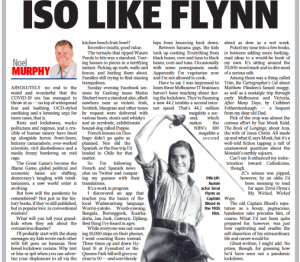 Poked my nose into a few books, in between adding more barking-mad ideas to a would-be book of my own. It's sitting around the 70,000-word mark and in dire need of a serious edit.
Among them was a thing called Trim, the Cartographer's Cat about Matthew Flinder's famed moggy as well as a nostalgic trip through early Melbourne and Victoria, After Many Days, by Cuthbert Fetherstonhaugh – a bequest from my dear old Dad.
Pick of the crop was almost the curious effort by Sue Monk Kidd, The Book of Longings, about Ana, the wife of Jesus Christ. All made up and what if, says Monk, but it's a well-told fiction tapping a raft of unanswered questions about the Messiah's earthly sojourn.
Can't say it enhanced my indoctrination toward Catholicism, though. My favourite denomination these days is the chewed-up AFL.
JC's missus was pipped, however, by an oldie I'd been meaning to read for ages: Errol Flynn's My Wicked, Wicked Ways.
The old Captain Blood's reputation as a boozy, pugnacious, handsome rake precedes him, of course. What I'd not been quite prepared for, however, was just how captivating and erudite the self-dissection of his extraordinary life and career would be. Ghost-written, I might add.
No prizes, though, for guessing how he'd have seen out a pandemic lockdown.
This article appeared in the Geelong Advertiser 30 June 2020
Link: https://regionalnews.smedia.com.au/geelongadvertiser/TranslateArticle.aspx?doc=NCGA%2F2020%2F06%2F30&entity=ar04102