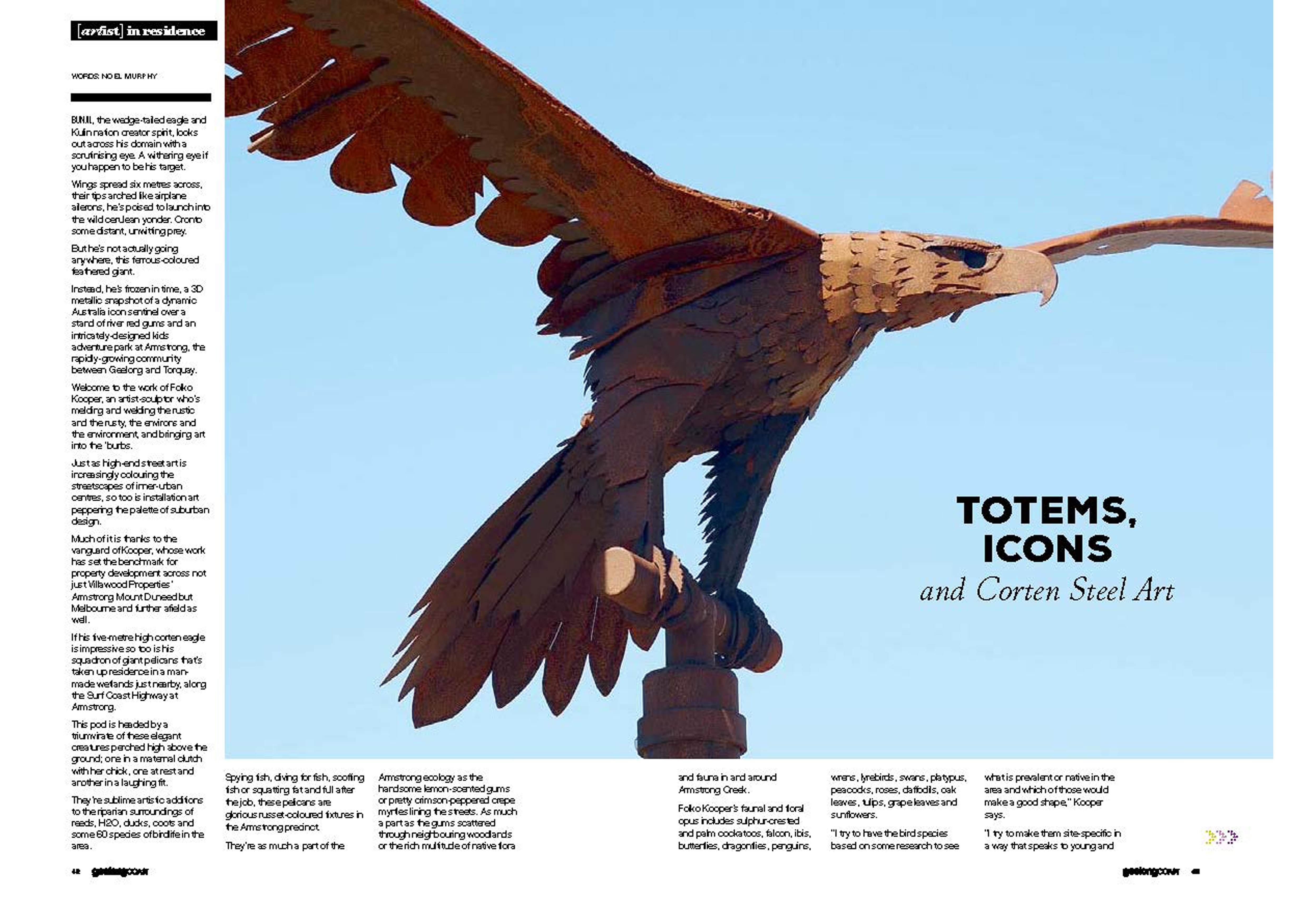 Bunjil, the wedge-tailed eagle and Kulin nation creator spirit, looks out across his domain with a scrutinising eye. A withering eye if you happen to be his target.
Wings spread six metres across, their tips arched like airplane ailerons, he's poised to launch into the wild cerulean yonder. Or onto some distant, unwitting prey.
But he's not actually going anywhere, this ferrous-coloured feathered giant.
Instead, he's frozen in time, a 3D metallic snapshot of a dynamic Australia icon sentinel over a stand of river redgums and an intricately-designed kids adventure park at Armstrong, the rapidly-growing community between Geelong and Torquay.
Welcome to the work of Folko Kooper, an artist-sculptor who's melding and welding the rustic and the rusty, the environs and the environment, and bringing art into the 'burbs.
Just as high-end street art is increasingly colouring the streetscapes of inner-urban centres, so too is installation art peppering the palette of suburban design.
Much of it is thanks to the vanguard of Kooper, whose work has set the benchmark for property development across not just Villawood Properties' Armstrong Mount Duneed but Melbourne and further afield as well.
If his five-metre high corten eagle is impressive so too is his squadron of giant pelicans that's taken up residence in a man-made wetlands just nearby, along the Surf Coast Highway at Armstrong.
This pod is headed by a triumvirate of these elegant creatures perched high above the ground; one in a maternal clutch with her chick, one at rest and another in a laughing fit.
They're sublime artistic additions to the riparian surroundings of reeds, H2O, ducks, coots and some 60 species of birdlife in the area.
Spying fish, diving for fish, scoffing fish or squatting fat and full after the job, these pelicans are glorious russet-coloured fixtures in the Armstrong precinct.
They're as much a part of the Armstrong ecology as the handsome lemon-scented gums or pretty crimson-peppered crepe myrtles lining the streets. As much a part as the gums scattered through neighbouring woodlands or the rich multitude of native flora and fauna in and around Armstrong Creek.
Folko Kooper's faunal and floral opus includes sulphur-crested and palm cockatoos, falcon, ibis, butterflies, dragonflies, penguins, wrens, lyrebirds, swans, platypus, peacocks, roses, daffodils, oak leaves, tulips, grape leaves and sunflowers.
"I try to have the bird species based on some research to see what is prevalent or native in the area and which of those would make a good shape," Kooper says.
"I try to make them site-specific in a way that speaks to young and old, and has an element of fun and artistic merit. Like the pelicans, they're funny things, and they engender curiosity in the environment and in art.
"I built the eagles after sitting down with the Aboriginal representative who explained that the eaglehawk is the totem of the original locals.
"The new 'plane/bird' sculptures hark back to when the area was used as an aerodrome."
Made chiefly of corten steel, his works can also incorporate galvanised steel, bronze, stainless steel, polyethylene, polycarbonate, glass and perspex – even barbed wire.
Folko has been working with Armstrong developer Villawood getting on to 18 years now, punctuating its estates across Geelong and Melbourne with large, eye-catching and evocative installations.
In addition to the efforts mentioned earlier, he's made three-metre-high stiletto heels with matching handbag, a family of giant emus, massive typographical sculptures with birds attached and innumerable gates, fences and screens. He's nothing if not adaptable.
Kooper met up with Villawood executive director Rory Costelloe in 2001 at the Melbourne International Flower and Garden Show.
Costelloe saw a 400mm sundial he had on show and asked if he could make a two-metre version. He was staggered when Kooper later presented him a sundial made of the metal rim of horse and cart dray wheels with brass arrows and lettering inside.
Kooper's been designing his masterworks for Villawood ever since then and his works, many much larger, have become signature icons in most Villawood two-dozen and more projects — as well as Costelloe's Newtown home.
Says Costelloe: "Villawood started to put urban art in its greenfield areas in 2001 in Wyndham and many other developers have followed since. It's lifted the standard of amenity in building projects.
"That's driven many councils to accept sculptures in new estates. Geelong council has had an art policy, in more recent years, to try to control the form of artwork.
"The council would like to influence the art. We don't believe artists should have to work under constraints. The nature of art is that it's free.
"Folko is our signature and he should have the ability to continue on projects that residents love to embrace."
"The predominant theme in our communities is reflective of nature: birds, animals and plants which people associate and assimilate and understand."
Folko Kooper couldn't agree more: "All in all, the sculptures are not too serious. All I want really is for people, especially the residents, to enjoy them and so enjoy life."