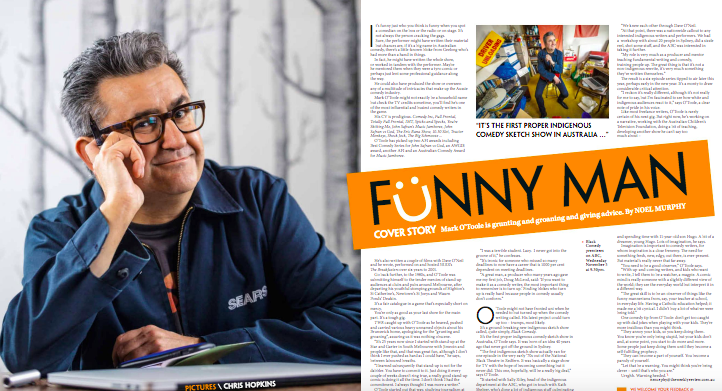 IT'S funny just who you think is funny when you spot a comedian on the box or the radio or on stage. It's not always the person cracking the gags.
Sure, the performer might have written their material but chances are if it's a big name in Aussie comedy there's a little-known bloke from Geelong who's had more than a hand in things.
In fact, he might have written the whole show, or worked in tandem with the performer. Maybe he mentored them when they were a tyro comic or perhaps just lent some professional guidance along the way. He could also have produced the show or overseen any of a multitude of intricacies that make up the Aussie comedy industry.
Mark O'Toole might not exactly a household name but check the TV credits some time, you'll find he's one of the most influential and busiest comedy writers in the game.
His CV is prodigious.
Comedy Inc, Full Frontal, Totally Full Frontal, IMT, Spicks and Specks, You're Skitting Me, John Safran's Music Jamboree, John Safran vs God, The Eric Bana Show, 10.30 Slot, Tractor Monkeys, Shock Jock, The Big Schmooze …
O'Toole's picked up two AFI awards including Best Comedy Series for John Safran vs God, an AWGIE award, another AFI and an Australian Comedy Award for Music Jamboree.
In addition to these, he's written a couple of films with Dave O'Neill and he wrote, performed on and hosted 3RRR's The Breakfasters over six years to 2001.
Go back further, to the 1980s, and O'Toole was submitting himself to the tender mercies of stand-up audiences at clubs and pubs around Melbourne, after departing his youthful stomping grounds of Highton's St Catherine's, Newtown's St Joeys and Waurn Ponds' Deakin.
It's a fair catalogue in a game that's especially short on mercy. You're only as good as your last show for the main part. It's a tough gig.
TWR caught up with O'Toole over the phone as he heaved, pushed and carried various heavy unnamed objects about his Brunswick home — apologising for the "grunting and groaning", assuring us it was nothing obscene.
"It's 25 years now since I started with stand-up at the Star and Garter in South Melbourne with Jimeoin and people like that and that was great fun although I don't think I ever pushed as hard as I could have," he says, between laboured breaths.
"I learned subsequently that stand-up is not for the dabbler. You really have to commit to it. Just doing it every couple of weeks doesn't ring true, a really good stand-up comic is doing it all the time. I don't think I had the commitment, I always thought I was more a writer."
O'Toole started out that way, studying journalism at Geelong's Deakin University. Well, sort of.
"I was a terrible student. Lazy.  I never got into the groove of it," he confesses.
"It's ironic for someone who missed so many deadlines to now have a career that is one thousand per cent dependent on meeting deadlines.
"A great man, a producer who many years ago gave me my first job, Doug McLeod, said: 'If you want to make it as a comedy writer, the most important thing to remember is to turn up.' Finding blokes who turn up is really hard because people in comedy usually don't conform."
O'Toole might not have fronted uni when he needed to but turned up when the comedy writing called. His latest project could turn up too — trumps, most likely.
It's a ground-breaking new indigenous sketch show called, quite simply, Black Comedy.
It's the first proper indigenous comedy sketch show in Australia, O'Toole says. It was born of an idea 40 years ago that never got off the ground in Sydney.
"The first indigenous sketch show actually ran for one episode in the very early '70s out of the National Black Theatre in Redfern. It was basically a stage show for TV with the hope of becoming something but it never did — this one, hopefully, will be a really big deal." says O'Toole.
"It started with Sally Riley, head of the indigenous department at the ABC, who got in touch with Kath Shelper, who's done a lot of indigenous stuff culminating in Samson and Delilah, which got lots of awards. We knew each other through Dave O'Neill.
"At that point, there was a nation-wide callout to any interested indigenous writers and performers. We had a  workshop with about 20 people in Sydney, did a sizzle reel, shot some stuff, and the ABC was interested in taking further.
"My role is very much as a producer and mentor teaching fundamental writing and comedy, training people up. The great thing is that it's not a non-indigenous rewrite, it's very much something they've written themselves."
The result is a six-episode series tipped to air some time later this year, perhaps early in the new year. It's a monty to draw considerable critical attention.
"I reckon it's really different, although it's not really for me to say, but I'm fascinated to see how white and indigenous audiences react to it," says O'Toole, a clear note of pride in his voice.
Like most freelance writers, O'Toole is rarely certain of his next gig. But right now he's working on a narrative, working with the Children's TV Foundation, doing a bit of teaching, developing up another show he can't say too much about — and spending time with 11-year-old son Hugo. A bit of a dreamer, young Hugo. Lots of imagination, he says.
Imagination  is important to comedy writers, for whom inspiration is a close frenemy. The need for something fresh, new, edgy, out there, is ever-present. But material's really never that far away.   
"You need to be a good observer," O'Toole says.
"With up and coming writers and kids who want to write, I tell them be a watcher, a magpie. A comic mind is really someone with a slightly different view of the world, they see the everyday world but interpret it in a different way.
"The great skill is to be an observer of things like the funny mannerisms from, say, your teacher, at school, in everyday life. Having a Catholic education helped, it made me a bit cynical — I didn't buy a lot of what we were being told."
One comedy tip from O'Toole: don't get too caught up with Dad jokes when playing with your kids. They're more insidious than you might think.
"They annoy your kids, so you keep doing them. You know you're only being stupid, but your kids don't and, at some point, you start to do more and more. Some people just keep doing them until they become a self-fulfilling prophecy.
"They can become a part of yourself. You become a parody of yourself.
"Let that be a warning. You might think you're being clever — until that's who you are."
Urrghh. Warning heeded.