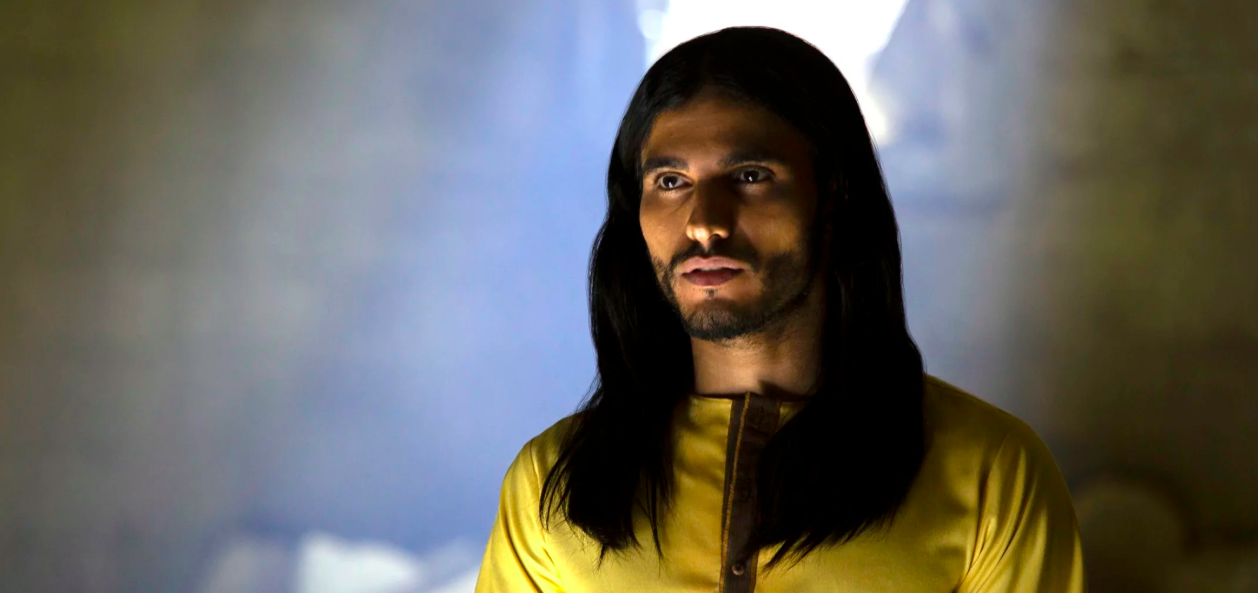 NO time like the Christmas wash-up, when the bills come in, to get cynical about matters spiritual, metaphysical and paranormal.
Mind you, it's not as if the Festivus, Grinch and Krampus killjoys didn't do enough already to mute the Yuletide charm.
Still, a certain personal Netflix binge has joined ranks with a fat range of offerings doing their level best to rattle the cage of God-fearing Christians and their houses of the holy. At least that's what I think they're doing.
Loads of films, books, plays — comedies even — get stuck into old JC one way or another. The series Messiah is just one more.
Plot wobbles aside, the theme is an old favourite: what would happen if Jesus turned up today? Yeah, yeah, like the old gag. What if he arrived at Hawthorn? Move Peter Hudson to centre half-forward.
Hmm, crickets. My apologies.
Now I don't want to throw spoilers around so stop reading now if you're still watching the show.
If not, then know this Messiah bloke ticks all the boxes. Miracles, political agitator, thousands of fully-smitten followers, an uncanny ability to plumb a person's deepest secrets with two or three questions.
All that, yep, and an infuriating habit of dodging questions with more questions or default references to God's will. Whatever that might be. Don't ask him, he doesn't know. He's just a 'message'.
More like an email virus, I'd say. Makes you feel like smiting him. But he manages to turn hard-bitten spooks, judges, soldiers and pollies into believers — Paul, the road to Damascus and all that.
He infuriates religious leaders, sparks riots, threatens the geopolitical balance and hypnotises a US president. Think Bruce Almighty with a plan, albeit a well-hidden plan.
Oh there's a few CIA, FBI and media cynics, of course. Cue JC Superstar's Herod: "So if You are the Christ, You're the great Jesus Christ, prove to me that You're no fool, walk across my swimming pool."
So this Messiah tackles the pool at the Washington Monument, to the rat-a-tattoo of thousands of mobile phones snapping pics and selfies. Great moment in cyber-history, no doubt.
He also defeats ISIS with a sandstorm, brings a few folks back to life, appears in a tornado … solid Jesus stuff. And truth be known, it's all pretty compelling.
In fact, the whole Jesus fiction/faction/revision thing is an intriguing oeuvre. Great favourite of mine is Barbara Thiering with her withering academic arguments that, among other things, Jesus married Mary Magdalene, fathered three brats and lived to 70.
Hunt for the Hidden Relic is a favourite too. Archaeologists in Israel unearth a skeleton with a titanium leg-bone and instructions for a prototype video camera. But the skeleton's 2000 years old, a time traveller. Did he film Christ? Where's the camera? The chase is on. Can't get enough of the Dead Sea Scrolls (or Max Smart's Dead Spy Scrawls) and the Essenes and their links to early Christianity. Or the Passover Plot flick where Jesus returns because, well, he never died.
Stories abound of Jesus in various places post-death. Europe and the Mediterranean, Central America, South America. There's also the travels in his younger 'lost' years — to England, India, Tibet.
Love the story where he fathered three kids and died at age 106 in Japan. But he might have died in Rome also. God knows, he might even have died at Golgotha. Hold on …
Mary's tryst with a Roman soldier, redefinitions of what constituted a virgin, brothers and sisters of Jesus, kids, wives … there's no shortage of stories to pepper a feverish brain.
Always liked His Christmas Day birthdate revised to Sunday 1 March 7BC, chiefly because it's also mine — and the pagan world's winter solstice. It wasn't actually celebrated on December 25 until 336AD, in Constantine's time.
Plenty of film fodder in all this. No wonder, perhaps, George Harrison stumped up Monty Python's Life of Brian, remortgaging his Crackerbox Palace home in the process. Said he wanted to see more Python flicks, even if it was an expensive ticket. Always a brick, old George. Good to see Spike Milligan in there, too, looking confused as ever.
Then comes along Dan Brown and his Da Vinci Code, further confusing everyone with whip-smart sleuthing of all things Christian from Galilee to Glastonbury.
Which gets me back to the here and now. Amid all the Jesus diaspora stories is the Mary England sojourn with Joseph of Arimathaea lugging about a walking stick from the thorn bush used to crown Jesus during his pre-crucifixion scourging. Old Joe stuck it in the ground and the famed Glastonbury Thorn sprang up overnight. A graft made its way here in 1889 with Englishman/early Geelong mayor James Austin.
Scout around the Botanic Gardens and you'll find a couple of further grafts as mature trees. They might not have titanium roots but they still hold up OK after 130-odd years. Or should that be 2000-odd years? Plus or minus 33 for Christ's age at death, seven for His belated birth. Whatever, it's in better shape than the original which vandals hacked to pieces 10 years ago.
Yep, Crackerbox Palace indeed.
LINK: http://tiny.cc/kbrniz