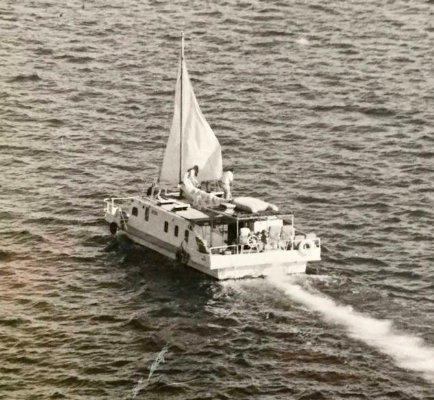 Rock stars, orphans, spies, bizarre nautical feats, brutal crimes, cowboys, sex, Trump, the MCG … not often you can squeeze all these elements into one story. Not a Geelong story, leastways, but I thought I'd give it a go.
Tell the truth, there's actually several short stories. And basically locals and events which for one reason or another haven't stolen the front page for a day or two. Bit of competition out there, to be fair, and some are a bit dated.
First up's a book, Operation Babylift, by Ian Shaw. It's about a desperate attempt to airlift 600 orphans out of Vietnam in 1975.
North Vietnamese forces are closing in on Saigon, fear is palpable, and Aussies Rosemary Taylor and Margaret Moses are fighting tooth and nail to save these kids.
Two RAAF C-130s and a US C-5A Galaxy load them up. The Galaxy crashes after take-off, killing 150 including 80 of 240 kids. The Aussie aircraft successfully evacuates 300 kids to Bangkok, where they're loaded in shoe-boxes on a Qantas 747.
Geelong teacher Tonya Beechey was one of those kids. In the intervening years, she's grown up in Belmont, married, had kids and lost a husband to cancer.
But she's rallied with a new partner and become one of Geelong's most inspirational people in the process. Overflowing with commonsense advice on just about everything life might throw at you.
One day she'll go back to Vietnam, check things out. No hurry, though. More power to her.
Second is a 1972 story about an old mate, good pirate John Lucas, who captained a motorised 40-foot houseboat from Geelong to New Guinea's Thursday Island.
That's with a flat bottom, 18-inch draft and a makeshift mast. Like a bathtub toy. And three newbie shipmates for good measure. The Daydream Expedition boat was bound for missionaries who needed it on the notorious Fly River.
Trip took three months, along with storms, sand bars and mutiny by one crew member who found it … well, too boring.
Lukie worked in show business back then. He'll happily tell you about Daydream at length, interspersed with stories about Mick Jagger at Kooyong, Elton John, the Bee Gees, Suzi Quatro …
Next up, Belmont-born architect/lecturer Derham Groves and first Australian member of the US Sherlock Holmes Society, 'The Baker Street Irregulars'.
He's documented kebab shops and migrant stories across Melbourne, catalogued odd letterboxes, resurrected Geelong architect Arthur Purnell's buildings in China and his MCG great Southern and Olympic stands.
At Melbourne Uni, he's encouraged design by crime, with students stabbing, shooting and burning dolls including Barbie and Ken. He's channelled the great Frank Gehry – "Shoes are very architectural and always have been" – while cataloguing the 1930 Aussie travails of Chinese actress Anna May Wong. She was a bit of an Imelda.
Like so many of the whip-smart, Derham's one out of the box. Did his PhD in Minneapolis. Visited Iran in search of brickwork. Loves his pop cultcha. Intrigued by 1950s superstar Hopalong Cassidy, who filled Bourke Street with the largest crowds until the Beatles.
Derham's Sherlock ties are curious for the fact Geelong's George Morrison (another Purnell admirer) had a New Guinea native's spearhead removed from his arse by surgeon Joseph Bell – the Scot who inspired Conan Doyle's deerstalker-topped, coke-using detective.
Morrison's career was stellar: journo who exposed the Kanaka slave trade, walked from Darwin to Melbourne, Times China correspondent, reportedly killed twice, key advisor to China's first republican government. 'Morrison's War', the Russo-Japanese scrap of 1904-05, was named after him.
He also fell head over heels with nymphomaniac US heiress Mae Perkins. Oh dear. Check author Linda Jaivin for more on that front.
Then there's our Dylan Howard, ex-Addy and 7 News journo run out of the Aussie media game for revealing drug use in the AFL. Wait, what, drugs in footy? Who'd have thought?
He's been in more slop than a Werribee duck at the National Enquirer and elsewhere in the US — think Stormy Daniels, Trump, Weinstein, #MeToo, Jeff Bezos.
The strife's unlikely to stop soon given the release of his book Dead Men Tell No Lies. Long story short: the late paedophile Jeffrey Epstein was an Israeli spy, US spooks all knew it and, well … looks like he had to come in from the cold.
Might wrap up with an old housemate, guitarist Dave Sterry. He was up and about in the 1980s, fronting a band called Real Life. Last played Geelong about '86 if memory serves.
He landed a couple of hits that sent him to Vegas, Switzerland, Japan, everywhere. Messaged me the other day en route by ICE train to Berlin, where Send Me an Angel and Catch Me I'm Falling are drawing crowds, some travelling from neighbouring countries to catch him.
Still touring at a ripe age, good luck to him. I'd thought he might be mellowing when he said he's engaged a luthier to build him a hurdy-gurdy. Hard rock to gentler folk. But nope.
"I'm putting it through a Marshall with my wah pedal, Murph!"
Retro prog rock in the '20s? Who knows, might just be a thing.