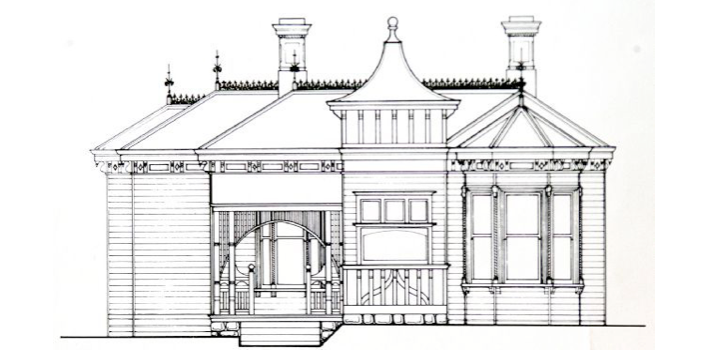 NANGO Bodan and Galashiels are hardly household property names in Geelong West, even though that's precisely what they are.
Same goes for Almurta, Subiaco, Lithca, Buryan … all houses, in the heart of that vernacular architecture museum that runs between Pako and Latrobe Terrace called Villamanta Street.
It's a typical old Aussie street, for the main part. Bitumen and bluestone, Victorian weatherboards ranging elegant to neglected, hopeful new units, neglected empty blocks, trees tangling with powerlines and a somewhat confused upper-middle and lower socio-economic demographic.
It's also a quintessential Geelong street reeking of style and stories, an evocative track I walk to work whenever I can. Happened on a police drug raid there one morning, as a matter of fact. Cops ran a mile when I approached them with a pen and a notepad, asking questions. Funny buggers.
Among the magpie bower of junk in my home is a large monochrome poster of Villamanta St and exquisite architectural drawings of its houses. A treasure by my reckoning because it's a curious part of the world.
Author Peter Carey reckons so, too, I like to think. He visits and revisits Villamanta repeatedly in his Illywacker novel about a 109-year-old con man.
For years, Villamanta's Corio Club was a fixture of Geelong's elite with its quoits, skittles, croquet, skating and bowls in its heyday — even blacktie balls.
Nango Bodan, with its handsome unusual tower has a special extended bathtub installed to accommodate the large carcass of former Geelong Football Club captain and racing club boss James Conway.
One house hosted the Missionary Sisters of St Peter Claver, Spanish Jesuit missionary and patron saint of slaves. Not too sure how many slaves they met in Geelong.
Elsewhere along the street, you'll find the ghosts of fruit shops, Chinese churches, pubs, bakers, horse and cart deliverymen …
"There were elm trees on the north side and pepper trees on the south side … the pub was made in to two separate houses and where the Corio Club is now there was a fruit shop – you'd call it a  mixed  business now. The Chinese church was at the back of Dr Burger's," resident Tommy Bowen recalled of 1930s Villamanta, when he was interviewed in 1981 for the poster.
Bit of an odd story that poster. It was made by two Deakin Uni architecture students, Kerry Sharrock and Peter Gyulavary, who for a while ran a heritage walking tour through Geelong.
Somehow I've wound up with photo negatives of Villamanta Street the day they hauled in a mobile crane to clamber up and grab aerial shots of the houses.
Gyulavary, an old Joey's boy — and I really never got used to calling him Peter — isn't with us any more. Smashed up in the World Trade Centre terror attack. Left a lovely wife and daughter to grieve him, and a twin brother and other kin up in Melbourne's Dandenongs.
Managed to speak with Kerry about Villamanta over lunch at the waterfront a while back. Laughed at the memory.
He lives in the Rockies above Denver, Colorado these days, battling with leukaemia and working with medical marijuana that he grows, studies and utilises. All legal.
"You've got the poster and the negs?" he mused. "Wow."
That's what I think, too.
…………..
REPRISE:
GALASHIELS, Nango Bodan, Subiaco, Buryan, Lithca – these old names represent some of the finest timber architecture in old Geelong West.
Villamanta St, where they were built, has long hosted some of Geelong's best housing designs but records documenting their intricacy and beauty are few and far between.
One that came to light a few years back lies in the special collection of the Deakin university's waterfront Library – it's a metre-long, 1981 poster of handsome measured drawings and photographs compiled by two Deakin-trained architects; one, Peter Gyulavary, who died in the terrible World Trade Centre attacks of September 11, 2001; the second, Kerry Sharrock, now resident in Colorado, USA.
The poster was produced as part of a Heritage Week project while final year students at Deakin. I was reminded of it when I caught up with Sharrock a few weeks back while on a trip home to catch up with family.
The poster features a dozen houses, with brief descriptions of their history and comments by Villamanta St residents of the day.
"I used to live in 13 Villamanta St, called Villamanata St then. There were elm trees on the north side and pepper trees on the south side," recalls Tommy Bowen.
"I'd say 90 per cent of the buildings on Villamanta St at the time were weatherboard. There would have been only four brick buildings.
"When I came to Villamanta St, the pub was made into two separate houses; and where the Corio Club is now there was a fruit shop – you'd call it a mixed business today."
Gyulavary and Sharrock ran a non-profit business, Geelong Discovery Guides, through which they arranged a Villamanta St heritage walk and other tours of old Geelong architecture.
The poster was put together with help from Deakin, the National Trust, the Geelong Art Gallery and the then Geelong West City Council.
Its measured drawings, drafted by then Deakin architecture students, are exquisitely intricate depictions of the houses. The stand-out building is the 1890 Nango Bodan, better known these days as Cora Lynn, built by J.H. McPhillimy, with its distinctive tower.
"An early owner was James Conway, former captain of the Geelong Football Club and president of the Geelong Racing Club," says the poster. The tower was a later addition to the house, built after a trip to the east by the McPhillimys."
The various houses featured all manner of architectural ornamentation, feature and materials. There have been and, in some cases remain, cellars, iron pickets, bluestone blocks, sculleries, leadlight, recessed window seats, bell pulls, mortice-and-tenon jointed studs, trap doors, porcelain sinks, wooden wash troughs, china knobs, dado walls and marble fireplaces.
Tommy Bowen, again, recalls an era long gone:
"I remember the Chinese market gardener, who used to sell fruit and vegetables with a horse and cart.
"His market garden was on the corner of High St and Barwon Heads Rd, where Kmart is now. There used to be a clothing hawker and also a fishmonger. Kelly the baker from Spring St used to deliver bread.
"A big bluestone open drain (previously a creek called Green Gully) ran down where Gordon Avenue is now. It went directly underneath LaTrobe Terrace and the train tracks to Corio Bay and came out alongside the Moorabool St Pier.
"We used to jump in it at Gertrude St and it was about five feet across to go fishing."
###