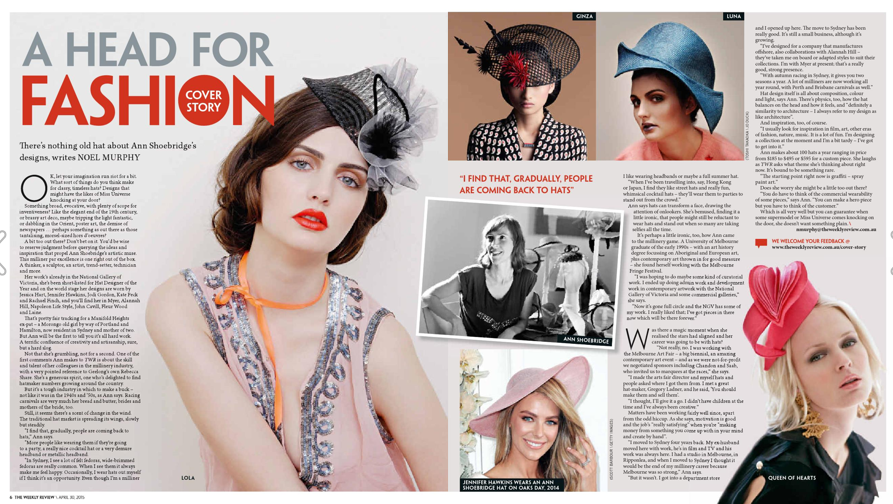 OKAY, let your imagination run riot for a bit. What sort of things do you think make for classy, timeless hats? Not just any hats, no shoddy chapeaux here, but stylish, world-class designs. Designs that might have the likes of Miss Universe knocking at your door.
All right, that is a bit tough. Maybe it's best to start with a theme instead; something broad, evocative, with plenty of scope for inventiveness. Like the elegant end of the 19th century, or brassy art deco, maybe tripping the light fantastic with the dance djinn, or dabbling in the Orient, poster art, the demise of newspapers … perhaps something as out there as those tantalising, morsel-sized hors d'oeuvres.
A bit too out there? Don't bet on it. You'd be wise to reserve judgement before querying the ideas and inspiration that propel Ann Shoebridge's artistic muse. This milliner par excellence is one right out of the box. A thinker, a sculptor, an artist, trend-setter, technician and more.
Her work's already in the National Gallery of Victoria, she's been short-listed for Hat Designer of the Year — on the world stage — she's worn by Jessica Hart, Jennifer Hawkins, Jodi Gordon, Kate Peck and Rachael Finch, and you'll find her in Myer, Alannah Hill, Napoleon Life.Style, John Cavill, Fleur Wood, Laine.
That's pretty fair tracking for a Manifold Heights ex-pat — a Morongo old girl by way of Portland and Hamilton, now resident in Sydney and mum of two. But Ann Shoebridge will be the first to tell you it's all hard work. A terrific confluence of creativity and artisanship, sure, but hard slog.
Not that she's grumbling, not for a second. One of the first comments Ann makes to TWR is about the skill and talent of her colleagues in the millinery industry, with a very pointed reference to Geelong's own Rebecca Share.  She's a generous spirit, one who's delighted to find hatmaker numbers growing around the country.
But it's a tough industry to make a buck — not like it was in the  1940 and '50s, as Ann says. Racing carnivals are very much her bread and butter, brides and mothers of the bride, too.
Still, it seems there's a scent of change in the wind. The traditional hat market is spreading its wings, slowly but steadily.
"I find that, gradually, people are coming back to hats," Ann says.
"More people like wearing them if they're going to a party; a really nice cocktail hat or a very demure headband or metallic headband.
"In Sydney, I see a lot of felt fedoras, wide-brimmed fedoras are really common. When I see them it always make me feel happy. Occasionally, I wear hats out myself if I think it's an opportunity. Even though I'm a milliner I like wearing headbands or maybe a full summer hat.
"When I've been travelling into say, Hong Kong or Japan, I find they like street hats and really fun, whimsical cocktail hats — they'll wear them to parties to stand out from the crowd.
Ann says hats can really transform a face, making people stand out in a crowd. She's bemused, finds it a little ironic, that people might still be reluctant to wear hats and stand out when so many are taking selfies all time.
It's perhaps a little ironic, too, how Ann came to the millinery game. A University of Melbourne graduate of the early 1990s — with an art history degree focussing on  Aboriginal art and European art, plus contemporary art throw in for good measure — she found herself working with the Melbourne Fringe Festival.
"I was hoping to do maybe some kind of curatorial work. I ended up doing admin work and development work in contemporary artwork with the NGA Victoria and some commercial galleries," she says.
"Now it's gone full circle and the NGA has some of my work. I really liked that, now I've got pieces in there now which will be there forever."
Was there a magic moment when she realised the stars had aligned and her career was going to be with hats?
"Not really, no. I was working with the Melbourne Arts Fair — a big biennial, an amazing contemporary art event — and as we were not-for-profit we negotiated sponsors inclouding Chandon and Saab, who invited us to marquees at the races.
"I made the arts fair director and myself hats and people asked where I got them from. I met a great hat-maker, Gregory Ladner, and he said: "You should make them and sell them.'
"I thought I'll give it a go. I didn't have children at the time and I've always been creative."
Matters have been working fairly well since, apart from the odd hiccup. As she says, motivation is good and the job's "really satisfying" when you're "making money from something you come up with in your mind and create by hand".
"I moved to Sydney four years back. My ex-husband moved here with work, he's in film and TV and his work was always here. I had a studio in Melbourne, in Ripponlea, and when I moved to Sydney I thought it would be the end of my millinery career because Melbourne was so strong.
"But it wasn't. I got into a department store and I opened up here. The move to Sydney has been really good but it's still a small business although it's growing.
"I've designed for a company that manufactures offshore, also collaborations with Alannah Hill, they've taken me on board or adapted styles to suit their collections. I'm with Myer at present, that's a really good, strong presence.
"With autumn racing in Sydney, it gives you two seasons a year. A lot of milliners are now working all year round, with Perth and Brisbane carnivals as well."
Hat design itself is all about composition, colour and light, says Ann. There's physics, too, how the hat it balances on the head and how it feels, and "definitely a similarity to architecture — I always refer to my design as like architecture.
And inspiration, too, of course.
"I usually look for inspiration in film, art, other eras of fashion, nature, music. It is a lot of fun. I'm designing a collection at moment and I'm a bit tardy — I've got to get into it."
Ann Shoebridge churns out about a hundred hats a year ranging in price from $185 to $495 or $595 for a custom bespoke piece.  She laughs when I ask what theme she's thinking about right now. It's bound to be something rare.
"The starting point right now is graffiti, spray paint art."
Hmmm. Does she worry she might be a little too out there?
"I don't have any particular customers in mind, generally, but you do have to think of the commercial wearability of some pieces," says Ann. "You can make a hero piece but you have to think of the customer."
Which is all very well, but you can guarantee when some super-model or Miss Universe comes knocking on the door, she doesn't want something plain.