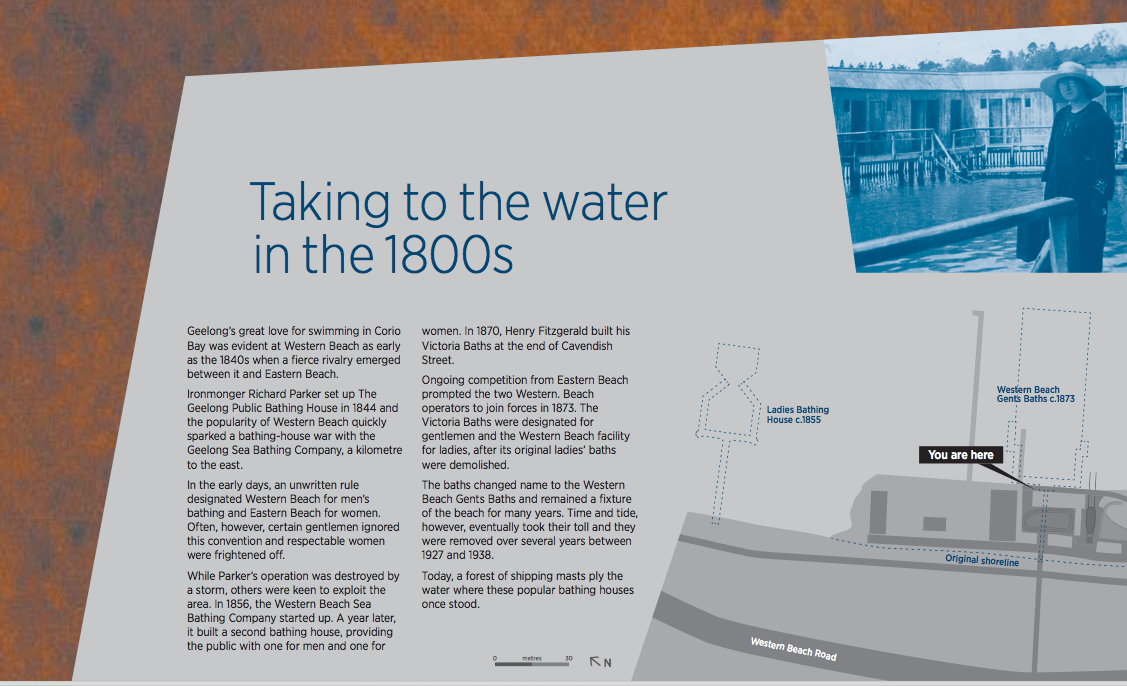 Geelong's great love for swimming in Corio Bay was evident at Western Beach as early as the 1840s when a fierce rivalry emerged between it and Eastern Beach.
Ironmonger Richard Parker set up The Geelong Public Bathing House in 1844 and the popularity of Western Beach quickly sparked a bathing house war with Eastern Beach's Geelong Sea Bathing Company.
In the early days, an unwritten rule designated Western Beach for men's bathing and Eastern Beach for women. Often, however, certain gentlemen ignored this convention and respectable women were frightened off.
Parker's operation was destroyed by a storm but others were keen to exploit the area. In 1856, the Western Beach Sea Bathing Company started up. A year later, it built a second bathing house, providing the public with one for men and one for women. In 1870, Henry Fitzgerald built his Victoria Baths at the end of Cavendish Street.
Ongoing competition from Eastern Beach prompted the two Western. Beach operators to join forces in 1873; with the Victoria Baths designated for gentlemen and the Western Beach facility for ladies, after its original ladies' baths were demolished.
The baths changed in name to the Western Beach Gents Baths and remained a fixture of the beach for many years. Time and tide, however, eventually took their toll and they were removed over several years between 1927 and 1938.
A forest of shipping masts today ply the water where these once stood.
PICTURE ABOVE: Interpretative signage at Western Beach Crown Reserve