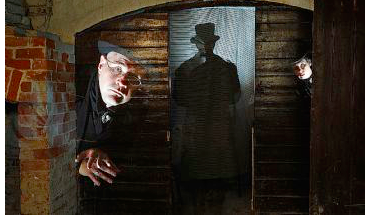 STILL get the shivers when I hear such stories as fires breaking out on top of graves, corpses sitting bolt upright, previous life memories, spontaneous human combustion, pointing the bone …
You know the kind. Supernatural yarns; unexplained phenomena; rain of frogs; curses; poltergeists; weeping, bleeding statues; crop circles; clairvoyants; ouija boards. And all that.
Sorting the chaff from the ectoplasm is fairly commonplace these days but some things just can't be explained away. Like ghosts.
Most everyone has a chilling tale to relate, and Geelong is no stranger to haunted houses, shops, schools, gaols, pubs, hospitals and more. It has its fair share of ghosts and they're not all nice.
You've heard of the poor ghost baby trapped between floors in Kitchener House opposite Geelong Hospital?
How about the footwear and books tossed from shelves, the rows of TVs and radios inexplicably switched on, the basketballs spinning in mid-air in the CBD's my store Myer? Or the translucent image of a balding old bloke in waistcoat and baggy pants with armbands and fob chain?
Maybe you know of the Gore Place rape-murder victim frequenting what's now the Black Bull on Moorabool St? Likes moving things about, much to the chagrin of staff I've spoken to from its previous Pancake Parlour incarnation.
West along Ryrie St, past Fenwick, pedestrians can hear former undertaker James Munro whispering their coffin size and petitioning them to come in and see the corpse.
Munro was a queer one. Built a spyhole upstairs to size up customers entering his premises downstairs. His backyard was supposedly fertilised by the bodily matter and fluids of his subjects. Erk.
Down the years, I've reported accounts of ghosts in Bell Park bedrooms and St Albans Park houses, handprints on beds at Barwon Mansion, ethereal images in old Thomson pub windows.
Late mate Paddy Cryan exited this vale of tears a while back. The Bush Inn, where he drank, had all its lights flicker for an hour at the time of his death. Mates were impressed by the supernatural world marking the occasion but some claimed it was orchestrated by an associate elsewhere.
Paddy used to live upstairs at Geelong West's Irish Murphy's. He often told me about a ghost sharing digs with him. "Mary's back," he'd say, anxiously, when he sensed her floating about.
And a right piece of mischief she was, too. Loved throwing glasses about, stomping along the hall, turning toilet lights on and off, rattling salt and pepper cellars, slamming doors. She locked staff in laundries, spooked tradesmen, turned washing machines, printers and phones on and off. Nathan Billings says she threw a pile of coat hangers at him from the top of a cupboard.
Story has it Mary's the ghost of a woman strangled upstairs there in the 1950s. She's not the pub's only ghost, though, some drinkers posit. An earlier denizen is whooping it up about the place as well.
Other apparitions around town include a sad-looking young woman in a white lace dress where the Yarra St Pier once was. She's looking longingly out to sea but get too close and she vanishes.
Upstairs at The Gordon, a ghost is said to haunt the hallways. Accused of getting a young woman pregnant, he hanged himself in the bell tower. Former marketing manager Colin Frisch once told me something passed his door at night that fairly chilled him.
Out at Spray Farm on the Bellarine Peninsula, there's supposedly a ghost sighted by a nervous bride who it scared off after just one night at the colonial mansion.
Newtown's Barwon Grange, the National Wool Museum, St Albans Homestead, the old Geelong Gaol, all boast their own creeps — the gaol's likes touching folks. Moorabool, Geelong's main drag, is an Aboriginal word for haunt.
Along the Barwon, Kardinia House is known for an elderly woman who reaches out to kids in bed. Frisch works there as Karingal boss and says a second spectre there scatters kitchen cupboards contents all over the floor. Security systems and lights go on and off unprompted, curtains and doors can be icy to the touch.
Nearby, at Belmont's Parkside Motel, Geelong Business Network director Pam Jewson, a former manager, once told me of a poltergeist who tossed kitchen utensils about, threw ice from the freezer all over benches, rearranged plates and turned taps on — in the dead of night.
So what should we think of Geelong's ghosts? I'll let you know one more story before you try to make up your mind.
While the lights were flickering at the Bush Inn as Paddy gave up the ghost that night, an emergency callout to Irish Murphy's had firetrucks arrive en masse at his old watering hole.
It was a false alarm but everyone knew who was to blame.
Bloody Mary, of course.
LINK: https://regionalnews.smedia.com.au/g…/TranslateArticle.aspx…