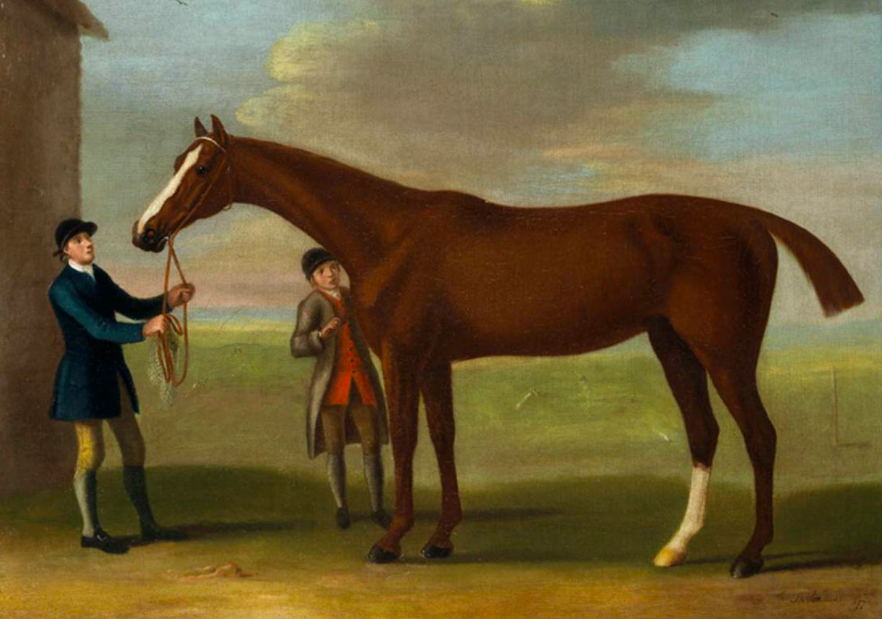 Above: Racing thoroughbred progenitor Eclipse.
Poor old Geelong Cup's copped it. Jiggered. No crowds this year, just owners and the odd colourful racing identity.
Renowned for its high fashion, slick marquees and gilded entertainment, as much as for its fashion crimes, midday drunks and marquee gatecrashers, the Geelong Cup is usually the hottest event on the Geelong calendar.
It's a grand, heaving colourful fashionista central, a heaving mass of socialising, networking, reuniting with old schoolmates. It's also known as the Bogan Cup, for its heaving mess of parablotic blokes, shoeless females, inert bespoke-suited bodies and motorised lounge couches wending their way home post-meet.
Yeah, there's horses, too. Some of them quite good, not that the annual punters generally have much idea which ones in particular. Mine usually start at 10 to one and finish around 2.30.
Funny how I get interested in the nags this time of year. Not sure why, fallen off enough of them to know better. As Downey Junior's Sherlock Holmes says: "They're dangerous at both ends and crafty in the middle … why would I want anything with a mind of its own bobbing about between my legs?"
Maybe it was cowboy flicks as a kid, or surreptitiously riding agisted horses bareback without a bridle on the old man's farm, when I could hang on.
I'm no Gordon, Roycroft or Higgins but I still feel that rush as the poor bloody stallions are whipped down the final furlongs to turf glory and, maybe, one day an idyllic retirement to stud. Or failing that, oblivion or the knackery.
But racing cups are historic events peppered with great feats, mighty champions, formidable figures; intrigue enough to keep a fair-weather visitor on the hook – even when you can't be trackside.
Geelong's no stranger to this as anyone who's heard of Briseis, Carbine, Phar Lap, Don Juan, Makybe Diva or the St Albans Stud will know.
Twenty to one, though, says you don't know of our Eclipse connection. Or the trip by the Earl of Hopetoun – the Governor of Victoria and later Australia's first Governor-General – to the Beech Forest Turf Club deep in the Otways.
The Otways meet, in 1893, was remarkable for the course, in the middle of dense Aussie bush, but equally for its grandstand – on a giant tree stump.
The occasion was extravagant. Champagne lunch in the stump-stand, official gubernatorial grandstand opening, a quick trip of the light fantastic with the proprietor's missus – yep, sounds like the races.
Eclipse is another unusual races hook. Eclipse is up north of Steiglitz and Meredith. There's an old Eclipse Hotel, part of the Darra Homestead run by old Charlie Von Steiglitz himself back in the day, the 1840s, then the bloke who built Pentridge.
What's this got to do with horses? Well, the place was named for Eclipse, a top 18th century Britain racehorse. Forebear of Copenhagen, the hack the Duke of Wellington rode against Napoleon at Waterloo.
Eclipse's DNA lives on in some 95 per cent of Brit thoroughbreds and nearly half of all modern sport horse breeds. Bound to be a double-helix somewhere in tomorrow's Geelong Cup. This is all due to the shrewd efforts of Eclipse's Irish owner, who cashed in big time on the stallion's stud value. Trust the Paddies.
Thing I like about it, is this Eclipse town doesn't really exist anymore. But if you do want one, you'll find there's a new housing estate called Eclipse at nearby Ballan.
I've said this before: Talk about flogging a dead horse.
This article appeared in the Geelong Advertiser 20 October 2020