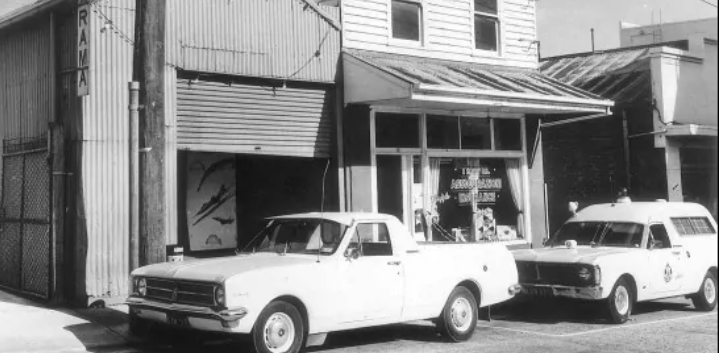 Photo: Crime scene photo from the 1973 murder of Bert Driscoll.
I READ somewhere that the only mystery in life was why kamikaze pilots wore helmets. Fair little conundrum, I suppose, if you reckon leather helmets constitute a reasonable safety feature.
Funny things, mysteries. Drafted up a quick list of Geelong little mysteries. There's a few. Maybe they're best left unresolved, helps keep that air of intrigue about a place.
Was there ever really a crash between a fully-laden dunny cart and a bus at Ryrie and Latrobe streets, with survivors wading through a putrid morass to safety?
Did secret grog/gold/convict/immigrant/gun-running tunnels really exist between pubs, banks and the Corio Bay waterfront?
Did a World War II German submarine really ply the waters off Apollo Bay?
Was there really a naked nymph in the Ritz Flats?
And whatever happened to the 22 army prisoners who escaped Geelong Gaol en masse in 1945 into heavy post-football traffic?
In 1973, a dying Bert Driscoll, stabbed at his Funarama amusement parlour in Union Street, told police: "The bucks have done me over."
Policeman Graham Bravo, in whose arms Driscoll died, went to the grave thinking he knew the killer but unable to prove it. I've received calls from people with suspicions the killers were locals, and probably in one of their dad's cars.
Homeless pensioner "Flippa" Brouwer went missing after exiting the Charles Darling Hotel in 2003. His decomposed body was found in a roll of carpet at Point Henry four months later. Lots of rumours followed but, to my best info, noone's any the wiser as to his killer/ killers.
A small skull in a Queenscliff museum defies identification. It was found underwater near the ferry in 1982. A Chinese girl, fisherman, ship's passenger lost in The Rip years ago? Who knows?
Who killed Geelong West's Dorna Tramonte? Her mum, Maria, was acquitted twice of the shock 1979 stabbing. What of the "creep" police said was acting strangely the night before, around the bus stop where Dorna was stabbed before staggering to her nearby home?
No shortage of slaughterhouse tales around Geelong if you care to look. And a few others who've put up the ghost.
Is the spectre of Morrie Jacobs, for instance, really haunting Westfield's Myer store? Reports of objects bouncing around in paranormal fashion persist.
Likewise at Murphys pub in Geelong West, courtesy of resident shade Mary – and maybe my mate, the late Paddy Cryan, too, who seems to like tinkering with the lights. There are others again at The Gordon, Belmont's Parkside Motel, the Salvos' Kardinia House, the old Pancake Parlour …
My favourite mystery's actually one that's been solved, and not quite so supernatural.
That's Cats legend Doug Wade's 1970 shot for goal marred by an apple that came flying out of the crowd. The apple hit the ball, which skewed off Dougie's foot and was whisked away by South Melbourne. Geelong missed the finals for the first time in yonks.
Cats fan Rod Pyle owned to the travesty to me a while back. He'd been bullied by a Swans fan into throwing it. He was just 14 and kept shush for fear of his life, basically.
I mentioned this to Bill Goggin recently. He'd been standing beside Wade at the time of the incident. He was shocked. He knew Pyle, he said, from the North Shore Footy Club. Good old Gomer. Later, I was talking with Wade, too. He was less excited when I said: "Remember the kid who threw the apple? Turns out he's one of Billy's mates!"
Somehow, I think I should've kept that to myself … might just need that leather helmet.
This article appeared in the Geelong Advertiser 17 November 2020.