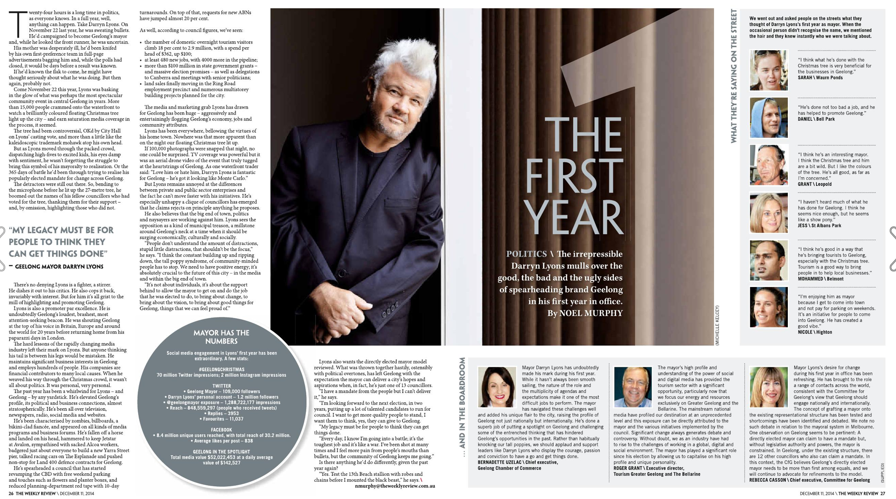 Twenty-four hours is a long time in politics, as everyone knows. In a full year, well, anything can happen. Take Darryn Lyons. On November 22 last year, he was sweating bullets. He'd campaigned to become Geelong's mayor and, while he looked the front runner, he was uncertain.
His mother was desperately ill, he'd been knifed by his own first-preference team in full-page advertisements bagging him and, while the polls had closed, it would be days before a result was known.
If he'd known the flak to come, he might have thought seriously about what he was doing. But then again, probably not.
Come November 22 this year, Lyons was basking in the glow of what was perhaps the most spectacular community event in central Geelong in years. More than 15,000 people crammed onto the waterfront to watch a brilliantly coloured floating Christmas tree light up the city – and earn saturation media coverage in the process, it seemed.
The tree had been controversial, OKd by City Hall on Lyons' casting vote, and more than a little like the kaleidoscopic trademark mohawk atop his own head.
But as Lyons moved through the packed crowd, dispatching high-fives to excited kids, his eyes damp with sentiment, he wasn't forgetting the struggle to bring this symbol of his mayoralty to realisation. Or the 365 days of battle he'd been through trying to realise his popularly elected mandate for change across Geelong.
The detractors were still out there. So, bending to the microphone before he lit up the 27-metre tree, he boomed out the names of his fellow councillors who had voted for the tree, thanking them for their support – and, by omission, highlighting those who did not.
There's no denying Lyons is a fighter, a stirrer. He dishes it out to his critics. He also cops it back, invariably with interest. But for him it's all grist to the mill of highlighting and promoting Geelong.
Lyons is also a promoter par excellence. He is undoubtedly Geelong's loudest, brashest, most attention-seeking beacon. He was shouting Geelong at the top of his voice in Britain, Europe and around the world for 20 years before returning home from his paparazzi days in London.
The hard lessons of the rapidly changing media industry left their mark on Lyons. But anyone thinking his tail is between his legs would be mistaken. He maintains significant business interests in Geelong and employs hundreds of people. His companies are financial contributors to many local causes. When he weaved his way through the Christmas crowd, it wasn't all about politics. It was personal, very personal.
The past year has been a whirlwind for Lyons – and Geelong – by any yardstick. He's elevated Geelong's profile, its political and business connections, almost stratospherically. He's been all over television, newspapers, radio, social media and websites.
He's been characterised by zombies, billboards, a bikini-clad fiancee, and appeared on all kinds of media programs and business forums. He's fallen off a horse and landed on his head, hammered to keep Jetstar at Avalon, sympathised with sacked Alcoa workers, badgered just about everyone to build a new Yarra Street pier, talked racing cars on The Esplanade and pushed non-stop for Land 400 defence contracts for Geelong.
He's spearheaded a council that has started revamping the CBD with free weekend parking and touches such as flowers and planter boxes, and reduced planning-department red tape with 10-day turnarounds. On top of that, requests for new ABNs have jumped almost 20 per cent.
As well, according to council figures, we've seen:
The number of domestic overnight tourism visitors climb 18 per cent to 2.9 million, with a spend per head of $362, up $100;
At least 480 new jobs, with 4000 more in the pipeline;
More than $100 million in state government grants – and massive election promises – as well as delegations to Canberra and meetings with senior politicians;
Land sales finally moving in the Ring Road employment precinct and numerous multistorey building projects planned for the city.
The media and marketing grab Lyons has drawn for Geelong has been huge – aggressively and entertainingly flogging Geelong's economy, jobs and community attributes.
Lyons has been everywhere, bellowing the virtues of his home town. Nowhere was that more apparent than on the night our floating Christmas tree lit up.
If 100,000 photographs were snapped that night, no one could be surprised. TV coverage was powerful but it was an aerial drone video of the event that truly tugged at the heartstrings of Geelong. As one waterfront trader said: "Love him or hate him, Darryn Lyons is fantastic for Geelong – he's got it looking like Monte Carlo."
But Lyons remains annoyed at the differences between private and public sector enterprises and the fact he can't move faster with his initiatives. He's especially unhappy a clique of councillors has emerged that he claims rejects on principle anything he proposes.
He also believes that the big end of town, politics and naysayers are working against him. Lyons sees the opposition as a kind of municipal treason, a millstone around Geelong's neck at a time when it should be surging economically, culturally and socially.
"People don't understand the amount of distractions, stupid little distractions, that shouldn't be the focus," he says.
"I think the constant building up and ripping down, the tall poppy syndrome, of community-minded people has to stop. We need to have positive energy; it's absolutely crucial to the future of this city – in the media and within the big end of town.
"It's not about individuals, it's about the support behind to allow the mayor to get on and do the job that he was elected to do, to bring about change, to bring about the vision, to bring about good things for Geelong, things that we can feel proud of."
Lyons also wants the directly elected mayor model reviewed. What was thrown together hastily, ostensibly with political overtones, has left Geelong with the expectation the mayor can deliver a city's hopes and aspirations when, in fact, he's just one of 13 councillors.
"I have a mandate from the people but I can't deliver it," he says.
"I'm looking forward to the next election, in two years, putting up a lot of talented candidates to run for council. I want to get more quality people to stand, I want them to think, yes, they can give to Geelong.
"My legacy must be for people to think they can get things done."
"Every day, I know I'm going into a battle; it's the toughest job and it's like a war. I've been shot at many times and I feel more pain from people's mouths than bullets, but the community of Geelong keeps me going."
Is there anything he'd do differently, given the past year again?
"Yes. Test the 13th Beach stallion with robes and chains before I mounted the black beast," he says.